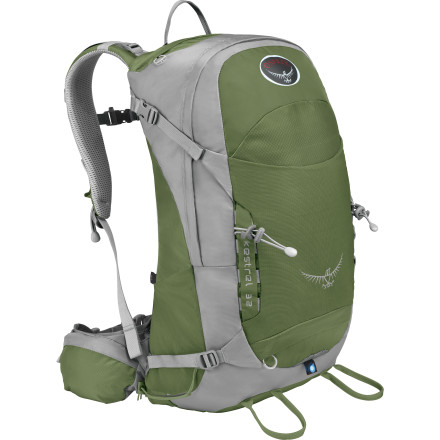 Description
All the features you need for basic hiking and technical outings.
The Kestrel 32 Daypack's panel-loading design allows quick access to all your gear, and Osprey beefed it up with features you'd usually find only on larger overnight bags. A front stretch-Lycra pocket provides a quick place to stash your shell, and two hip pockets keep your camera, compass, and snacks readily available.
AirScape back panel provides support, circulates air, and features a LiteWire frame instead of heavy, rigid aluminum stays
Durable nylon construction resists abrasion
Plenty of pockets give you easy access to small essentials
Ice axe loops and Stow-on-the-Go trekking pole attachment points let you attach extra gear externally
Reverse StraightJacket compression straps let you reduce pack volume if you're carrying a smaller load
Integrated rain cover helps you cover your gear in the event of a storm
Great fit
Familiarity:

I gave it as a gift but have feedback to share
Perfect size for his needs. Bought this for my hub, who is generally just along for the ride when we go hiking/exploring. He loved it.
If Mary Poppins had a freaking BackPack
Gender:

Male

Familiarity:

I've put it through the wringer
First thing I thought when I bought this was cool, Im finally in the Osprey club, I get to try it out and see what all the hype was about. All my Adventure friends had one, they wouldn't stop talking about them, so I figured fine peer pressure I'll give in. Im pretty pumped I did. First thing I noticed was how much space I actually had. Basically if Mary Poppins had a freaking BackPack, she would have sold it to buy this one. I have the L/XL version. It just kept gobbling up my stuff. Rain gear, survival knife, snacks, Huge Nalgene bottle, hydration sack, camera gear, more knives, extra set of clothes, my laptop for editing our photos and videos between destinations, survival gear (matches, first aid kit, bug spray, sun screen), hat, extra pair of sandals, monster energy drink, and a few more nick nacks and I think after all that I still had room for like a spare tire for the jeep and a winch. Seriously though, Im thrilled with this thing, I have a 17in Macbook Pro, can't find much to fit my HUGE laptop and it ate it like a champ. The zippers all have held up after being thrown in and out of the my jeep, all the nylon is still straight after hikes and snags on trees and underbrush. I road with this thing ATVing hard through the mountains in Park City Utah, and it just kept going. Just brushed the trail dust off and back in the Jeep it went. I really like how sturdy this thing is, its got an internal frame so it always holds its shape which is really cool. On top of all that, even though it can just eat, and eat, and eat gear, when you take it out it looks like a small little half day pack. I could confidently live out of this thing for 2 days if I was really watching my ounces but for a day pack can't beat it for how little it weighs and how much you can put in this thing. I will say the mesh part meant for a bike helmet added a ton of extra room for just general stuffing like a rain coat or bug spray, but it does seem to loose some of it's elasticity the more stuff you cram into that open compartment so even though I don't baby it personally, I would say watch that if you need to hold a helmet tight if you're going to use this for say Mountain Biking. Speaking of which the waist strap on this thing is great, pockets on each strap east to get to a trail snack, knife, multi-tool, or a 5 hour energy if thats what your into. (Which I am, and Is what I used it for). Keeps it all nice and supported on your helps and takes a ton of the weight of your shoulders. I never felt fatigued when I had my straps buckled in and adjusted properly with 20ish pounds. Bought the Osprey Hydraulics Hydration 2L Reservoir and its a great add on if you want instant water that you don't have to reach around to a side water bottle pouch for. That tech they build in to keep your back cool really does work with the internal frame that runs the length of the pack, so its a breezy back for days with this pack on your shoulders. Did I mention that you have tons of areas to strap randomness down on the outside of the pack? In my case it was camera equipment like tripods and selfie sticks, all of which were snug without the need to use more straps then what was on the pack. In all I'm super pleased with my purchase, I'm planning on getting a larger Osprey pack for a trip I'm thinking about doing next summer, I'm def Flying Osprey from now on for my camping and traveling pack needs. Cheers
This backpack is badass!
Familiarity:

I've used it once or twice and have initial impressions
Although I just got this backpack recently, it is already proving to be a very versatile and useful backpack. I use it everyday as a backpack for school, and will also use it for lots of travel as well as ski touring trips as this backpack is light enough for skiing - my favorite feature is the reversible compression straps which can also hold my skis on it. This beautiful pack is definitely highly recommended and I'm looking forward to many years of using it!
Lost & Found
Familiarity:

I gave it as a gift but have feedback to share
What happens when your favorite pack is stolen in San Francisco? Get another one. I gave this pack to my friend Brian (6'3" but with shorter torso, M/L fit best) and here is what he had to report:

"This is my 2nd Osprey Kestral 32. Whether day hiking in the Sawtooth range or traveling to the jungles of Borneo, this is my "go to" pack. The main compartment is roomy and accessible, as the zipper open half the pack. There is a zipper pocket on the top for necessaries and a stretch pocket on the back for maps, books, or plane tickets. The shoulder and waist straps are fully adjustable and where the pack meets ones back there is a breathable mesh that allows for cooling air flow. I love my Osprey Kestral."

If you have questions about Osprey Packs:
klivingston@backcountry.com
801-736-4337

Does it all
Familiarity:

I've put it through the wringer
This pack is bananas. Outside of multi-day backpacking you won't need another pack. Even then you could probably get away with ultra-lighting with this thing. I've had this pack for 3 years now and I use it everyday from a school pack, cycling, carry on luggage, day hikes, weekend trips, and even lived out of it for a week in the Virgin Islands. It does it all. Seriously in use every single day.
Fantastic construction that I haven't had a problem with yet, and I know that if I ever need another I'll definitely come back to Osprey. Also the fit is crazy if you cinch it up right. Stays close to your body and doesn't feel like it's even there.
No crazy features on the pack that you don't need, but the essentials pocket, mesh front pocket, and built in rain fly are definitely my favorite features of the pack.
I'll be insulted if you don't buy this right now. Do it. Come on just do it. Please.
Noragrets
All the necessary bells and whistles are there, no unnecessary chichi stuff.
I loaded it with my gear (rain layers, fleece, first aid kit, buff, extra hat, toilet paper, dried fruit and nuts in ziplocks, sunblock, lipbalm, thermos jar for lunch) as well as a 3 liter hydration bladder and I put it on. The pack fits like it was made for me, it's perfect.
I'm 5'6, 130 lbs, I got the S/M.
I love that it's a front loader, the compression strap system is simple and effective.
Squeezing the 3 liter bladder in the back compartment took a fair amount of determination but I assume that it's because the pack is brand new, it'll get easier with use.
I can't wait to take it to Henry Coe State Park on Monday!
While it feels weightless on me, fully loaded, it's actually a very sturdy and rugged pack: Strong materials, superb crafstmanship, it's a great looking pack.
The frame is velcro adjustable, the buckles and straps are easy to use and I love the integrated rain cover, it's perfect.
I only recently started using hiking poles, and the Stow and Go system is really handy.
My only issue is it's 8:30 pm and I'm staring at my new pack but I can't go anywhere with it at this time, lol.
Oh, I almost forgot: KUDOS to Backcountry for the speedy delivery.
I ordered it 2 days ago, received it today.
Great Multi-use Pack!
Familiarity:

I've put it through the wringer
I've used this pack for everything for the last 3 years. It is great for a weekend trip, climbing trips, traveling. I have the medium and it passes as a carry-on on planes. The mesh front pocket fits my climbing helmet, and I love that it even has the hip-belt pockets where I stash my food or headlamp. I'm grateful it has the rain cover too. I am 5'8 and 130# and the medium fits great.
The ultimate Do-it-All pack
Familiarity:

I've put it through the wringer
I bought this pack over 3 years ago in green. I used it every. single. day. From backpacking in the rockies, to road trips through the Midwest, and as a school backpack (it's great for stashing extra layers when you get to the classroom). And with a built in rain fly, you're good to go in all weather conditions.

It's a bit big for a day pack, but perfect for weekend trips, or even minimalist multi-day trips. I even used this on a 14 day backpacking trip through Wisconsin.

After about a year and a half, the zipper started to fail. I sent it to Osprey, and they sent me a brand spankin' new pack! (This time in black though, but I don't mind the color change)

I can't imagine having another pack, this thing is just too rock solid to go with anything else, and after the miles I've hiked, biked, sailed, drove, flown (for the record, when fully packed, it's the exact dimensions of the max size carry on bag for most airlines), and rushed to class with this thing on my back, there's no way I'd get anything else.
I was worried about that if the 32L pack is too small for a weekend hiking. But the practice proved I was wrong, it carries well without sacrificing comfort, and it's compact pack with well design: long slim pack body for stuffs stack; wide zippered opening for fast accessing of interior stuffs;hip belt pockets for small gears, and top pocket for digital devices; most of the zippers and adjust belt can be accessed with one hand . Now I'm a big fan of the Osprey.


What pack?
Gender:

Female

Familiarity:

I've used it several times
So comfortable! Forgot I was even wearing a pack. Lots of places to adjust and I found myself changing how I would carry it throughout the day. Got SO many compliments on it and felt fine carrying it through the brush and through a museum.
Okay pack--tricky fit for small torso
Gender:

Female

Familiarity:

I've used it several times
Demoed this pack on several trails in SW Utah--lovely slot canyons and desert hikes. This pack carries well--but it only gets four stars because the adjustability range isn't quite small enough for my torso (which I guess you could make the argument that I should get the 4 stars and not the pack, but whatever). Though the shoulder harness can move up and down, giving you a bit of adjustability within the S/M and M/L, the S/M did not go down quite small enough for me. Also, the waist almost didn't cinch down small enough either.



Aside for it being a little long and therefore rubbing my sacrum and my shoulders a little too much, it fit a great deal of stuff comfortably and in a well-organized manor, was bomb-proof rubbing against rock in the slot canyons, and has external slot for hydration (so no slipping a hose though an annoying tiny slot in the pack and no struggle to load a full reservoir into the inside of a full pack).



There are many other delightful things about this pack (large hipbelt pockets and included rain fly that I almost had to use while hiking in the desert) but those listed above are the top three for me.



But again, this may not be the greatest if you are of petite stature as it didn't work well for my 15" torso, 26" waisted self.




This pack is a good balance of fit, durability and weight. I am 6'2" 190lbs and the large fits very well. It is long and fits close to the body , so center of gravity is not off balance like with my older pack. Great combination of pockets and main access is easy with the wide zippered opening. Room enough for lots of gear, food and clothing, but compresses well with a partial load. I'm a big fan of Osprey and this pack hits the mark for a versatile do-everything day pack.
Osprey Kestrel 32 2012 Redesign
Better than the older version
I recently got the 2012 version of the Kestrel 32 and am very impressed. I've only used it on a short hike so far but it carries very well; better than the 2009 version for me.

While the older version of the pack didn't seem fragile at all, this one feels even sturdier. Very good build quality. The hip belt pockets can be open closed with one hand.

There's plenty of room for gear for a full dayhike and will fit as carry-on if using it for traveling. I'm very happy I picked this up. Backcountry's delivery to Canada was very fast (less than a week).