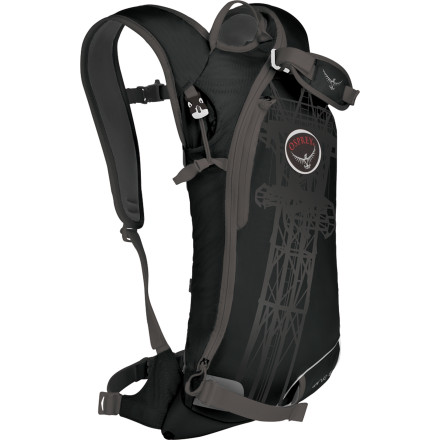 Community Images
Pop out of the gates for some deliciously deep turns, but do it right: with a partner and your avy gear tucked into the tight and lift-friendly Osprey Karve 6 Backpack. As you drop into the untracked powder, this small pack provides the level of preparedness you need to conjure a powder-blasted grin, because your probe, shovel, and extra layers are neatly secured and ready just in case. And since you can carry skis or a snowboard, you can boot up to the boundary bowl and make any kind of turn you want.
Two external sleeves with bungees secure your probe and shovel handle, and the front shovel pocket stows your shovel blade and goggles while you hike or skin
Large main compartment can be accessed with skis or a board attached and holds a hydration bladder (sold separately), food, and layers for extended slackcountry laps
Diagonal ski carry, vertical snowboard carry, and horizontal snowboard carry let you carry your snow riding tools the way you want
Padded, reinforced front panel ensures your edges don't rip into the pack or crush what's inside
Pre-shaped, padded, and snow-shedding back panel and shoulder straps provide a comfortable fit all day long
Removable webbed waist belt secures the pack without adding tons of bulk
Insulated hydration sleeve prevents your liquids from freezing and becoming dead weight
Compression strap condenses the load for easy hauling and also provide additional gear attachment points
Adequate
Familiarity:

I've used it several times
Purchased this pack for a good ski carrying system when hiking Highlands Bowl and for enough space for shovel, probe, extra layer and water for backcountry trips.

1. It's great for hiking the bowl - you likely will not be able to stuff a heavy outer layer in the pack, but the ski carry system and water reservoir is good.

2. There is definitely not enough space for shovel, water bladder and skins in the pack - we have rather large shovels though, but it is a bit frustrating to try and fight to get the zip closed with only the above-mentioned items in there.






Great little pack
Familiarity:

I've put it through the wringer
I use for mountain biking and have not used for any winter sports at all but I can fit all bike tools and water in this with space and it is light.
Great Ski-Pack
Familiarity:

I've put it through the wringer
This pack has every thing you need for a day on the mountain. I have the karve 11 and it has ample room for...

An extra shell

An extra layer

2-3 cliff bars

Goggles

Gloves

50 ft rope

Hand warmers

a face mask

Two carabiners

Phone+Money

What I especially love about this pack is the ski carry, and how slim the fit is on your back.
For the very quick day when you need the bare essentials, the Karve has you covered. Comfy & stylish with basic features to carry all safety gear, items, and supplies for the quick side-country tour or fast excursion- including avalanche safety gear, medical supplies, & personal stuff. Features also include compression strap, webbed waist belt, insulated hydration sleeve, and ski/snowboard carry. It also works for hiking and traveling when you want a light, easy pack.
Great on hill pack. Carry your snacks and water for all day enjoyment on the slopes. Good for short hikes.
Osprey Karve Series Sidecountry Packs
I have the Karve 6 and love it, can you...
I have the Karve 6 and love it, can you tell me what metal shovel would work with this pack? I was looking at the Voile Mini.
These packs are designed to fit up to a 30cm wide shovel blade. I carry a smaller shovel blade--about 25cm--and find that there is plenty of room so it would fit a 30cm just fine... I don't know the dimensions of the Voile Mini, but I imagine that since it is described as "mini", it'll work fine!
Thanks! It's actually more important to...
Thanks! It's actually more important to me that it be well suited to skiing than to biking - I didn't realise the Karve was even more low-profile than the Verve (which I thought would be good as it is very light). I definitely want something low-profile which stays put and influences my balance as little as possible, so I barely notice it on the slopes.

So next question - would I be correct in guessing that for my needs - should fit some snacks, hydration, one layer (either a fleece or winter shell jacket, for layering up or down) and possibly gloves - that the Karve 11 would be a better size than the Karve 6?
I'd say yes. Just the extra winter layer alone will max out the space in the 6L. If all we were talking about was the ultra tiny ultralight rain layer, that's one thing. A fleece layer or a winter shell will take up most of the 6L's space and leave little room for extra gloves, snacks, and cell phone/wallet/keys...
I'm looking for a pack I can use in the...
I'm looking for a pack I can use in the summer and the winter (skiing only in lift-served areas). Does this pack fit well for small females (5'2") as compared to a womens specific pack such as the Verve? Also how would you say the Karve compares to say the Verve (plus the osprey insulated delivery tube).

Thanks!
What do you want the pack to function better for--skiing or mountain biking/hiking? Neither of these will function optimally for the sport it is not designed for. If you are leaning one direction or the other (you ski MUCH more than you mountain bike), go with that.

If you truly only get one pack for both sports, the Verve will function slightly better as a winter hydration pack--it is not as low profile and wide so it may not ride as stable--than the Karve as a mountain bike pack--it is wide and heavy so it will be hot to carry plus the hydration tube is in the shoulder strap so it will be more difficult to get to.