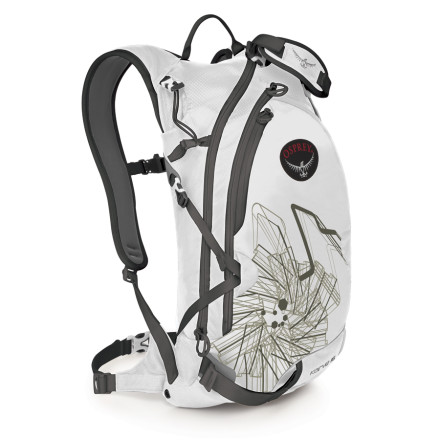 Detail Images

Community Images
The lift gives you a good start, but once you reach the gate with the loaded Osprey Karve 16 Backpack on your back, you leave the resort for the deep snow and solitude of the sidecountry. Once you secure your probe, shovel, and other backcountry essentials on and inside this pack, the entire mountain range becomes the stomping ground for you and your crew. Since you can easily carry skis or a snowboard, you can search for the ultimate lines no matter what your board choice happens to be that day.
Two external sleeves with bungees secure your probe and shovel handle, and the front shovel pocket stows your shovel blade and goggles while you hike or skin
Large main compartment holds a hydration bladder (sold separately), food, layers, and skins for longer tours into the great white open
Diagonal ski carry, vertical snowboard carry, and horizontal snowboard carry let you carry your snow riding tools the way you want
Padded, reinforced front panel ensures your edges don't rip into the pack or crush what's inside
Padded, snow-shedding back panel and shoulder straps provide a comfortable fit all day long
Removable webbed waist belt secures the pack without adding tons of bulk
Insulated hydration sleeve prevents your liquids from freezing and becoming dead weight
Quick-release Z-shaped compression straps condense the load for easy hauling and also provide additional gear attachment points
This backpack is recomended for women...
This backpack is recomended for women also?
Sure, this pack could work fine for a women.
Yeah, Get the small. My tiny GF used mine all last season until I got her one.
Looks as though the reservoir isn't included...
Looks as though the reservoir isn't included with the pack? Optional purchase?
That's correct. You'll need to purchase the reservoir separately.
Great for quick and easy 1 to two hour ski touring sessions. Carries just what you need.
Does the tubing freeze? I get that it's...
Does the tubing freeze? I get that it's hydration reservoir compatible, but does the shoulder strap insulation really keep the tube from freezing? Seems like a neoprene sleeve would be preferable. Does Osprey make one?
I haven't had it freeze, I was at Steamboat beginning of January where it was about -5F for a day. I was using a regular 2L Camelback reservoir so I can't comment on the Osprey one. Hope that helps!
As long as you blow the water back into the bladder you shouldn't have a problem. Its a habit for me know, I have not yet had the line freeze up though. Its better insulated than the BD winter packs for sure
Best Pack I've Owned
Gender:

Male

Familiarity:

I've put it through the wringer
This thing rocks, I'm a college student so I use it for pretty much everything (skiing/school/mountain biking etc) so I don't have spend money on multiple bags. I've had my pack for a little over a year and the only thing that has worn out is a buckle that cracked while skiing. I would send it in to have Osprey replace it but I don't really want to be without it for two weeks haha. The ski straps work great, I was doubtful at first with my skis being 170mm but I was wrong. The straps are also great for strapping on a first aid kit or whatever else you can think of. It is a little snug for school, but I've manage to fit a textbook, 15in laptop, and 5 subject notebook into it. Though normally I just carry a small notebook, book, and Bible.Overall, you won't be disappointed!
Which one should I take? s/m or m/l? I...
Which one should I take? s/m or m/l?

I am 5' 8",154pond.
I think you are in that perfect medium range. either one will work.

I'm 6'2" 185lbs and went m\l. Lots of extra webbing but fits nice along my back.
Barely feels like a backpack!
I love this pack for inbounds and light backcountry trekking. It holds all you need for light trips. I can easily fit my shovel, probe, goggles, and extra layers in there along with some GoPro camera gear despite the small size of the pack. I own the size M/L and it fits me perfectly. I'm 5' 11" and weigh 155 lbs. The pack is soft and comfortable and doesn't even feel like I'm wearing a backpack while I ski. If inbounds, you can sit on the chairlift just fine without feeling like you're getting pushed off the lift by your pack. Overall awesome!
what are the dimensions of the main...
what are the dimensions of the main compartment? would this fit a 15" laptop? is there a sleeve?
No way a 15" laptop fits in here. There's no sleeve and the pack is designed for sidecountry skiing.

Take a look at the Osprey Quasar. It's what you need.
http://www.backcountry.com/osprey-packs-quasar-pack-1800cu-in
I have fit my 15" MacBook Pro inside of it with room for a 3 subject binder to spare and my MacBook has a protective case on it so it makes it a little bigger. Definitely a tight fit, but it is doable, I have the M/L size.
Osprey Karve Series Sidecountry Packs
Will the Osprey 16 hold a BCA A2 ext shovel...
Will the Osprey 16 hold a BCA A2 ext shovel blade in the main compartment and still hold skins and other essentials? Thanks
the dimemsions for that blade are 10x10.75 inches. the pack dimensions are 19.5 x 12 x 6.5 inches. it should fit, but i havent personally tried it.
It might be a stretch, My Mammut shovel barely fits but will.
Great pack, perfect size for riding lifts and still carrying the stuff you want
Picked one of these up in M/L size in black as my Dakine Heli Pro DLX 20L felt a bit to big in profile to comfortably ride the lifts. So far this has been a great pack.

Feels very well balanced assuming you pack it w/ some common sense and the compression straps do a nice job of reducing the cross section regardless of how stuffed it is. The EVA back panel definitely helps providing structure and is very comfortable over the long haul.

Ski carry works well and is pretty quick to get them loaded and unloaded. One of my only concerns w/ the pack so far is some loose threads fraying out on the bottom strap saver material after only a couple uses. Hasn't seemed to get any worse since then though. This pack feels much more comfortable and sturdy uphill hiking w/ the skis loaded than my Heli Pro does. The straps can also serve double duty lashing down a shell when not in use.

This pack seems about the perfect size for carrying all of my ancillary stuff (goggles and lenses/socks/sunglasses/gloves and liners/helmet/hat/sunscreen/Red Bull/water/Clif bars/cell phone(s)/mp3 player/headphones/keys/cat tracks/etc) on my way to the slopes while still being able to squash down to a comfortable size for riding the lifts. I don't have avy gear or experience using it, but it would seem like this pack would be well designed for minimalist backcountry escapades from my position of ignorance, w/ quick easy access to the important gear.

I'd really like to give this 4.5 stars. The .5 star demerit is based on the initial fraying mentioned above and the sort of high price.
Can you send me a user manual for this...
Can you send me a user manual for this pack?
There are just enough extra straps, pockets to tie up a moose but I want to know what I am doing or at least look like it.

thank you,
blake forrest
All Osprey packs come with a user manual--I believe the Karve's is in sunglass pocket (the smallest pocket on the front of the pack). But you can download the user manual from Osprey's website for free: http://www.ospreypacks.com/en/owners_manuals
Amazingly elegant backpack
I purchased this backpack for an upcoming ski trip. I have not used it yet, but it looks amazing. My husband noted that this is the Cadillac of all backpacks. It is very beautifully designed and extremely stylish. The backpack is very light, you almost don't feel anything and feels very soft and comfortable on the back. It has three main compartments: one small one, which is isolated and can hold small items, like cell phone, keys or wallet; a second larger one, which has a soft pocket for your goggles; and the main one, which has the hydration reservoir pocket. The workmanship looks amazing and the quality is extremely high. Every little detail has been thought of. There are straps to carry your skis or snowboard and one top and one bottom strap that wrap around your chest and waist for more comfortable fit. I am really excited about this backpack and cannot wait to try it on the slopes.
Does the 16 hold the 3L reservoir that...
Does the 16 hold the 3L reservoir that Osprey makes? Can't find the info anywhere on their website. Thanks, Matt
It is compatible with all osprey reservoirs
Will the ski carry be able to hold 132mm...
Will the ski carry be able to hold 132mm ski?
There should be little issue with carrying anythign around 130mm. The top carry is a buckle system that will easily clip around a fatty ski. The bottom is a sliding lock that can extend to carry a pretty fatty ski and has protection for some skinny but is made for carrying something fatter.

Hope this helps!!!