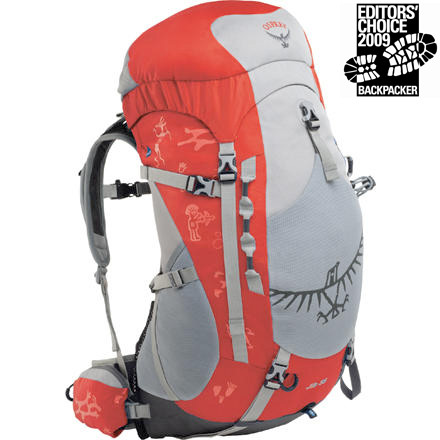 Detail Images

Community Images
It's your kid's first day of hiking, so get him the comfortable, supportive Osprey Jib 35 Youth Backpack to ensure he has a great time. This miniature-sized pack fits kids from 10-14 years old (13-16in back length) and includes many of the features of Osprey's adult models. The trampoline-style back panel lets air flow freely to keep your kid cool and eliminates pressure points from a less-than-dialed packing technique. The Jib 35 Backpack's 2100cu inch main compartment and several pockets hold just the right amount of necessities for those first trips on which your kid wants to carry his own gear for an overnight trip.
Osprey Jib 35 Reviewed by a Kid!
We bought this backpack for my 8 year old and she loves it. She hiked over 20 miles last weekend and had a place to put everything.
Great day/minimalist pack for small adul
Gender:

Female

Familiarity:

I've put it through the wringer
I bought this pack as a 16 year old, but now as a college freshman who's frame size is 17in I use it for my textbooks and for short adventures.

The Sprint series are literally the only backpacks I've found that fit me right. (I have a 25 in waist, I'm not abnormally small, get your act together Osprey.)

I honestly love this pack, it's super comfortable, the stretchy pockets hold my 20 ounce Klean Kanteen(coffee is vital), and it's got a really cool petroglyph pattern.

I'm actually planning on getting the larger version of this pack(the Ace 48) for my trip to Europe this summer.

The only downside is I really wish it had the slash pockets and another top pocket like the Kyte 46(which is too big for me).


perfect for a growing kid
after looking at a bunch of other packs I settled on this one for my now 7 year old boy. upon receiving, it is exactly as described. plenty of pockets and compartments, great shoulder straps, and an excellent built in suspension system. Plus it is fully adjustable in length to fit as the child grows. Great product, would recommend it highly
My daughter LOVES this pack!!!
So my daughter (6 yrs old) got to go on her first overnight with this pack. Sleeping bag, change of clothes, stuffed animal, and last but not least "treasures " she found along the trail. No complaints about fit once I had it adjusted right. This is a great pack and with lifetime repair policy it will last. Heck maybe even a grandkid will be in it someday.... Spend a little bit extra to make their first experiences one they want to repeat!!!
Good all around pack. Nice features, quality materials and functional.The only down side is my son's water bottle always fall out of the mesh pockets on the side. All in all, I recommend this pack for a wee one!
Great pack for starting out
I bought this for my daughter (9 yo) for a week long trip to the Olympic Penninsula. Great pack - well made - excellent features (pockets for snacks on waist belt a big plus). Two things I'd change: 1: The taper at the bottom limits the amount of gear you can put in after putting in a sleeping bag and 2: the lid should float and not be fixed. Small nits on an otherwise excellent product.
The Perfect "Growing" pack!
I purchased this pack 2 years ago for a trip my (then) 6-year old and I were taking to Yellowstone. We wanted to do some extended day hiking, and an overnight or two.

This pack is absolutely ajustable for just about any kid. She completed her first hike with it, a backcountry 7-mile round trip in a single day, carrying about 10 pounds, and the only thing she complained about were her wet feet. She uses it now for 4-6 day backpacking adventures and is carrying up to 20 lbs for the long trips.

It will hold her sleeping bag and pad, clothes, water bladder, and all her gear, plus she carries the cookstove and pot.

This pack is tricked out with all the adjustability and forethought of Osprey's adult packs, and BONUS! In about 90 seconds can be re-fit to become a great and very comfortable adult day-pack. She loves the built-in whistle in the sternum strap and the hip-belt pockets are an easy place for her to store her treasures, or a quick snack for the trail.

Without question, this pack is designed to be ajustable and grow with a child - it certainly has the capability to be continuously adjustable and see her into adolescence or further. The only reason she'll ever have to get another repack is the 35L capacity limit....perfect for a small child - but hard to make work for an adult.

Conservatively, she has about 50 miles on her pack in the first 2 years (with no visible signs of wear and tear).....no question, there will be 1000 or more before she's done with it. I's built to last a lifetime, and comes with Osprey's "Almighty Guarantee" .

You simply can't go wrong with this pack for a child.
What size of the camelback hydration bladder...
What size of the camelback hydration bladder will fit to this pack?
I believe this fits anything up to a 3L bladder.
It will accomodate up to a 3l camelback, and any of Osprey's bladders. One thing though - there is a pocket, but you'll have to put in your own hook to keep the bladder from sinking to the bottom of a lightly loaded pack. It's easy to sew in a fabric loop to hang it from though - that's what we did. 5 min and $.25 worth of paracord. Alternately, you can skip the camelback, and get an Osprey hydration bladder which has a rigid back pannel and stays straight in the hydration sleeve.
My son (8.5 yrs old) loves this pack. He reports it is very comfortable, and I noticed it looks very stable on his back while he hikes. He loves the hipbelt pockets for carrying his gum and snacks. It also works well with a camelback bladder so he stays hydrated. Should be good for several years due to the adjustable frame size and hipbelt. He has had many comments from other backpackers/hikers about how cool it is.