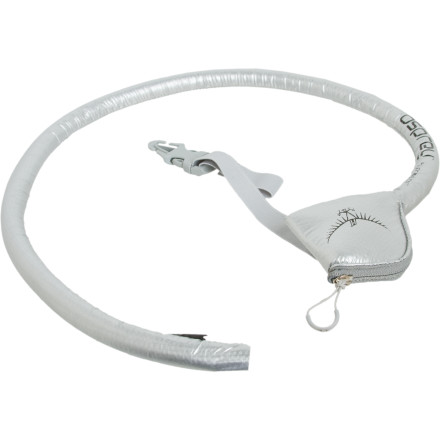 Detail Images
Description
Munch, munch.
The Osprey Insulated Delivery System is ideal for sub-zero adventurers who don't like to chew ice out of their hydration packs. If that doesn't apply to you, then don't bother.
Does not fit? There is a solution.
Familiarity:

I've used it several times
This hose is meant for the second generation reservoirs from Osprey. My friend has a first generation bladder, hydroform bladder to be specific, so we came up with a solution that does not cost more than $3. All you need is a piece of vinyl tubing and a nylon hose barb; both are available at Ace Hardware, or your local hardware store. The vinyl tubing is 3/8" in diameter and the nylon barb you need is 3/8" x 1/4". Insert the nylon barb into one end of the vinyl tubing. Next, put the open end of the vinyl tubing onto your bladder. Finally, you can connect the insulated delivery system onto the other end of the nylon barb. And now you are ready to go! For further help, check out the photo included.
does what you'd expect
Familiarity:

I've put it through the wringer
Will this mean your bladder never freezes? No (but mine hasn't yet!).



Does it insulate your bladder? Yes.



If you don't take precautions and take care of any water system (bottle or bladder) in below freezing - you'll freeze. It's a fact. So if you use an Osprey Hydration bladder - this will help you!



I am a huge fan of hydration systems because they mean you can really easily drink on the go.



I love the buckle attachment this has - no magnet is good so you don't have avalanche system problems. You also don't have to worry about your phone being near it, your gps being near it, your compass being near it, etc. I plan to remove my magnet on my summer system and use a buckle since I love the way this works so much.



I still practice good winter hydration bladder technique (trying to keep tube clear of water) and always zip up the bite valve after drinking - but I still find it easier than a Nalgene buried in my pack or wrapped up inside socks or sleeves on the outside of my pack.



I get lots of comments on how "space ready" or "NASA designed" my "tube thing" looks like.



I love that it comes with it's own hose so you can just swap out hoses rather than fiddling around with sliding insulation around the hose - I've done it with Platypus systems and it's a pain compared to this.



Osprey redesigned their bladders - so pay attention to whether or not you have a hydraulics or hydraform bladder (blue vs gray back - see osprey website for help) - and get the right one! Backcountry sells the one for the new Hydraulics reservoir.
Is there a version of this that works with the 1st gen reservoirs?
The hose that came is a smaller diameter than the original hose on my osprey bladder and does not fit.
is this useful even if you do use a pack...
is this useful even if you do use a pack with an insulated sleeve? would this help avoiding frozen tube or mouthpiece a little bit more? I was thinking a hand warmer would do the trick of avoiding that, but maybe an extra layer of insulation would help, but also not sure if this would fit in the sleeve. It's a Karve 16 S/M
Basically, this will buy you some time. Once it gets below 20F, you'll still freeze up if you're not constantly sipping every few minutes. I've even tried using Armaflex, which is insulation for plumbing. Even with that, if I didn't drink enough to clear the tube it froze in 15-20 minutes



Since hydration pack drinking tubes are narrow, they freeze up in minutes once it gets below freezing. Even 1/2" and 3/4" plumbing pipes can freeze in minutes once it ets below 14*f. That seems to be the magic number when the frozen pipe calls come in.



So to end all this rambling, yes, it will keep the tube and bite valve from freezing as quickly as without. I figure it could extend the operating range ten degrees lower and/or for a couple hours more.
Good Overall
Gender:

Male

Familiarity:

I've used it several times
I used this for three days of snowboarding in Utah recently. It was perfect the first day when the temperatures where in the high 20's. However, it was low single digits after that and the line & valve were frozen solid fairly quickly. Like the other reviewer said, it is great for keeping the valve clean as well. I would say it is worthwhile if the temperatures are not too low.
it's good
Gender:

Female

Familiarity:

I've put it through the wringer
I just returned from Annapurna Circuit in Nepal. Water with electrolyte tablet still froze on the summit date, but other than that i liked it as it kept the tip in the cover from all the dust in the air there.
Does this attach with a magnet?
Does this attach with a magnet?
No this does not attach with a magnet--when you zip the bite valve away, the magnet on the bite valve is hidden.

You can see the strap and buckle in the photo--there is a buckle attachment that you can shimmy on any thinner strap on your pack: sternum strap, bottom of the shoulder strap, etc... You then buckle the mouth piece into that area to prevent the whole thing from bouncing around.

Hope that clarifies instead of confuses...
The standard Hydraform uses a magnet for attaching the drink valve to the sternum strap of your pack (or anywhere else with a strap that fits). Kate is is correct about the insulated version connecting via a buckle system, however it is "stretchy" so you may not need to unbuckle it to drink depending on where it is attached.
I was just wanted to clarify to make sure...
I was just wanted to clarify to make sure this included the hose as well, not just the insulation. Thanks!
Best Answer
There is a hose and locking bite valve included.
Does it still attach by magnet? Thanks