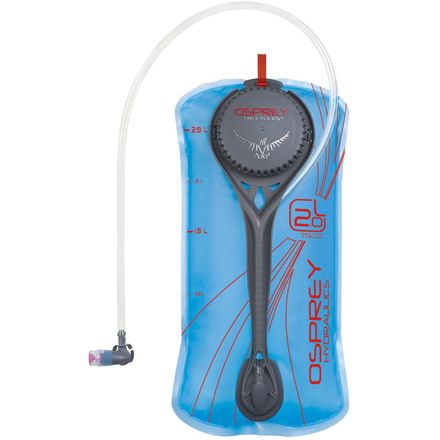 Colors

Videos

Community Images
Custom-fit suspension systems are Osprey's bread and butter, so it makes sense that the Hydraulics Hydration Reservoir is shaped with a rigid backer plate to prevent any interference with how your pack fits and carries. The durable MPE reservoir material keeps water tasting exactly the way it should, and the magnetic bite valve keeps the hose secure when you're cruising up the trail.

Metallocene PE reservoir material is exceptionally strong, taste-free, and BPA- and PVC-free
Antimicrobial formula keeps mold and bacteria away
Wide-mouth cap is easy to fill and has a 3/4 turn for quick and secure closure
Front handle makes the reservoir easy to fill and insert into the pack
HydroStatic backer plate allows the reservoir to maintain a low-and-wide profile, preventing interference with your pack's suspension
Magnetic bite valve with included sternum strap magnet keeps the hose secure when hiking
Bite valve can be quickly closed with a 180-degree shut-off valve
Flexible 1/4 inch water hose increases flow for satisfying thirst quenching
The 3L is really big. Haven't used it yet but I put it in my pack, the kestrel 38. Fits perfectly. The quality seems pretty high. I'll know more once there is water in it... Only down side is it is a little pricey.
Easy Refilling
Familiarity:

I've used it several times
I love the bladder mostly because of the HydroStatic backer plate. It makes filling and sliding into a pack super easy.. I mean easy! There is no pushing this floppy bladder into a tiny sleeve like trying to fit into your favorite jeans from high school. The plate makes the bladder rigid so it slides into an already packed backpack with ease. The plate also keeps pressure on the bladder which in turn helps with water pressure and makes it a ton easier to drink and you don't have to fight to get the water through the hose when getting low on water..

If anyone has further questions, contact me directly and I would love to help you get the best prices/gear advice. My direct email is skdavis@backcountry.com. Feel free to hit me up anytime.
Terrible!!!
Familiarity:

I've used it several times
I own a first generation Osprey Raptor pack. My bladder was needing replacing so I bought this. The 1st gen was made by Nalgene and was well constructed and had all the cool bells and whistles that everyone loved. Opsprey took those things(magnet,stiff back, large filler hole) and incorporated them into a bladder Nalgene is no longer making and my guess is outsourced it to China. The new one sucks compared to the old one. Here is specifically why:
-They made the hose diameter smaller so it "flows" less water
-the bladder itself is wider and and flatter. The old bladder was less wide and expanded outward (away from your spine) as it filled
-The "stiff back" is much more flexible making it harder to put back in the pack especially when both pack and bladder are full.
-The plastic spine is cheap and brittle
-The cap does not thread onto the bladder easily and often cross threads
-The cap used to have a large loop that you could grab to pull the bladder out of the pack. Its still there but too small to grab easily.
-The plastic loop that attaches the filler cap to the bladder is too stiff and wants to remain close to the threads. You have to hold it out of the way of the faucet water to fill it which is annoying.
The old bladder was awesome. The new one totally sucks. Anyone giving this good reviews doesn't know any better because they have only owned this piece of garbage. I'm super bummed they changed it!

Best Bladder
Familiarity:

I've used it several times
I just bought this to replace my old Camelbak bladder. Much better from the built in support of the bladder to spread the weight across your back, to the taste of the water coming out. I use this in a Camelbak backpack and it works great. Recommended!
Doesn't taste bad
Familiarity:

I've put it through the wringer
The thing I've loved most about this bladder is that it doesn't make my water have a bad taste like many other bladders have in the past. I have loved the magnetic bite valve so that the tube is not moving around while I'm hiking or riding.
Not all bladders are the same. I like the large opening of the Ospry and it doenst leak. Top notch!
Girlfriend can't open or close it
Familiarity:

I've put it through the wringer
Bought this for my girlfriend and she cannot open or close the thing. I struggle opening and closing it for every refill. Ended up soaking her and all the packs contents several times because it wasn't closed all the way. When properly closed the bladder works great…

I owned/own several osprey bladders and never had this issue. They seem to have changed the design on this one making it a pain to open and close.

not thirsty anymore
Familiarity:

I've put it through the wringer
bought this to fit in my osprey packs, and it works great.
Holds my water and it doesnt leak.
Now I always have water that is easy to drink while I stay on the move.
Nice for the pack!
Familiarity:

I've used it once or twice and have initial impressions
It is super convenient to have this attached to my back. I like how much water it holds, and like how the mouth piece works. I have to pump water into a nalgene, then transfer it to this bag, but it isn't that big of a deal.
Mmmmmmm Water
Familiarity:

I've put it through the wringer
I drink a lot! Of water. This reservoir works great and will last a long time. I would suggest getting a insulated hose sleeve for winter and summer.
Does this bladder really make the water taste-free? I had a couple of others that claimed the same but the water tasted like plastic anyway .
Thanks!
I have never had bad taste from any of the three Osprey bladders I have owned.



I asked my 11-year old - who also backpacks with me, and she said the only time she has ever had it taste funny was the time she left it on the rocks soaking up sun on Isle Royale - after several hours laying in the sun, she said that the water was "warm and ikky and tasted slightly plastiky."



I don't leave mine on rocks in the sun, and have never had that issue. LOL
Love it
Familiarity:

I've used it several times
Fits in my Osprey pack perfectly. And I love the lil' magnetic end that keeps it secure :)
Great hydration reservoir
Familiarity:

I've used it several times
I bought this to use with my Osprey Aether 60 pack and my Talon 33 day pack. Usability and durability seem great so far - no complaints. It is best as an on-the-go water source for one person rather than something to use once in camp where you may want something that lends itself more to sharing, pouring, etc. Consider what size you want - 3L is probably more than I needed given my water consumption even during a strenuous hike.
Where have you been all my life?
Familiarity:

I've put it through the wringer
So I made the mistake years ago by just buying the cheapest bladder on the market, thinking they are all the same. WRONG! This bladder is amazing and I will never go back to off brand, cheap product. Osprey thinks of all the little details. The handle makes it super easy to fill up and the locking valve is great. This also comes with a magnetic piece which is nice if you don't already have one. I highly recommend this bladder! Good Job, Osprey
Great Addition
Familiarity:

I've put it through the wringer
I recently was charged with outfitting my group (wife, sister, brother-in-law, brother, sister-in-law) with gear for a week long trip in southern utah canyon country. We got tents, sleeping bags, stoves, backpacks, the whole run. All of our gear held up and served us well.
The Osprey Hydration bags were great additions to our backpacks. There were a few different hydration bladders in the group, but Osprey's added rigidity helped keep it in place and keep all of the water accessible, not folded over and behind a flimsy bladder.
Great flow.
Familiarity:

I've used it several times
Excellent product great flow and the flat design makes it very comfortable to carry. If you're carrying it in a different brand pack make sure it has a wide bladder pouch.
bought as a gift, works great
Familiarity:

I gave it as a gift but have feedback to share
Bought for my gf, and she's happy. so i'm happy.
Again, the cap...
Familiarity:

I've used it several times
Like others have commented, at least with mine, the cap has to be torqued about as tight as I can possibly make it. I learned this after packing my Osprey Aether 70 and noticing a puddle forming below it on my hardwood floor! Problem is, it's then extremely difficult to UNscrew the cap. I may try the olive oil tip and/or ask Osprey for a replacement cap.
Best Bladder on the Market
Familiarity:

I've used it several times
I have used a number of bladders, including the classic Camelbak bladder, and after using this one I won't ever go back. I have been using Osprey Packs for years and love how they are pretty much all equipped to carry one of these bladders. The easy fill handle is great, it helps orient the bladder so that you can efficiently fill it, unlike the Camelbak, which flops all over the place. This bladder also has a built in plastic back panel which gives the bladder some structure and also serves as reinforcement for the back panel in your pack, together they form a seamless union, you wont feel a difference in how your pack fits regardless of if it has the bladder in it or not. The hose tube is a wider diameter than the Camelbak, so it lets you drink water faster if you so desire. The bite valve is great as well, and i love the locking mechanism, if you have the valve bent at an "L" it will let water flow out, but if you have it straitened out it will lock off the valve. One last thing that puts this system over the top is the magnetic attachment that holds the hose in place when you aren't using it. Just attach the magnet to your chest strap and the bite valve will automatically attract. Osprey thought of everything when they created this system and truly produced a superior product to all the other alternatives on the market.