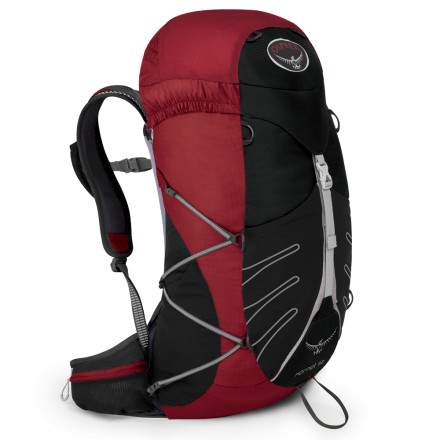 Osprey built the Hornet 32 Backpack for ultra runners, adventure racers, and peak baggers who need a lightweight and uncomplicated way to haul the essentials. This minimalist pack dispenses with extra frills and instead delivers a simple, integrated system to carry your gear so that you can devote all of your attention to the ultimate goal.
SpacerMesh back panel provides super-light cushioning for a comfortable fit and has a removable foam pad to shave even more ounces for fast approaches
BioStretch shoulder harness system features mesh-covered foam for superior comfort and small sleeves to hold your energy gel pouches
Integrated hip belt helps take weight off your shoulders and features zippered pockets to keep you trail essentials handy
Top lid keeps your gear contained and is removable for even greater weight savings
Thin, low-profile side compression straps reduce pack volume if you're carrying a smaller load
ErgoPull waistbelt closure makes cinching down the belt easy
This is by far the lightest pack I own. It is great for day trips and light overnight, in fact it is so light you could pack it for long outings(week) to one camp and having a day pack would be nice. All the material and quality are great...Osprey. The only things I can be critical about are I am not sure if I would have make the lid top pocket mesh, seems like it would be better off with the light nylon and keep out dust/dirt. The other is the side pockets are a little small, so hard to reach with the pack on. The reservior slot is open on top, might be an issue if you use it in winter but I dont plan too...I have other packs for that. Overall it is a great pack and the Osprey reservior system is awesome!
this is a nice looking pack, but am wondering...
this is a nice looking pack, but am wondering how easy it would be to attach snowshoes to it? i'm looking to get rid of my talon 22 for this (it's too big!). thanks
Best Answer
Quick answer for you would be that you don't want this pack. The Talon 22 is a 22L pack. This pack is a 32L pack and is therefore bigger than the pack you already have.

Have you considered the Talon 11?

BUT as for how snowshoes attach to this, there are 3 sets of loops running down the front of the pack that you could use accessory strapping to attach your snowshoes. I've seen people do clever thins with 4 feet of strap and a buckle or two--all of which totals less than $5.

Hope this helps!
i do want a bigger pack so i can haul more stuff on long day hikes! i need more space
Wrap your mind around a new way
It's truly ultralight and for that it acts and feels well different then what I know people are used to. In this case different is better and with one or two tweaks it could be one of the best packs ever.

The Good: Plenty of room with a separate hydration sleeve. I've got a 3L reservoir but will bet 2L works better. The mesh pocket in front looks to hold plenty and if you maximize all the spaces this can easily go for an overnight or multi-night-Ultralight pack.

The frame less pack is so light, I keep checking that I didn't leave anything behind. I like the way it sits and conforms on my back and even with only a mesh hip belt; the load transfer works well.

The top pocket is all mesh, but I live in the southwest and carry my Manta rain cover just in case. The shoulder straps are similar to what you get on a Manta and that works for me. "Inside out compression straps" are always a huge plus.

The Bad: Removable pad is hard to get in and out with gear and is just enough to cover your hip or as a sitting pad. I would have loved to see a more "fold out" style so I could literally lay out with it.

The Ugly: Side pockets are not worth a damn for a water bottle or most anything medium to large. I'm really shocked that they did not use more of the Exos style pocket on this pack. Or even like the 46l with the pockets going up the entire side. It would have been perfect for it.

This is a pack that If the bigger version (46L) was a bit bigger and/or had a sizable removable pad I think this thing would be awesome and could even replace my Exos 58 one day.

Overall minus the pockets I think this 32l is terrific for everyday use, a day pack, or even for a overnight ultra light trip; It's the only way to go... I totally recommend it but... understand it feels different the way it sits but comfortable.