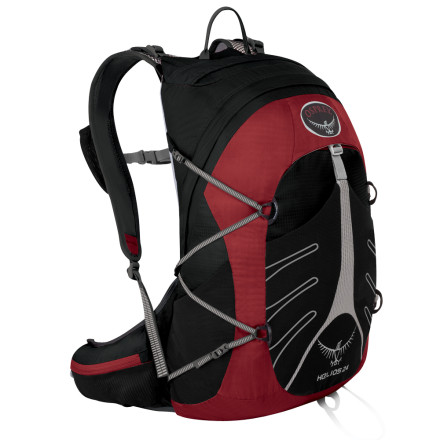 Your competition at the orienteering race packed an overnight shelter and down quilt in anticipation of grabbing an hour or two of sleep before attempting the race crux at dawn. You, on the other hand, simply packed your ultra-minimalist Osprey Hornet 24 Backpack because you intend on finishing in record time and sleeping in a warm bed tonight.
SpacerMesh back panel provides super-light cushioning for a comfortable fit and has a removable foam pad to shave even more ounces for fast approaches
BioStretch shoulder harness system features mesh-covered foam for superior comfort and small sleeves to hold your energy gel pouches
Integrated hip belt helps take weight off your shoulders and features zippered pockets to keep you trail essentials handy
Thin, low-profile side compression straps let you reduce pack volume if you're carrying a smaller load
ErgoPull waistbelt closure makes cinching down the belt easy
Light Weight pack
Familiarity:

I've used it several times
This is a great lightweight pack. I have used on a lot of day hikes, traveling or stuffing with biking gear to get to the trail. The hip belt zip pockets are a great touch, easy access and are comfortable with smart phone or larger items. Mess back panel is also nice and great for holding a jacket for easy access without fully taking the pack off.
Great simple lightweight pack! Comfortable to wear for long moderate rock climbs!
I use this pack a lot. For summer day hikes, it is great. It weighs almost nothing when empty and can hold everything you need. I often will carry a 2L hydration system, light layers as needed, and snacks. The design is great. The small top mesh pocket can hold some essentials and the hip belt pockets are great for snacks (e.g., apples, Clif Bars, etc.). I use this for trail running peak bagging too when I know all I need is some water. It can compress down tight against your back for when it is mostly empty or expand outward nicely for a long day hike requiring some layers, food and water.
Quality is very good. Pack is light and has detailed construction some other lightweight brands skip. This is my first Osprey pack. My other day pack is REI Flash 18. My backpack is 6 Moon Designs Traveler. Overall design works well for me. I put my jacket in the water reservoir area because I usually carry water in gatorade bottles for a day hike. This keeps me from wrestling with my jacket every time I want to grab a smaller item from the main compartment. Huge smartphone (Samsung Charge) fits in the hip pocket.
Only problem is the mesh side pockets are not deep enough to reliably hold a 20 oz gatorade. A 12oz gatorade fits better, but he elastic is not quite strong enough to hold reliably (if you bend forward, for example). The lower side compression straps are done nicely and allow flexible configuration. I use these to wrap around the top of the gatorade bottle (20oz and 12oz) to hold it in the side pocket. It's an extra step and takes a little practice to do with pack on. Wish the side pockets were deeper so I could just stick the bottle in with one step.