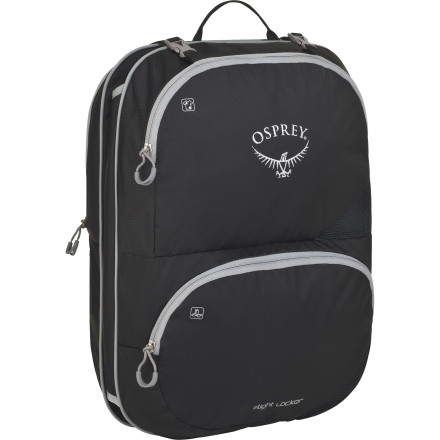 The compact, lightweight Osprey Flightlocker is a master of organization. Separate apparel-specific pockets and compartments keep your clothes, socks, and footwear separate so they don't get each other dirty and smelly and so they can be easily accessed.
Versatile two-piece design separates for ease of travel and organization
Two zippered and ventilated pockets keep your clothes separated and organized
folder section between pockets keeps shirts and pants neatly folded
Hangs conveniently from hook or can easily be attached to coat hanger
What do you think about this product?
Have questions about this product?
slick piece of gear
Familiarity:

I've used it once or twice and have initial impressions
So, there aren't a lot of reviews online or supplementary pictures of this piece of gear. When I got it in, I was pretty surprised at exactly how big it really is. The amount of clothes it can organize is also surprising. To make this a little more organized let me break this down:
Pros:
Versatility-
This is in terms of the item itself. I will explain this in a minute, but for now; the "back" panel is designed to stow shoes, I like to use this for shirts though. The socks and shirts pouches on the "front" panel I used for socks and undees, or depending on the trip I stick toiletries in here too. The two panels conceal the hook and hanger loops as well as the folder flaps between them which is where the vast majority of your clothes can be stored. The straps that keep these two panels together are adjustable to about 6" apart, or can be disconnected which allows you to stow the panels separately in your luggage. More on that in a moment. I like being able to separate or combine this item, and that I can hang it with the loops provided or with a hanger.
Quality-
Although this gear is new to me it seems to be very well made. It's both flexible and structured so crushing and stretching it doesn't seem to affect it. There are abrasion resistant surfaces protecting the edges, and the mesh portions are all reinforced.
Organization-
This kind of seems like a gimme, but as much as I appreciate a packing cube, this goes above and beyond. I didn't find myself rifling through my clothes, and messing them all up (the wrinkle preserving shape of the clothes or the organization). I guess that would depend more on which packing cubes you have, but for me the flight locker does a better job.... kind of...

Con(s):
This is more about my luggage I suppose, but I find that due to the size of the flight locker it is not as versatile *cough cough* as packing cubes *ahem*, or just old fashioned packing. To make this work you will need to have a bag with a wide opening, and even then I am not exactly sure what bag this piece was designed to work with. I will ask a gear head and update. I tried it first with my Dakine rolling duffel. After some maneuvering the flight locker fit in the main compartment, but kind of wasted the remaining space. I guess I could cram some minimalist shoes or flip flops in, buuuuuuut I moved on. It did not fin in any of the carry-ons I own which I thought was disappointing as I mostly travel via carry-on. It is worth mentioning that this would never be a part of a reasonable backcountry trip. It is too heavy and too bulky. For backpacking organization I use zpacks bags... just fyi. I tried this flight locker with my split roller which I could make work but again felt like I was wasting space, and one other duffel that was more flexible before trying it with a Dakine bootlocker. SUCCESS!!!! The bag I almost sent back I am now reconsidering because these two items pair wonderfully. The flight locker makes up for the boot locker's lack of support to its structure, and the boot locker allows the flight locker to be used in an array of packing arrangements. I would also guess that this gear would work with a wider range of luggage if it wasn't packed down with two weeks of multi-climate gear through these "tests." I also think a round duffel with a D opening like the TNFs base camp duffel line would work well with the flight locker as it rounds out a bit as it gets fuller.

So there you have it. A loss of one star because its functionality is limited by its size (unlike packing cubes), and what luggage you have. I will try to get some pictures up soon to help you out, and will update my review if my opinion changes with more use.

Cheers
GOAT IS GOOD
Familiarity:

I've used it several times
I got one with one of my osprey travel bags a few years ago and we wanted a 2nd. Lightweight way to organize enough clothing for a several days if you pack carefully. Certainly fits in a carryon size bag but I've used it in travel packs and duffels with gear etc., Primary construction material is lightweight nylon so its not heavy, but I?m enough of a gram counter I'm not using this for proper backpack trips. That said, I do use it for every other form of travel from work or vacation trips on planes, trains and autos, car camping and even river trips with this organizer in a dry bag (once a tent is set up, I only need to bring this organizer in the tent to live out of). You can put pants/shirts ON hangers in the interior portion as well as folded clothing is secured there too. Then multiple pockets for folded or crammed T-shirts, shorts, socks and a separate place for an extra pair of shoes if you wish. I've got several of the eagle creek pack-it cubes dating from years ago and now use this osprey organizer virtually exclusively (the pack-it cubes are now all used to organize my outdoor gear!).
I haven't had a chance to use this yet, but it is a great product. I've had other luggage organizers but only were able to hold pants and shirts. The flight locker has extra compartments for accessories and little gadgets, plus it's stretchy so will really hold a lot. I plan on using it soon for a business trip. I have no doubt it will perform. I'll try to update after use.