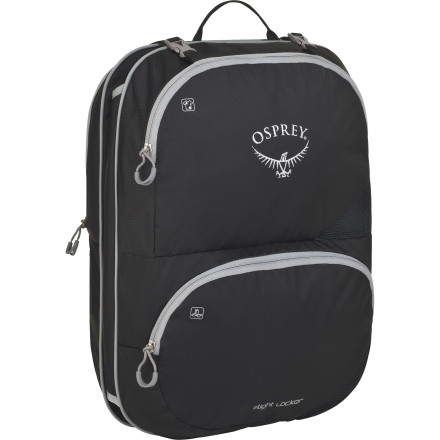 Colors
Description
Your travel buddy.
The compact, lightweight Osprey Flightlocker is a master of organization. Separate apparel-specific pockets and compartments keep your clothes, socks, and footwear separate so they don't get each other dirty and smelly and so they can be easily accessed.
Versatile two-piece design separates for ease of travel and organization
Two zippered and ventilated pockets keep your clothes separated and organized
folder section between pockets keeps shirts and pants neatly folded
Hangs conveniently from hook or can easily be attached to coat hanger
GOAT IS GOOD
Familiarity:

I've used it several times
I got one with one of my osprey travel bags a few years ago and we wanted a 2nd. Lightweight way to organize enough clothing for a several days if you pack carefully. Certainly fits in a carryon size bag but I've used it in travel packs and duffels with gear etc., Primary construction material is lightweight nylon so its not heavy, but I?m enough of a gram counter I'm not using this for proper backpack trips. That said, I do use it for every other form of travel from work or vacation trips on planes, trains and autos, car camping and even river trips with this organizer in a dry bag (once a tent is set up, I only need to bring this organizer in the tent to live out of). You can put pants/shirts ON hangers in the interior portion as well as folded clothing is secured there too. Then multiple pockets for folded or crammed T-shirts, shorts, socks and a separate place for an extra pair of shoes if you wish. I've got several of the eagle creek pack-it cubes dating from years ago and now use this osprey organizer virtually exclusively (the pack-it cubes are now all used to organize my outdoor gear!).
I haven't had a chance to use this yet, but it is a great product. I've had other luggage organizers but only were able to hold pants and shirts. The flight locker has extra compartments for accessories and little gadgets, plus it's stretchy so will really hold a lot. I plan on using it soon for a business trip. I have no doubt it will perform. I'll try to update after use.