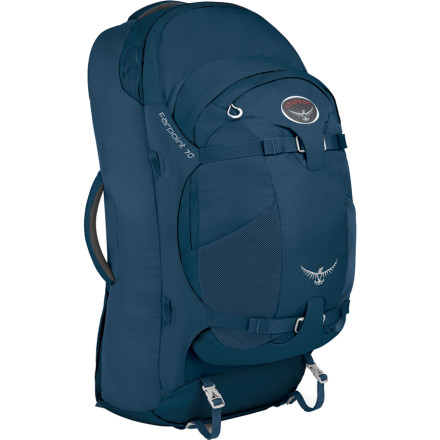 Colors

Detail Images
Description
Ready for the woods and the city.
Osprey designed the Farpoint 70 Pack for function and versatility so whether you are taking on a overnight jaunt in the woods or jetting to NYC for a weekend, your necessities stay organized and easy to find. Remove the pack from the frame and use it as a soft day pack for short outings, and the padded handles on the top and side make the Farpoint 70 easy to load and unload. The spacious Farpoint 70 is also ideal for European backpacking trips.
Unanswered Question
Howdy folx! ,

I´ve never " backpacked" per se, as I´ve always travelled with a carry on and a normal skate or day backpack.

I´m heading to British Columbia for 3 weeks this Dec and I don´t want to bring a carry on. I want a travel backpack in which I can fit 5-6 days of clothing (winter clothing) and still have good , safe space to bring home gifts, new clothes n stuff for me, etc...

What capacity should I be looking for in a travel backpack? I dont want a traditional backpack that loads from the top. I def want one you can open up like normal luggage.

I´m 1,78cm - 72kg - male - natureadept - ravelovin´- person ...if that helps at all with suggestions.

Thank you so much whoever responds this : D

Cordially,

Enrique
Great For Travel
Familiarity:

I've put it through the wringer
I used this backpack for a 2 month trek around Europe. It did everything I needed it to do. It comfortably held T-shirts, pairs of shorts, some long sleeves, and a towel comfortable. The smaller backpack that comes with it is also a lifesaver. I could drop my large bag off at hostels, and just carry needed items for the day in the little backpack. Only issue I had with the bag was the size and airlines. The restrictions on bags in Europe are much more strict then the states. Overall, this bag was awesome and made my trip so much better. I would recommend this backpack to anyone looking to do some long-term traveling.
Perfect Travel Pack
Familiarity:

I've used it several times
Used for trips to French Polynesia and Mexico. Love the ability to remove the day pack and have not had an issue as a carry on with this 70L pack. I use compression cubes and compress it down to the max and have not had anyone give me a second look bringing it as a carry on...
Very Well Put Together Bag
Familiarity:

I've used it several times
Bought this bag for a 3 week trip. The bag is too large to use as a carry on for most flights however it was the perfect size for all my needs for the trip and will work great for carrying on buses, trains, taxis, with excellent support when walking. Straps are easily adjusted to distribute the load when both bags are jammed packed. The daypack is a great addition and looking forward to the ease of this. Overall am very impressed with the bag and should have it for years!
Can anyone advise on whether this bag is...
Can anyone advise on whether this bag is big enough to use as my only bag (minus a small carry on backpack) for a 10-day trip to Spain this July? I currently have a checked bag that would fit everything, but is not the best for lugging around and I am looking for something I can either carry/roll or throw on my back as needed, but don't want to compromise too much space.
Hi Pat,



It's tough to say whether the contents of your checked bag will fit into the Farpoint 70 without knowing the volume of the bag, but 70 liters is a considerable amount of space for most travelers. (70 liters is ~4270 cubic inches, if that helps at all.)



If you have any other questions, feel free to hit me up directly! ext 4456 or llabar@backcountry.com.


Best Answer
Hi Pat, I just got the bag and took it from Utah to Thailand (12 flights in all). I was in Thailand and Cambodia for 10 days and still had room to spare. The detachable pack is genius and saved me multiple times (some airlines in asia weigh your carry on), and saved me from checking my bag in the U.S. Comfy, durable and the best backpack i have ever had.
Great pack
Familiarity:

I've used it several times
I've used this bag for a bit over a month now, travelling through a few countries and I must say I'm pretty happy about it. I'd say it's the ideal size for me. Not too small, not too big. (I'm 5'10", 200 lbs.) The quality is great. Not a problem yet. Probably the coolest thing is the lifetime guarantee, you don't even need a receipt and they will fix or replace the bag. I'd recommend it.
Does this bag fit in the over head bin on...
Does this bag fit in the over head bin on airplanes?
No, in the Farpoint range, only the Farpoint 40 is designed specifically for carry-on. Some have reported that they have gotten the 55 past the authorities, but that is iffy at best.
Osprey Farpoint 70 and 55
Should this pack be used for a checked bag...
Should this pack be used for a checked bag or is the material to flimsy? I dont want the pack to come back damaged
The material of this pack is pretty rugged, I wouldn't worry about it more than any other suitcase/bag.
Write your question here...I have a karve...
Write your question here...I have a karve 11 I was wondering where you attach the magnet on the pack from the drink hose
I was wondering why you're asking this question on the Farpoint 55 page? Backcountry.com gliche maybe...?

And the magnet get put on the sternum strap. However with the Karve 11, the bite valve gets zipped into the shoulder strap so chances are you might not want to use that function when using the reservoir with your Karve.
Write your question here...I am wondering...
Write your question here...I am wondering if the zippers join together for locking purposes?
Hi Gerre,

Thanks for the question. I did some checking on the Osprey Packs Farpoint 70 Pack - 4089-4272cu in and with the assumption that you are referring to locking the soft daypack to the rest of the apparatus, it indeed does have a zipper to lock them together.
Hi, just wondering, does the 70 litres...
Hi, just wondering, does the 70 litres refer to the main pack or the combination of main/daypack? Also is this the same for the Farpoint 55 too? I'd consider buying the Farpoint 55 I think 55 litres would be fine for my travelling needs!!
Best Answer
Main backpack volume is 3356 cu in / 55 liters and the Farpoint Day is 900 cu in / 15 Liters...Look like you looking at a 55L now (:
WIll be traveling through Brazil for three...
WIll be traveling through Brazil for three weeks. Rio, Florianopolis, and then some time in the Amazon. Looking for a pack that can tackle the both phases. Doesn't necessarily need to be ready for an ice-climbing expedition, but I'm not looking for a roller bag either. If I had to lean to one side, I would want a pack I could use for backpacking, camping, etc... Whaddya think?
my buddy has this pack. i carried it for a while to check it out. it carries more like a suitcase with straps than an actual pack. i would look to the osprey atmos 65, i think it would suit your backpacking/camping needs better.
@out4fun and @Eli thanks so much, that and...
@out4fun and @Eli thanks so much, that and a review saying the material is 2flimsymakes my mind up that this isn't the bag for me. So i'm looking for a backpack for travelling n wanted an osprey or climbing backpack for comfort. I like the way this opens up all the way around- the only other i can find like this is the waypoint but the pack attached to this one is too small for my laptop-this defeats the point of a day pack for me. So without a day pack is fine- preferably zipped all the way round and durable... any ideas?
I would first check out the Osprey Ariel 65 for women.
(http://www.backcountry.com/osprey-packs-ariel-65-backpack-womens-3800-4200cu-in)
It will hold the same amount of gear as the Fairpoint, it has a top pocket that converts to a fanny pack, the AddOn compatibility (attach a Daylite or Solo daypack using the built-in cord loops) as well as the J-panel access which is similar to what you were looking for in having a zipper all the way around.

Another option that has everything you are looking for is The North Face Backtrack 50 and 80. I've only found a couple reviews on the 80, which are promising, but I haven't found anything on comfort.

Anyone else know much about the TNF Backtrack 80?
Best Answer
Hey Natalie. Yes, look at the Osprey Ariel 65. You will love it. Like Eli says above, you can add a detatchable daypack called the Daylite. The other awesome thing about Osprey is the Warranty: All Mighty Guarantee. NO MATTER WHAT. They take care of you. It's not a "limited lifetime" or "manufacturers defrcts" warranty. It's anything: You're fault, Osprey's fault, the bear's fault... :-) Osprey has you covered! here's a recent pic of me with the Ariel 65 - Stairway to Heaven!
Does this backpack have water bottle pockets...
Does this backpack have water bottle pockets on the main big bag at the side?
Natalie, there are side sleeves on the detachable daypack, but not on the main bag itself. These side sleeves may be able to fit a 12-16oz bottle, but it's hard to say without knowing how elastic they are.
Best Answer
Natalie, The stretch pockets on the detachable pack will fit a Klean Kanteen / Sigg 27oz bottle. There is no bottle pocket on the main bag.
Can this pack be used as a carry item on...
Can this pack be used as a carry item on an airplane?
Best Answer
No. To fit in the overhead luggage compartments you'll need to find something approx 2500 cu. or less.
Mike, my answer is maybe. If you remove the daypack, the remaining size of the bigger pack is 26"x10"x12" which adds up to 48" (and it is the same for S/M or M/L sizing). IF you didn't pack it out all of the way, then you would get smaller dimensions that would work with the 45" rule (all the dimensions added up should be 45" or less). The daypack would be the pack you put under the seat in front of you.

However, not all airlines use the 45" rule. Certain airlines adhere to some variation of 24"x17"x10" and if you are travelling on one of those airlines, they may not allow the bigger pack to work since there is a 26" hard frame (for carrying weight better) that prevents you from smushing it down to 24".

And some of the variations are super tiny, like Delta has a rule of 22"x 14"x8". And international is a whole nother beast for measurements. So check into what you'll be flying and where and that would dictate your pack requirement.

The Farpoint 55 is on a 24" frame. If you could make a smaller pack work, this would be a great pack for carry on.

I hope this answered more questions than it created.