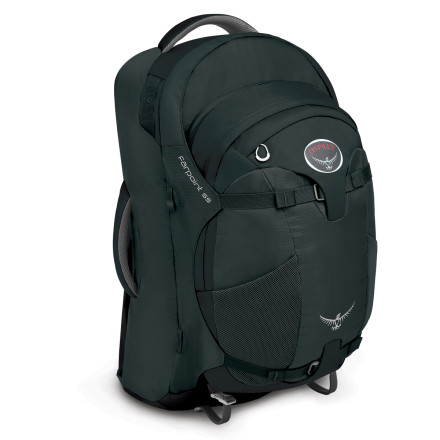 Colors

Videos
Description
Traveling should be fun, so don't get stuck with a pack that isn't.
Wanderlust can strike at any moment, and with the Osprey Farpoint 55 Pack, you'll be ready to head out in a hurry. This 2-in-1 backpack includes a panel-loading main bag as well as a detachable day pack for quick trips when you reach your destination. It also includes clips that attach it to the suspension of the main pack, so you can wear it kangaroo-style to keep valuables like your passport and wallet in view during rides on packed subways or walks on crowded streets in exotic locations.
Main bag offers a panel-loading opening with lockable zippers, an interior pocket and internal compression straps to cinch down contents
Detachable daypack includes multiple pockets, and an internal sleeve for hydration reservoir or a computer
Removable sleeping pad straps and gear attachment points offer additional carrying options
Suspension system can be zipped into the back panel for worry-free transport in cargo holds
LightWire frame and spacer mesh back panel promote ventilation in hot weather
Padded carry handles at the top and the side make it easy to grab your pack and go
Share your thoughts
What do you think of the
Osprey Packs
Farpoint 55 Pack - 3100-3300cu in
? Share a...
Unanswered Question
If you separate the day pack from the main pack, can the main pack be used as a carry-on, or is it too big for that?
Unanswered Question
My son will be traveling through Europe for a month and was wondering if the Osprey farpoint 55 or 40 would be large enough and which would be best 55 or 40? He is 5'6" and wondering if I should get the S/M?
Thanks for your help!

My spouse and I are walking the camino de Santiago ,500 mile 35 day hike and are looking for backpacks I am thinking either osprey atmos ag 50 or kestrel 48 and my spouse aural ag 50 or the Kyte 46 .we are travelling light just sleeping bag , clothes ,poncho and personal gear ,no tent or cooking supplies . What pack would you recommend and the advantages or each
Great question! For you:
Atmos 50 - amzingly comfortable backpanel, good feature set, carries weight really well
Kestrel 48 - less technical backpanel, not as specific in fit as Atmos, but comes with raincover
For your spouse:
Aura 50 - same as Atmos (it's the women's version)
Kyte 46 - same as Kestrel (it's the same as the Kestrel)

Wow... have an amazing time! Please let me know if this was helpful!

Leta
Osprey Rep
Brad!

Solid question, I just built a full kit for a guy heading out next spring to do the Camino de Santiago.

If you'd like help with your packs and complete kit, definitely get in contact with me. I'd love to help you guys out!

Jared D.
Expert Gearhead
801.736.4336
jdowns@backcountry.com
Travel bag extraordinaire
Familiarity:

I've used it several times
When I travel I typically pack in a large backpack so that I can carry all of my stuff on my back and not have to deal with awkwardly trying to roll a suitcase around an airport and through cities and up stairs, etc. And carrying a duffel bag can be rough on one shoulder. The only downside to my backpack method is that on weeklong trips and when I don't pack as light as I should - I find that my shoulders get sore. So with a two week trip planned for the fall, a trip without definitive places to stay every night that might require carrying the bag all day on most days, I decided it was time to find a backpack style travel bag with a waist belt to help carry some of the weight. After doing a lot of research I finally found this Osprey bag. The Farpoint is everything I was searching for and more, the backpack straps can be hidden (zipped up to act like a duffel when flying to avoid the straps getting caught on things), the daypack that can zip off of the front to act as its own bag -- this is a handy feature both for flying when checking a bag, and for leaving stuff at a hotel and still having a bag ready to go for the day. And most importantly it fits my petite frame. I got the S/M size and it is great for me at 5'2". And because we are dorks and my husband was jealous of my bag he was able to get the same one (in a different color) in the M/L and that size works for his 5'10" body.
And when you think about the fact that you are getting two bags from a trusted company like Osprey the price really isn't all that much.
If you are looking for a do it all travel bag this is it!
Do the overall exterior dimensions of the S/M pack differ from the M/L size?
Best Answer
S/M - 23 x 13 x 12 inches

M/L - 25 x 13 x 12 inches
You got it, Travis - thanks!

Leta
Osprey Rep
2 for 1?!
Familiarity:

I've used it several times
always quality from osprey, the double pack is a very nice touch.
Awesome packs, awesome service
Gender:

Female

Familiarity:

I've used it once or twice and have initial impressions
This is an awesome pack, just what I was looking for. I've been researching packs for a few months now. It opens like a suite case, so everything in the bag is easily accessible. I wasn't sure which pack to get, but Emily Jensen suggested I get the Osprey Farpoint 55 and 40 and compare them side-by-side. She is a genius! My husband confiscated the 40 for his travel, and I'm keeping the 55. Great packs, great service! Thank you Emily. I will definitely use Backcountry for all my travel gear and I'm telling my friends and family. :)
The daypack is 15l, which is perfect as a personal bag when flying. I got a s/m sized main pack of 45l, which is a great carry on size. Its comfortable to carry and so far I have done 1 fifteen mile hike. For me this is a perfect compromise between hiking and travel bag.
What is the capacity of the daypack?
Hey,

What type of capabity are you referring to? Weight capacity?

The volume is 55 Liters but that is pretty big for a day pack to take on day hikes. This is more of a luggage piece than hiking pack.

Jared D.
Expert Gearhead
800.409.4502 ext 4055
jdowns@backcountry.com
Best Answer
Hey,

Actually, the detachable daypack is about 15L. I made a 2 weeks trip to Scotland with this backpack and it was perfect. Mostly, I was leaving the 40L main pack at the hostel and make my day with the 15L. When I had to carry both packs, the possibility to clip them together like a Kangaroo was awesome.

There is a video explaining all the main features of this backpack: https://www.youtube.com/watch?v=OfE0Rg0zC9Q.

Antoine
Unanswered Question
What are the colors like in person? I like the idea of a dark red, but it looks brown to me. The Charcoal Gray looks like dark teal. The Lagoon Blue looks nice, but is it actually that subdued, or is it bright in real life?

Also: Are there any small pockets on the hip straps? I like to carry chapstick in easy reach places!
My go to travel bag.
Familiarity:

I've used it several times
This product is bomber, (and not just in the sturdy sense). I purchased this backpack before going on a trip to Europe for 10 days. I knew I would be walking around a lot while trying to find a hotel and didn't want to deal with a cumbersome suitcase. Initially i was planning on going for the 70liter version but last minuet decided 55 is fine. This pack lets me pack everything i need for a trip and you don't even feel it on your back. To make it better the s/m version is just small enough to carry on in airplanes. The ability for the straps to zip up into the bag is a godsend when on busses and subway, and to sweeten the deal with the osprey warranty i know this pack will be with me for many journeys to come. Just Get One! you won't regret it
Great product
Familiarity:

I've used it once or twice and have initial impressions
Like other Osprey products this is a high-quality backpack which is very light and versatile to use. It has more than enough capacity for a trip of one or two weeks. The detachable Day pack will probably be used more often than the main item. No reservations about recommending it whatsoever. No problems taking it on the plane as carry-on.
LOVE This Pack!
Familiarity:

I've put it through the wringer
This is my first ever travel backpack and after lugging it around the world I can definitely give it a huge thumbs up. I was dead set on getting a side-zip pack and I'm super glad I did, makes it sooo much easier to pack and unpack.

The quality is great and it's held up really well. I've done a lot of airplane travel with it, and I have to say I've never been able to take it as a carry-on which I know some are interested in doing. It works great as a checked bagged though as it full covers itself up with the back cover, everything is very neatly tucked in.

I wasn't sure if I'd really use the zip-off backpack but I was glad to have it. It's nice always having a daypack available, and leaving it empty is an easy shortcut for guaranteeing yourself a little extra room if you want to bring things back from your trip. Plus the sleeve in it is perfect for a laptop.

One of my concerns that this pack doesn't come in a women's size as I'm pretty petite - I'm 5'5, 110lbs. But it fits me just fine and is quite easy to carry a long way when you use the waistbelt. I've never used it for actual mountain hiking or anything though.
I'm traveling to Costa Rica this summer, and was looking for an easy packing bag that I could take as a carry-on. After reading several reviews I decided that it would most likely fit within the airline constraints for a carry-on. I ordered this and it seems like a nice bag. It looks very sturdy, I liked how the straps tuck away, and the construction seemed sturdy. I have not taken it on an airplane.
I'm going on a Himalayan Trek this summer...
I'm going on a Himalayan Trek this summer with the Himalayan Health Exchange and think about this pack. I bought it on big sale a while back and this will be my first real use. I don't think we'll be doing any serious carrying in (traveling by auto) but I want to be ready in case there is some hiking or trekking that needs to happen. I'm worried it might be a little large plane requirements. Any thoughts?
Best Answer
It should be fine if you are going to be in a vehicle most of the time. If you think there will be hiking longer than a few miles in length I would consider going with a more supportive backpack such at the Aether or Atmos or Waypoint series and get an Osprey Airporter bag to put the pack in when flying. The Aether and Atmos will be more supportive for longer hikes and you will feel like you just have a daypack on. If you also want a daypack the Aether is addon compatible and you can get the Daylite daypack to attach to the pack. I am not sure if the Atmos is addon compatible.

The Waypoint is a lot like this bag but is slightly more backpack than suitcase. The Farpoint is more suitcase.
Osprey Farpoint 70 and 55
Unanswered Question
What is the difference between the Farpoint...
What is the difference between the Farpoint series and the Waypoint series?
Am planning to do a month-long walking...
Am planning to do a month-long walking trip through the Pyrenees and Northern Spain 800 k.m.s. Will this pack be the right choice?
Best Answer
This pack would be a good choice.
Am planning to do a month-long walking...
Am planning to do a month-long walking trip through the Pyrenees and Northern Spain 800 k.m.s. Will this pack be the right choice?
I would definitely go with something that has more support and a large, padded waist belt. Look at the Osprey Aeros 65 or the Gregory Baltoro 65 if you're looking for something in this size range.