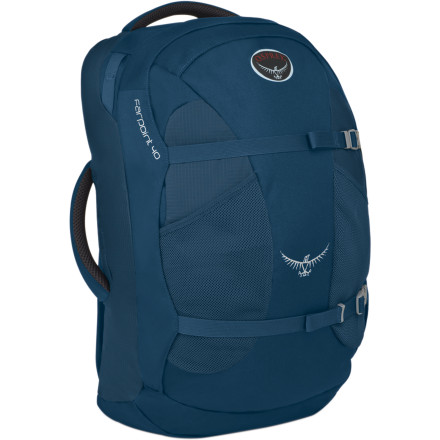 Colors
Description
For fast-moving globetrotters.
Designed for those constantly on-the-go, the Osprey Farpoint 40 Pack offers easy, convenient access to your gear while you fly, drive, or walk. This lightweight, minimalist pack features a comfortable suspension system and LightWire frame that provide a solid fit while you race to your gate, flag down a bus, or hop on a train.
Durable materials stand up to years of globetrotting
Spacer mesh backpanel offers comfortable cushioning and ventilation
Padded top and side handles supply comfortable carry
Large panel zip with lockable sliders to main compartment offers easy access to your gear
Main compartment has compression straps to hold clothes in place and a zippered mesh pocket on the front flap for toiletries
Large front zip pocket has a padded laptop/tablet sleeve
Small front zip pocket with key clip holds small items
Dual front mesh pockets stash your water bottle or coffee mug
Removable sleeping pad straps for convenience
Europe trip
Familiarity:

I've used it once or twice and have initial impressions
I just packed this thing with (hopefully) everything I'll need for my trip to Europe. So far, I've really liked the duffel bag option. I've traveled quite a bit and have always hated the backpack straps in the carry-on bin/overhead compartments on planes. The straps always seem to get caught and make it so you have to hold up the line of people getting on the airplane. This bag eliminates that! I also hated digging blindly into the bottom of a traditional backpack. I'd go for some britches and pull out a shirt. My nightmare. This bag unzips fully so you can see what you're doing. It's great. The laptop AND tablet pocket will probably be really convenient for keeping electronics safe. Nice padding. My travel companion and girlfriend bought a different bag, saw mine, and took hers back to get this one. Just saying.
gave as a gift but it's a great pack
Familiarity:

I gave it as a gift but have feedback to share
fits great and performs well. also looks solid. all in all a great product
Great backpack for travel
Familiarity:

I've used it several times
I bought this backpack for my boyfriend's birthday, as we had an upcoming trip to Iceland that would require us to bring only one piece of luggage each. The Osprey Farpoint is perfect for this purpose. He fit everything he needed -- and more -- for a 10-day trip through Iceland without having to check his bag, even on our restrictive budget airline.

Useful compartments and front-loading capability make all of your stuff easy to organize and access, even when you're on the go. The hip and chest belts ensure that the weight of the bag rests easy on your hips, rather than heavy on your shoulders or back. I even carried the fully-packed bag for a little bit and was amazed at how much better it felt than my own bag (an EagleCreek contraption). He's 6'3 and I ordered the M/L, but even at my height (5'3) I was able to trek around with this thing on my back without problems.

One point of improvement, however -- the compression straps across the back make the mesh pockets on the sides of the bag pretty ineffective/unusable. My boyfriend was able to shove his mittens there, but they would never hold water bottles, etc.

Otherwise, I plan to buy one of these bags for myself for our next trip.
Is this the Farpoint 55 without the daypack, or is there something different?
Best Answer
The farpoint 40 is slightly shorter than the farpoint 55. For this reason, the farpoint 40 is officially "carry on" sized and the farpoint 55 is not. For those of us with a long torso, the farpoint 40 is too short. I think this is probably the case for all travel packs that are "carry on" sized. I exchanged the 40 for the 55 and it is a much better fit for me (I'm 6' 2").
Super comfortable for walking around
Familiarity:

I've used it once or twice and have initial impressions
I bought this backpack on a one week trip to Amsterdam and Paris. On the way there, I carried it on with me and although it was the maximum size, it fit easily into the overhead bins. On the way home I hid the shoulder straps away and checked it. I really like how you can hide the straps.

It fit everything I needed and had room for more. I bought some packing cubes to go in it which made it all very organized, and the interior straps helped with that as well.

I love the shoulder straps and waist strap. We walked around Paris for hours carrying our bags fully loaded and I didn't have any problems. Once I properly adjusted all the straps, it was quite comfortable!

The zippers are easy to lock, and you can lock both large compartments with the same lock easily.

After the trip, it still looks good as new. No signs of falling apart or anything, so the quality is excellent.

My only complaints: I wish there was a water bottle pocket on the outside not covered by the compression straps, and I would have liked some more smaller pockets inside the big compartments.



All in all, I really like this bag!
A must have for traveling Europe
Familiarity:

I've put it through the wringer
Packed everything I needed for a two week trip to Denmark and northern Germany into this pack. Did not exceed the sometimes strict overseas carry-on luggage dimensions for SAS. I think anything larger than the Farpoint 40 would not fit carry on dimensions. Using only this pack and a small carry on camera bag made it so we didn't have check in luggage. My wife and I each have the same pack, hers S/M and mine M/L. We would have missed our flight from Chicago to Copenhagen if I had check in luggage. We were able to strap these packs on and run for our terminal to make the flight. You can pack about everything you need for two weeks into this baby. Compression straps work great. It has great organization and its smooth outer design keeps you from snagging your bag on overhead compartment and while riding the trains or bus. If using for overseas flights, you can place all your 100 ml. liquids and gels in the outer compartment for easy bag check at the airport. I only used the waist belt a few times and tucked it away the rest; although on those few times, it's good to have if you are walking any distance. Bag is very well made and showed no signs of wear after dragging it around for two weeks straight. My brother and his wife had the same bags for the trip and we all still use them in the US while traveling instead of oversize, bulky luggage. It was almost fun to watch all the other stand -out tourists lugging around multiple cumbersome pieces of luggage while we comfortably fit into the local scene with one easy to manage pack. Some of the previous reviews comment about off pack colors. Honestly, no one gives a s@#t about off color as long as the product is quality and does its job very well. You won't be thinking "hey, my bag color just doesn't look right in that angle of sunlight". Instead you'll be thinking, damn, this bag can carry everything I need securely through a foreign country without breaking down.

This is definitely a "have pack-will travel".
Good quality-OK design
Familiarity:

I've used it several times
I actually bought this backpack as a replacement for my OGIO backpack that I use for work/travel to carry my product samples, literature, and laptop. The bags quality is of Osprey standards and very nice. However, I wish the black were a true black vs. the washed out greenish tint that occurs when you use a black item for ahwhile. The outside netting pockets to hold drinks are okay, but do not secure bottles as well as you would hope due to the side straps that lock across the pockets. Your water bottles can fall out and I can tell the netting is not a high tensile and will rip with further use. I was also disappointed that there were not more small pockets to secure random items such as my Osprey hydration pack that has pockets galore. The inside straps to secure clothing and essentials for a backpacking trip or overnight stay, are very nice and I like how the entire bag unzips to allow for total access. I wish there was a way to remove the waist straps when not using them. It is annoying to have to figure a way to strap them down so they don't flop around as you travel through the airport. I do like the removable shoulder strap that allows you to carry the backpack like a duffel bag vs a backpack.
An excellent backpack for travel
Gender:

Male

Familiarity:

I've used it once or twice and have initial impressions
I bought this backpack to use it for 3-4 days travels. It has a monster-like capacity: a pair of shoes, two pants, two fleece jackets, six underwear, four tees, a down jacket,a 9L sling backpack, a 13' laptop and a few documents. More amazing is that because of the strips in the main compartment and its harness, it keeps a good shape and makes you comfort with all these stuff upon your shoulder. There are some minor cons, though. I've tried three Farpoint 40s before I choose this one at last. On none of these, the grey nylon cover pieces on two upper corners are totally symmetrical. Fortunately, this problem does not affect actual use. Also for the concern of reducing weight, some exterior parts of the backpack are not neither water resistant or water proof.