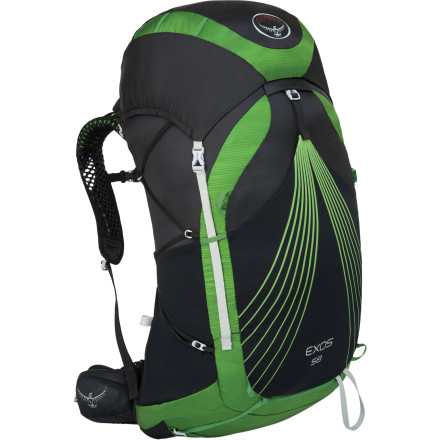 Detail Images

Videos

Community Images
Description
A minimalist's dream come true.
The Osprey Exos 58 Backpack has space for your backpacking trips in summer and ice climbing trips in winter, and it'll carry your gear without adding excess pack weight to your trip. A combination of the AirSpeed back panel and the light yet durable 6065 aluminum frame brings a lot of breathability by dumping excess heat out of the sides. ExoForm covers the shoulder pads and waist-belt with mesh and energy gel for the ideal blend of breathability and comfort while you hike. This pack features a removable top lid with two zippered pockets for short day trips during your trip, and the integrated FlapJacket protects your gear from rainy, poor conditions whether the top lid is attached or not.

The Exos 58 also features two mesh side pockets for water bottles, two zippered pockets at the waist-belt for any small item you might need on the trail like sunscreen or lip balm, and a front stretch mesh pocket for maps, books, and a compass. It also has straps for a sleeping pad, and you can remove both the sleeping pad straps and the compression straps when you're going super light. There's an attachment loop for an ice tool or two, and a tie-off point for excess gear.
AirSpeed back panel with 6065 aluminum frame
ExoForm shoulder straps and waist-belt
ErgoPull closure at waist-belt
Top access
Removable top lid with two zippered pockets
Integrated FlapJacket
Two mesh side pockets
Two zippered waist-belt pockets
Front stretch mesh pocket
Removable sleeping pad straps
Ice tool attachment loop
Removable upper compression straps, lower InsideOut straps
Cord tie off point
For me, this is the ONE!
Familiarity:

I've put it through the wringer
Exos 58 review:
I've walked over 2000 PCT miles since March, using packs by Ray Jardine, ULA, three packs by Osprey and an REI pack. I listened in disbelief when users of this pack said they never sweat on their backs. Now, I believe. I used this pack for 430 miles. This is my pack. I found mine in Pacific Blue discounted to $165 here at Backcountry in August. this pack had everything I wanted and nothing I didn't.

Pros:
*lightweight and comfortable with great balance and no surprises in action. You zig, it zigs; you zag, it zags; you zig-zag, it doesn't keep zigging, it zig-zags.
*It weighs a mere 2 oz more than the Exos 48.
*Many pockets for organization, including 2 hip pockets, 2 shoulder strap pockets, 2 lid pockets, 2 large side pockets, 1 large front pocket. *It actually has 9 pockets, as the lid has a document pocket on the underside. If one uses the hydration sleeve, it has 10.
the big pocket on front for wet stuff.
*Easy access to water bottles in pockets on both sides without removing pack or surgery.
*Great ventilation. Other packs made me sweat so much that it spread to my shorts!
*The pack didn't hurt my shoulders when used without wearing a shirt.
*It felt great for my load (up to 31 lb. I didn't go above that)
*Hip belt had a "keeper" so the extra strap didn't dangle where I might whiz on it. It also didn't have a yard of excess on each side as did the Atmos 65AG. They made the Exos for the thinner than average person, whereas they made the 65AG hoping it'd fit EVERYone from Olive Oyl to Jabba the Hut.
*Osprey's guarantee.

Cons:
*For me, only one. The hip belt pocket didn't swallow my big smartphone. No biggie.

My gear: hoodless sleeping bag, hammock/tree straps, tarp/stakes, hammock underquilt, sleeping clothes, long sleeve shirt, fleece shirt, thermoball jacket, buff, down pants, sleeping hood, up to 5 days of food (~8 lb), up to 3 liters of water (7 lb), ACR personal locator beacon, deLorme inReach, Stove/fuel/saucepan/spoon, small first aid kit, Deuce of Spades & tp, raingear, GoLite umbrella, Black Diamond Distance Carbon Z trekking poles, mittens, Goretex gaiters, dust gaiters, water treatment (Aqua Mira), smartphone with Halfmile PCT app, backup battery, charging adapter, single cell AAA flashlight/spare battery, small REI pack towel.

I was going to modify my daughter's Kelty external frame pack to improve the ergonomics, but I like this pack too much not to just buy her one.
If you have to carry a lot....enjoy it!
Familiarity:

I've used it once or twice and have initial impressions
Light weight yet still plenty of
Osprey Exos 58
Familiarity:

I've used it several times
I purchased this last year and have taken it on two trips. When I am carrying more gear for the younger members of our family, I carry the slightly larger Osprey Volt. The Exos 58 is very comfortable! I carried a max of 25 lbs in it. I like the airspeed suspension system. Easy to adjust and get a good fit, just like my other Opsrey packs. I like the zippered pocket under the lid for storing items I deem essential and want to find quickly
Osprey Exos 58
Gender:

Male

Familiarity:

I've used it several times
This bag is great with weights under 30 pounds. Has plenty of room for my gear. The bag is as simple as you can get. NO unnecessary compartments adding more weight. A lot of people complain about the shoulder harness and waist belt material, I haven't had any issues with fit nor feel of the material. You can remove the brain part of the bag to save weight. It comes built in with a built in piece of fabric that allows you to seal up the bag after you remove the brain. I love the mesh side pockets that allow me to place my water bottles at an angle for easy reach. The compression straps are really thin compared to other bags. They seem to do a great job compressing the bag. I am very fond of the mesh back with the external wire frame. My back feels so much better after hiking. I have less sweat on my back for sure. You do have a stow away for the trekking poles, but I find that I never use this feature...This pack isn't made for everyone. In the end, my pack weight with three days of food and 1 L of water come in at around 24 pounds.
Great UL Pack That Stands Abuse
Gender:

Male

Familiarity:

I've put it through the wringer
I bought this pack originally for UL backpacking, for which it works great. So far I have used this pack around 20 times over the last 2 years, I retired my old alpine pack during this time and was reluctant used this in such abrasive conditions until I bought a new one. It has been up Rainier twice, Shuksan, Stuart, as well as numerous other NW mountains. So far that combined with all of the regular backpacking trips it has been on, there are no bad wear spots in the fabric, all zippers are intact, and it rides like it did when I first got it.



I'm 5'9" and 200 and the medium fits very well. The pack sits very comfortably on my hips and back and for such small compression straps really squeezes the load down well to fit towards my center of gravity. It even rides pretty well and balanced with ice axes etc. on the way back. The hipbelt pockets are really easy to open and reach.



My only minor complaint is that there is not quite enough room for me to fit a 3L bladder between the backpanel and pack and the side compression straps have no buckle to save weight, so attaching items to the side can be a little hassle. Other than that, all features have worked magnificently even when used in conditions I believe to be a little harsher than it was built for.


3 days out on the Clackamas river
Carried about 25 lbs for a 3 day camping trip and was able to cruise up steep ravines and down to the river with no difficulty. This is the best back I have ever experienced - lightweight, balanced, and comfortable. It is extremely adjustable and loaded with storage options that make it easy to stay organized. I love the way a Platypus stores between the back mesh and the body of the pack so you lose no storage, and there is a way to store hiking poles on the go. It is an attractive color that still manages to blend in, and the material appears rugged. Lovin UL backpacking and hammock camping with this pack!
Osprey Exos 58 Backpack Rocks!
Gender:

Male

Familiarity:

I've used it several times
Last fall I carried this pack (last year's model) for 38 miles x 6 days - mostly above 12,000' - in Colorado's South San Juan Wilderness. Fully loaded on the first day, my pack weighed 31 lbs and the Exos 58 carried the load nicely.



Osprey built this pack to be a super-lightweight, full-featured pack. My size large weighs in at 2 lbs, 12.2 oz and, other than low weight, I wouldn't call this a "minimalist" pack (look at the bullet point list of features above). I thought the previous model's zippered, mesh waist-belt pockets were too big / too floppy and Osprey addressed that with their current model. I wouldn't use the elastic shoulder strap pockets, but no star deduction for that feature here.



I'm a big proponent of using 55 - 60 liter capacity packs for week-long trips. My other pack in this category is Gregory's excellent z55 (also received an update for 2014). My older z55 weighs 14 oz more than the Exos 58 but carries the load a little better at the heavy end of the spectrum. I'll likely choose the z55 for 6- and 7-day trips and the Exos 58 for 3- and 4-day trips. (Looks like it's gonna be a fight to see who gets to go on the 5-day trips!)



Photo shows "gear dump" at Bear Lake camp site in Colorado's South San Juan Wilderness.
Osprey Packs Exos 58 Backpack
Happy trails!
Gender:

Male

Familiarity:

I've put it through the wringer
I have only good things to say about this pack. I got it for hauling my rock climbing gear and it is perfect. First off the removable hood option is great for my shorter trips. Second the pockets are very convenient with plenty of places to strap on gear if needed. The back pouch is nice for storing my climbing shoes and chalk. Third there is plenty of places to store your water so it doesn't add to the various items in the main pouch. Fourth I love the way Osprey packs mold to my body. This was my first pack that has the airspeed back panel and I really dig it. For someone who always seems to be the sweatiest man in the group, this is a pretty awesome development. It gives me some breathing room for my back without compromising how tightly the pack hugs me. Finally I love the simple adjustment system, It took me a whole two minutes to get this pack adjusted correctly and it is extremely easy to make adjustments while hiking. Osprey is continuing to live up to a great reputation.
Holds (29) 2 Liters of Faygo Red Pop
Familiarity:

I've put it through the wringer
You can cram 40-50 lbs. of hiking equipment and what-nots into this thing. It's still comfortable to wear fully loaded. I had issues with chafing wearing heavy packs and this pack remedied the problem. Con: it can get really really stinky.