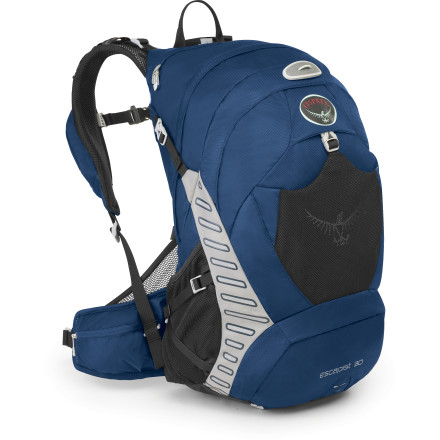 Community Images
If your ideal getaway involves some high-altitude trails and your trusty two-wheeled steed, you need the Osprey Escapist 30 Backpack to help get you there. Load all your needs for a day of cycling in variable conditions into this weatherproof, yet lightweight and ventilated, pack.
Airscape suspension features ridge-molded foam that creates a lightweight yet supportive and ventilated back panel
Biostretch ventilated harness features perforated EVA straps covered by soft, breathable spacer mesh for maximum breathability
Low-profile design rides close to your body so the pack won't affect your balance on the bike
Zips pocket on shoulder strap and hip belt put small items in easy reach
Organization for bike tools and tubes ensures you have vital equipment at the ready
Internal zippered divider helps you segregate your gear
Integrated high-visibility rain cover included
Reflective print on front and base of pack enhances your visibility after the sun sets
Share your thoughts
What do you think of the
Osprey Packs
Escapist 30 Backpack - 1648-1831cu in
? Share a...
Awesome commuter backpack!
Familiarity:

I've put it through the wringer
In truth, I use this pack way more on my motorcycle than on my bicycle although I've used it on both. There are so many thoughtful features that make this an excellent pack for commuting on whatever bike you ride - strap fasteners so that you aren't getting flogged by a flapping strap, ergonomic cut of the straps so they don't rub your armpits raw, the quick dry / cooler mesh back panel and straps, cinch straps so the pack doesn't flap about on your back even when it's mostly empty, the reflective elements on the side, internal organizer pockets so your stuff doesn't all dump out into the body of the pack when you hunch over your bike, etc. I love the helmet holder - it's pretty awesome not to have your lid taking up room in your pack or swinging about, hitting stuff when fastened on the outside. However, the feature that yesterday made me a true advocate for this backpack is the included rain cover - it has an elastic cord around the edge of it so you can fit it over your pack snugly regardless of how full or empty the pack is. The cover stayed on and kept all my loot nice and dry even in pouring rain and (motorcycle) speeds of 50-60 mph. The cover protects the pack not just rainfall but also from road splash - even from your own rear wheel. The bright yellow color and added reflector on the rain cover are wonderful since visibility is an added concern when biking in foul weather.
My only little complaint is that I wish the strap pocket or hip belt pockets were just a little bigger so that I could fit my phone or even a small wallet in there. I haven't used the bottle pockets yet but the hydration pack part is great and, when not being used for that, is also a nice stash place for documents (mail / magazines) that you don't want getting wrinkled up in the pack.
The pack is really adjustable including the vertical position of the upper chest strap position. I am 5'7" and the S/M fits me perfectly.
Good for carrying an SLR camera
Familiarity:

I've put it through the wringer
It is a true, one quiver piece of gear, but born from the womb of mountain biking. As such, I took the Escapist out on all of my mountain bike rides in Utah and Colorado this year and put it to the test.

As far as bike specific packs are concerned, the Escapist 30 goes beyond by literally packing everything you could want inside. There is huge main compartments that fit whatever you would need to pack for a long day in the saddle or multi day bike packing trips. There is also internal organizer pockets for bike tools that keeps things like pumps, chain tools and tire levers right where you need them for when you need them.

There is also an attachment for a blinker light and reflective detailing that rounds out the Escapist 30 bicycling oriented features. I am also really impressed that they even included a rain cover that stores inside the bottom compartment that you can whip out at the threat of a storm.

This pack is big, and really meant for very long days in the backcountry, bike packing, or bringing along a bunch of extra layers if you are riding in cold weather or expect a drizzle or two. However, the size also works out for shorter rides as the bottom pocket fits my SLR camera perfectly. In fact, I have been bringing my SLR along on rides far more often since I got the Escapist 30 as it makes carrying the big camera so easy.

My only real complaint with the pack is that I found the shoulder straps to be a bit uncomfortable. The bottom part of the straps dig into my ribs, despite all attempts at adjusting the straps to make it ease the pain.

In all, I'd say the Osprey Escapist 30 can be your go to pack for just about anything. Although its features make it look like a bike specific pack, with additions like the rain cover, ventilated back panel, and myriad pockets on both the shoulder and waist straps, make this gear hauler efficient for anything the outdoors calls you to partake in.
Great commuter and day pack!
Familiarity:

I've put it through the wringer
I have the M/L model in blue.

I work professionally in finance (i.e I need to carry a dress shirt/tie/suit pants every day), and I also teach spinning at Equinox (i.e. I need to carry cycling clothes/microphones/iPad/etc almost everyday).

This bag can hold ALL that and then some. It has a very smart layout; the compartments (when used properly) can accommodate a lot of gear. The other reviewers covered the bases, I'll just share some pros and cons I noticed after several months of use:

Pros:
- great adjustment straps allow customization to size, including the ability to adjust the arm strap yolk. I'm 6'1", 200lbs, 42" chest, 34" waist and this fits very well
- mesh/vented back panel does a good job of keeping my back cool; to be clear I still sweat, but not as much...also the rigid back panel help reminds me to keep good form when my back gets lazy
- there is a dedicated pocket for a water reservoir...I sometime use this pocket to carry my good cycling shoes and or my Kryptonite U-lock...fits all this very well
- the dedicated electronics pocket is great..fits an iPad Mini PERFECTLY...I never worry about damaging it.
- the lid lock works as expected
- very comfortable zippers

Cons:
- the carry hand on top of the bag is very thin and hurts after a while if your bag is heavy
- the dedicated tail light attachment does a poor job..I've dropped my light 3 times and just don't use it anymore
- this bag material likes to stain in precipitation...if you don't pull out the rain cover fast enough, the rain will leave its mark
- the water bottle pockets just plain stink...I've found a way around this by using the zipper pulls...I place the pulls over the spout of my Camelbak and voila...its stays in place!
- could do with a bit more reflective surfaces for my liking

All in all, a great pack for my purposes; my cons are nitpicky but still annoy me from time to time (-1 star). Overall, I would purchase this again or recommend to a friend.

Great day pack
Familiarity:

I've used it several times
I bought this pack for my day pack climbing Mt. Kilimanjaro! It was perfect. I could have used one of the middle pockets to be a little bigger but the built in cover helped keep things dry with the rains that came everyday. I really loved the pockets in the shoulder strap and waist strap. That helped to keep quick snack easily reachable. The hydration pack by Osprey fit nicely in as well but separate from the internal compartments.
Phenomenal.
Familiarity:

I've put it through the wringer
I picked up this backpack before taking off for a week long solo trip through the Westfjords of Iceland. The trip involved a 1 day, 13-mile hike through Hornstrandir nature preserve, which this bag was used on. It may be a perfect hiking / travel bag. Super versatile. It's comfy and thoughtfully designed. The rain cover is a great addition, as is the internal separator in the main compartment. Was also really happy with the hip pockets and the hydration pack compatibility..
I'm 5'10" on a good day. My torso measured...
I'm 5'10" on a good day. My torso measured is 18.5". I can't find the M/L for sale anywhere. I also can't find the proper sizing chart for this pack. Following the sizing for other packs it seems like the S/M might be a better fit anyway. Any feedback would be wonderful.

Thanks.
You can find more info./measurement right on the osprey site: www.ospreypacks.com.
In short, the S/M is stated as having a torso length of 19"; while the M/L is listed as 21".

(*there is also a "where to find/purchase" search for authorized dealers in the U.S. (can't purchase directly from Osprey).

If you are looking it up on the osprey site, go to multi-use packs, and filter to "past season packs". There will be a listing of ALL their 'last years' product...then click on the one you want to know more about. There will be tabs for more specs. on the top of the window of the particular product you're interested in.

Hope this still helps, now or for the future!
a few small improvements needed
Gender:

Male

Familiarity:

I've put it through the wringer
Pros:
This is a very comfortable pack. The shoulder straps are well padded without being too bulky. The ventilated straps seem like a good idea.

The embossed top pocket gets a lot of use, whether it?s to hold my Garmin 500 before a ride, compact camera, or sunglasses. The material is supposed to be safe for these surfaces.

The area zip divider separates stinky and dirty items.

For a smaller pack, the fact that it has an adjustable yoke is a big bonus. Added with the two torso sizes, it?s easy to achieve a very comfortable fit.

The whistle chest strap buckle is a thoughtful feature.

Cons:
One area where the pack could be improved are the side pocket compression straps. They don?t really do the job well of holding anything down. They are too low and thus don?t wrap around the neck of an MSR fuel bottle (maybe the really small one) or water bottle. They will bounce out.

The chest pocket will hold an iphone (maybe not the taller 5) or other similar sized smart phone as long as there is no protective jacket. If you use one, it will not fit. It does however work well for holding a gel flask.

Elastic cord on face would also be great for attaching a lightweight jacket or long sleeve jersey when temps rise. The netting isn?t very large and doesn?t expand enough.

Hip pockets could be a little bigger. Maybe they are on the large, but mine (s/m) basically hold a small headlamp, my mini Griptilian knife, emergency fire starter and gel pack. Not being big enough to fit a small camera or GPS (eTrex size) is my main gripe.

Other than that, I really enjoy using this pack. A large chunk of its use is as a commuter pack. But I also love it just as much on day hikes or overnight trips. The tool organization pouch with pump sleeve is great, and for those with a Raptor series pack, is the same setup. My purpose for buying this pack was for someovernight bike packing and I really look forward to testing it out in that situation.

I'm the type who doesn't just make a purchase at this price point without doing a bit of research fist. I live in south Florida and it begins to get very hot and humid during the summer months and I ride daily. I received a Kelty Redwing 44 as a Christmas gift due to old pack falling apart. It's a nice pack for hiking, and an occasional bike ride but not every day use.

So I started looking into Osprey as I had seen all the testimonials here and other sites, I became interested. Initially, I thought the momentum was for me, daily commutes, additional zip out storage if needed, etc. Then I pulled the trigger on the Escapist 30, after many weeks of phone conversations and online investigative work.

The ventilated harness was just what I had in mind as well as the airscape backpanel. I find that I can carry just about everything I need on a daily basis in this pack. If its a change of clothes for after work or a beach towel, lunch and drink for the beach.

This pack is very comfortable, and keeps my shirts from soaking thru after somewhat aggressive rides. This is my first Osprey pack and must say I am very happy with the purchase. From the reflective highlights, front and back, to the way it conforms to my back. I really appreciate the way you can adjust the harness within the pack itself, it allows a very tailored fit between shoulder and hips.

This is not a cheap pack by any stretch, but I felt assured that backcountry stands behind the products they test. And I'm so pleased with the tech support and service I received I'm confident I will turn to them when my next need comes up!!
I got this pack for day hikes and biking and its perfect size for my needs. I wanted a pack I could fit a sleeping bag and a lightweight tent in for an overnight hike and this pack can do it. I am 150# and 5' 10" athletic build and got the M/L and on the smallest setting it seems to be right where it needs to for a comfortable fit. I can't say enough for this pack it is one of the most feature loaded day packs I have ever seen and without the weight. This pack is plenty big for me to take on a weekend hike and will fit all my gear no problem, keep in mind its all ultralight gear though. Osprey out did themselves on this pack; I love the sleeping bag compartment because I can unzip the panel between it and the main compartment and my tent fits great in the bag. This pack also has a fantastic high visibility rain cover built into a compartment on the bottom of the bag.