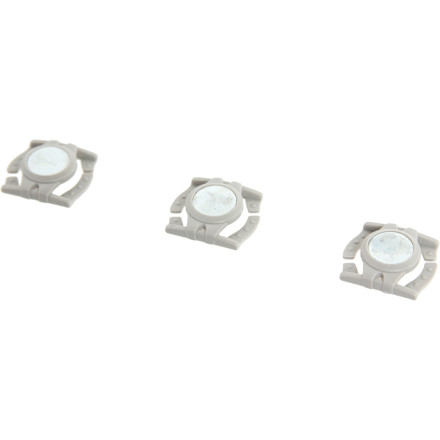 Description
Genius.
Even if you aren't dropping your Hydroform reservoir into an Osprey hydration pack, you can still take advantage of the handy magnet on the tube with the Detachable Sternum Strap Magnet Kit. This magnet easily attaches to your sternum strap so the magnet on the bite valve can snap into place for easy access on your ride or hike.
Unanswered Question
what is the maximum width of the strap that the "Osprey Packs Detachable Sternum Strap Magnet Kit" sternum strap will fit on? Basically what is the inner dimension of the sternum clip? 1-3/4"? 2"? 2-1/4"? 2.5"?
Needed for multiple packs
If you have multiple backpacks you use for different hikes you need these. It is much easier to put one of these on all of your packs then remembering which one has your magnet and moving it to different packs. It is much easier to just put one on each and then you are always ready for your Osprey reservoir.
Perfect addition to any pack!
Familiarity:

I've put it through the wringer
This is a perfect addition to ANY pack you want to use your Osprey bladder with! I originally thought three was overkill, but they got used quickly! Threw one on my weeklong backpack that had a hydration pouch, but didn't come with a bladder. Used one on an off-brand pack, and gave another to a friend in need! The magnet is strong and great for keeping your hose from flopping around or getting in the muck when you set it down.
These are great, the attach securely to the magnet on the nozzle of my osprey bladder, and can easily be attached to any webbing on my non osprey backpacks. I was a bit worried when I first opened them as they don't have the plastic lip around the edge like the stock magnet on my manta 20, but they still hold the nozzle just as well, and it's almost nicer not having that lip, as the hose is more likely to slide into place on it's own if I just toss it towards the magnet.



Bottom line: If you have an Osprey bladder and a pack that you frequently use it with that doesn't have a magnet for the hose, buy these. It makes the drinking process easier while on the move.