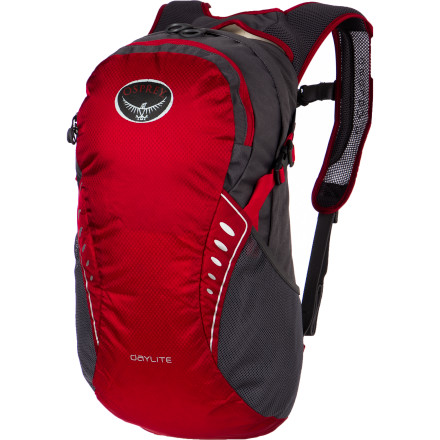 Colors

Community Images
Description
Go light on summit day.
Increase your Osprey backpack's gear-toting capabilities with the Osprey Daylite Backpack Attachment. The Daylite firmly affixes to all Osprey 'Add-On'-compatible packs and then detaches when you need a lightweight and comfortable daypack for a summit push or a stroll around town. The rigid-foam back panel is covered in mesh and features a central air chimney to help circulate air behind your back, and an ice-axe loop totes your axe until you need to set an anchor or travel across a snowfield with a sketchy run-out.
Share your thoughts
What do you think of the
Osprey Packs
Daylite Backpack Attachment - 793cu in
? Share a...
Will this fit a nice DSLR?

We are going to Europe and I'd like a pack that can secure a camera and have a water bladder!

Yes, I think this would work great! The reservoir goes behind the harness, but not IN the pack itself, which is awesome for keeping your contents safe!

Enjoy!

Leta
Osprey Rep
Are these getting stocked again soon?
Hey Robert,

Unfortunately we do not have this item on back order.
Where ever your adventures may take you, I highly recommend adding the Day Lite to your packing list. Recently acquired one and initially only planned to use it for light day hikes, but I loaded in a 3L reservoir and hit the trails in Moab. The weight carries really nicely, the chest and waist strap keep it from moving around. There are a few useful organizational pockets on the inside, and the waist straps are removable. A super light pack with room for extra tubes and rain coats. No surprise,another favorable review for the Day Lite.
Unanswered Question
this pack my not be made to be compatible with the osprey flapjack, but is there any possible way of attaching it to the the flapjack?
What size Osprey Hydraulic bag fits in...
What size Osprey Hydraulic bag fits in this pack? My 2L is too big

Osprey says that a 2L hydraulic bag should fit into the bladder sleeve located between the back panel and main compartment. I talked to an Osprey rep that had the Daylite on hand and she dropped a 2L into it no problem. Is the bladder not fitting lengthwise or width wise?
the osprey 2l bladder does fit in this pack...i've done it with mine several times.
Here's a list of all Osprey items that the Daylite is compatible with:

Porter 46, 65
Aether 60, 70, 85
Ariel 55, 65, 75
Volt 60, 75
Viva 50, 65
Poco
Poco Plus
Sojourn 25", 28"
Shuttle 22", 28", 32"

Will this hold a 15" Macbook Pro w/ the...
Will this hold a 15" Macbook Pro w/ the dimensions below?
Height: 0.95 inch (2.41 cm)
Width: 14.35 inches (36.4 cm)
Depth: 9.82 inches (24.9 cm)
Hey Jared,

This pack is 19x10x9 inches. Looks like your pack will fit your laptop pretty snug with maybe one chemistry book as well. Remember though that since this doesn't have a padded computer sleeve you might want to get one for the computer itself.
Perfect Pack
Familiarity:

I've put it through the wringer
I liked the first pack I purchased so much that I have bought a second to give as a gift to my aunt who is a big hiker and traveler. As an all around day pack this is perfect and easy to put in your luggage when headed on a trip for any day excursions.
Will this pack be able to hold a DSLR with...
Will this pack be able to hold a DSLR with a large lens (D7000 + 18-300mm) along with some water? Thanks!
Those two items should fit just fine. Note though there is no specific camera padding or anything like that in the pack.
I'd say it will fit, but it will be tight. I think the D7000 has the smaller "pro-sumer" body style, but that super zoom will be chunky if you leave the hood attached.

I think what you'll find is that the amount of water you carry will dramatically affect how easy it is to get the camera in and out.
You might need to get creative on how you get it in there. It will also depend on what you are carrying your water in. A hydration system might make it a tighter fit, but bottles in the side pocket shouldn't take up that much space.
Perfect Little Day Pack
Familiarity:

I've used it once or twice and have initial impressions
If you are looking for a great day pack that is versatile for use around town, but perfect as well for any day hiking adventure this is the pack for you. Although small in volume, it can honestly fit quite a bit of gear. I load mine up with some snacks for hiking, water, clothing layer, sunscreen, camera, phone, and keys. Two exterior pockets offer additional storage to the pack.
Has anyone ever tried using multiple Addons...
Has anyone ever tried using multiple Addons at once? Like they Crampon Addon, with the Daypack Addon?
Best Answer
I haven't tried it but if you watch the video below you will find that they both attach the same way so there wouldn't be room for both if them. The only way I think it would be possible is if the daylite had the addon loops and you attached the crampon pack to that. You could try it but I highly doubt it would work
Osprey Daylite AddOns? Pack Attachment
Did I miss the dimensions somewhere on the...
Did I miss the dimensions somewhere on the webpage?
48 x 25 x 22 cm
19 x 10 x 8.5 inches

Hope this helps!
Total Volume in a little over 12L. This pack is small, but fits a lot.
Hey there. Kinda confused. Description...
Hey there. Kinda confused. Description says pack attachment. Is this a backpack or isnt it?
It is a 13 litre daypack that can be used as either a stand-alone daypack, or will attach to Osprey 'add on' compatible packs. Good luck, Ryan
There are 4 buckles on the Daylight that slip through webbing or D-rings that attach it to some packs. The packs that are Daylight compatible are the Argon, Xenon, Aether, Ariel, Exposure, Sojourn and Porter Series.
This packs works very well as a stand alone pack, even though it is an add on as well. I have used the pack only as a stand alone daypack so far. If you were going to be doing a lot of base camping with multiple day hikes I imagine it would work great.
hi all, could someone please comment on...
hi all, could someone please comment on the inside arrangement? so there's the main compartment. is there any mesh paneling in the main compartment? any smaller pockets? and then there's the front zippered pocket? is it deep - running down the entire length of the bag? and does it have any smaller, paneled pockets?

while i don't have a lot to carry, i like keeping the various small things organized. lastly, does this bag keeps its shape when not filled?

thanks!
Hey there! The main compartment doesn't have andy other pockets in it, but it does have plenty of space inside. Although if you need to get to the bottom of the pack it is slightly inconvenient but not too bad. The front zippered pocket is not very deep, maybe 1/2 to a 1/3 the length of the bag. It does have 2 mesh side pockets and the rip cords can hold items as well. I have found this pack perfectly adequate for long day hikes and I imagine it can be used for an ultralight overnight as well. i also like the idea of the water reservoir being separate from my gear on the inside.
I use this pack for day hiking around Southern California. It is big enough to hold anything I need and compresses quite nicely when not fully loaded. I like the external sleeve for the hydration system. I have always been a tad paranoid about putting water in with my pack so this system works great for me. You do have to adjust the pack as you drink water from the bladder, but it's really not a huge hassle. The compression straps are a bit funky, I wish they had a clip or something. The cinch cord comes in very handy for a jacket, map, or sleeping pad. This pack could even sustain a true minimalist over a night or two where bear can are not required.

I have seen this used as an add on for the Aether series. It looks a bit awkward, but it seems to attach nicely and stay secure to your main pack. Definitely a good attachment if you are doing a lot of base camping or peak bagging. I won't be using it as an attachment because I can fit 10 days worth of stuff into my Kestrel no problem but I can see it's uses for this purpose.
Will this pack hold a 3L reservoir?
Will this pack hold a 3L reservoir?
Kev, it will hold a 3L reservoir.
Sure will, mine fits great in there!