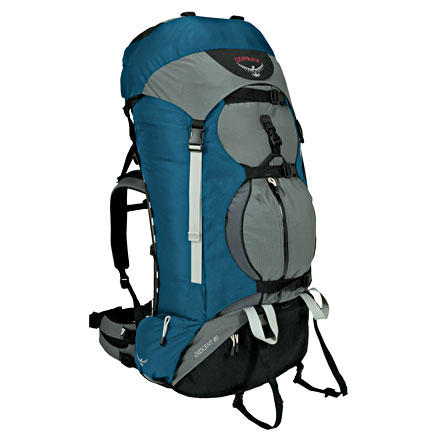 Is the bladder included in the hydration...
Is the bladder included in the hydration sleeve or is it just the removable sleeve?
No bladder, just the removable section. Very handy
Unanswered Question
What is the torso length for the extra...
What is the torso length for the extra large packs?
Being a tall guy (6'2") I needed a pack with a long torso length in addition to big capacity for week long+ hikes, and this one fit the bill pretty well. Seems beefy enough to handle a good bit of abuse dished out, and the two side pockets are nicely situated for incidental doodads and water bottles (mesh one fits a Nalgene perfectly). The suspension seems like it could handle heavy loads with ease, though I've yet to really test its capacity in that regard.

Coming from the perspective of a minimalist, though, some of the features seem a bit extraneous. No matter how you strap down the buckles on the pack, there's always two female ends sticking out somewhere with no male ends to put them into. The sleeping bag compartment has straps that seem excessively long, as well, with an extra set of buckles on them - I've yet to figure out their function. The external pocket is nice, though, for stuffing wet rain jackets or extra layers into so you don't have to go digging through your pack to put them away.
This is a great pack. I have had it for over 2 years. It is very customizable. The removable water bladder is a great feature. I wear it skiing under my jacket. The lid also comes off and converts into a bum bag. It must be durable since mine has shown no signs of wear. I doesn't have many pockets on the outside which is good and bad. The pack is very comfortable. I found the internal separator above the bottom sleeping bag compartment a bit flimsy, but given that everything else is excellent there must be a reason for it. This bag has made me a big fan of osprey packs.
Unbelievable pack! I bought this pack after testing out many comparably sized packs, and by far, this was the most comfortable. The interchangeable hipbelt is great. I've got a fairly small waist for my height, and many of the "Medium sized" packs I tried were too large for the waist. Because you can buy a Medium pack, and swap out the hipbelt, you can truly customize the pack's fit to your body.
On the trail, the pack swallowed the weight and the compression straps kept things from shifting around. The pack has a removable sleeve for the internal bladder, and straps to convert it to a (very) small backpack for day hikes. It's a great pack, very durable and well worth the money. If you want the hipbelt custom molded, make sure you have an authorized Osprey dealer close by to do it.