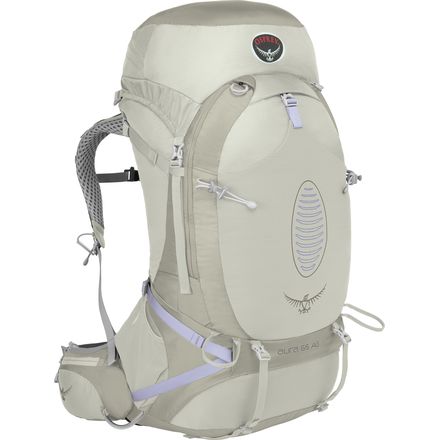 Detail Images
Description
You'll hardly know it's there.
The Osprey Women's Aura 65 Backpack gives women who hit the trail in warmer months the support and comfort they need to enjoy overnight and extended stays in the wilderness. You won't end up soaked in sweat on a sunny trail or warm, humid mountain valley thanks to the cool and comfortable Anti-Gravity suspension system, which is designed to circulate air while conforming to the shape of your back. It does this with a single, lightweight mesh panel that runs from the top of the back to the hips for a seamless design that helps enhance overall mobility.Throw in an adjustable torso size, hip belt, and shoulder straps, and you have one comfortable pack for your overnight and multi-day backpacking trips.
Anti-Gravity suspension system
Adjustable torso size
Fit-on-the-fly hip belt
30-50lb load range
Top and back panel access
Removable/floating top lid
Removable sleeping pad straps
100D x 630D nylon dobby main fabric
Internal hydration sleeve
Sleeping bag compartment
Zippered front panel pockets
Hip belt and side pockets
Internal and external compression straps
Ice axe/trekking pole carry
Unanswered Question
I've tried this on in another store and loved the fit, but I'm worried about it durability , specifically with the Anti-Gravity ventilated mesh backing. It looks as though it would rip/tear fairly easily, and wondering if anyone who has tested out this pack on multiple long treks might have some comments/advice on the pack's durability?
I plan to backpack for a week. I measure a size small and would like to know if the 62L space is large enough or should I go for a different style Osprey?
Hey Hope, that completely is dependent on the size of your gear and how much you are taking! For some, it would be able. For me, a little small. Do you have a down bag? Are you splitting out a tent with someone? Do you have to take lots of layers? Happy to help, just let me know.



Thanks for writing,



Leta

Osprey Rep
I've been searching for a couple months to find a backpack that feels right. I have scoliosis and its critical to have a pack not freak my back out! I love the overall fit and feel of the Aura AG...but the only thing stopping me from buying it is that the hip belt side pockets seem to have a stiff upper ledge and they stick out so far! When swinging my arms, I hit the side pockets each time, which I know would create all kinds of chaffing problems real fast, and I don't want to have to alter my gait by holding my arms out while walking. I have normal width shoulders..maybe slightly broader than some, so that should be a plus in how my arms hang and swing. I am 5'9 and measured for a small. Any thoughts on this bulging hip belt pocket issue?..I've read some others comment about it in different online forums. Please advise..thanks!
Hey Calli - really interesting feedback. Have you tried the pack as a demo first and that's how you know? or is it because of the look of it, you think it will happen? Regardless, I will make sure to pass it on to my designer friends at Osprey to see how to address the issue on further designs. I have one and love it, but havent experienced what you are describing.



Thank you for taking the time to write!

Leta

Osprey Rep
Best Answer
Hi Leta,

Thanks for your prompt response! I have put the pack on a few times and custom adjusted it so it fit as it should...and noticed the hip belt pockets just seemed to extend out further than any other pack I've tried (as I walked around the store for a while). That being said...both my husband and I did end up buying an AG for each of us today. I just couldn't find any other pack that felt this good on my back! Now I just need to figure out the best way to walk with the pockets not rubbing/chafing my forearms...hmmm, think think think?! As a side note, I have slender forearms, so their brushing into the hip pockets isn't from having Popeye arms, hehe ;-)
One additional suggestion (thought it's too late for us, since we just bought two of these packs)..but it would be great if it had a front opening that allowed you to quickly view and snag out some contents, without having to dump the whole bag out from just the top or bottom. Maybe if that gets incorporated into the next design, we will sell these and switch.



Also...curious, why does the 50 not come with sleeping pad straps and side pockets? Since it is smaller, these would be so helpful...especially having at least the sleeping pad straps (like the 65) would be helpful. They don't get in the way if not used and don't contribute to weight. I really only wanted a 50, but had to go to the 65 because I like having the option of bottom straps.


Worked well!
Familiarity:

I've used it several times
I bought this pack to use traveling abroad for a month. I was debating whether to use one of the Osprey Travel Series packs, or a traditional backpacking pack, and am glad I chose this one.

I am 5'2'', with a short torso and got a small. I like that that the waist band adjusts, and has pockets on it for quick access. I packed this with one large packing cube that had all of my clothes in it, and I had lots of smaller organizing bags that I stashed in the outside pockets, and the top pocket. Be aware that on the inside of the bag there are not any pockets.
Great Pack!
Familiarity:

I gave it as a gift but have feedback to share
I gave this as an early wedding gift to my bestfriend. Here's what she had to say!

I did some research before deciding to purchase this backpack and I have to say, I am very happy with this purchase. I was able to fit all the things I needed for a 3 day hike to half dome. All the pockets were perfect for all the necessities I had brought. It is extremely great quality and comfortable on my back and shoulders. I love the breathable back, as well. The only thing is the cumber bon is a bit small, but I think it's just the size of my hips. The x-small fits well for my torso, but the waist was a bit small. I'm 5'3, so if your shorter than me, I would recommend an xs. It would be nice if they had it in a xs/s. Overall, great backpack. Love the color. Highly recommend this backpack for 2-3 day trips.
Hi, i am just wondering about the sizing for this pack. I am 5'4 135lbs, what size would you recommend?


Best Answer
Hey Brooke, it's Leta with Osprey. Do you know how to find your torso size? The info is on the BC site, but also at Ospreypacks.com. your height doesnt matter as much, its more about how long or short your torso is. I am 5'4", and I wear an XS. You may wear a medium though! You never know! I am happy to help you... please reach out again and I can walk you through it!



Thanks for the question!

Leta
Thanks Leta! Will take that into consideration. Do you have any thoughts on the Ariel vs Aura other than the Aura's excellent suspension? Also, do you find that Aura packs down well if you do not have it filled? I guess I am concerned that 65L may be too much and I don't want a cumbersome pack that won't pack down. Thanks for your help!


Nice Pack... but hope next gen is better
Familiarity:

I've used it once or twice and have initial impressions
Took this pack out on my first trip this past weekend. It did wonderfully. It was really comfortable and had plenty of space.

Things I liked:
My spine sticks out pretty far so the AG back helped hug and support my spine without rubbing against it.
Lots of toggles and straps to help with organization (I love keeping things organized.

CONS
I wish the brain turned into a lumbar day pack or it included attachments for the Daylite pack.
Hydration pouch is internal. This is something I did know ahead of time and was willing to sacrifice but it is still annoying to have to unpack half your pack to fit your bladder
Best. Pack. Ever.
Familiarity:

I've used it several times
This is the second Osprey pack I've owned, and they make great products! The first was the Viva, and it would have been fantastic, but I have scoliosis, and decided I should spring for the "cadillac" to relieve any unnecessary stress on my crooked back...

This thing is simply amazing.

I love love the mesh. It is super soft and durable, and I get away with wearing tank tops with very little rubbing or discomfort. The straps, pockets, loops, etc. are all exactly as you'd want them, and I couldn't be happier. I also agree with Brooke's assessment that it packs up or down well, and is versatile. I love the sleek design Osprey has, with little to snag on branches and whatnot.

There are two very minor things:
The hip strap pockets are small. My iPhone 5 can't even fit in there alone all the way. I had it sideways with one end sticking out and just made sure to pay attention that it didn't get tossed. You could probably make use of them with a lip balm and map, but that's about it. My Viva had significantly larger hip pockets, and I could put a whole pack of cigarettes in one if I wanted, or 3 oz hand salve jar, for instance.

Secondly, I chopped off the trekking pole loop and toggle from the arm strap, and it was the best decision I could make. I do not use trekking poles. I do not like them, and I HATED the loop and toggle position! It was right where my arm swung, and rubbed the inside of my arm raw with no sleeves. It needed to go, and this was also a problem on the Viva. My boyfriend has the Atmos, and it also bothers him.

So with that all said, I am still impressed and even thrilled with this pack! No rubbing, no pressure points, no sad crooked spine! Absolutely recommend you try one out!

Side note: I went into REI and had them size me. According to the measuring tool they used, I was a small (which surprised me, because I'm 5'8 and 142 solid pounds, with a long torso) but I tried it on, and was a definite medium. So I also recommend you make sure you know what you need before you spring for a pack that doesn't fit right.

I see in the specs that the rain cover is sold separately, but one I saw in a local store had the rain cover included...is that a misprint in the specs??

Thanks!
Only REI store are selling them with rain cover and dry sack, other stores not.
Worth every penny
Gender:

Female

Familiarity:

I've used it several times
I bought this for the JMT this summer, but decided to go to Costa Rica and brought it along as well as a quick trip to Saline Valley.


I cannot stress how completely comfortable the Anit-Gravity feature is, especially on the long haul. The mesh backing is extremely nice, you don't rub against your pack as bad, which usually ruins a lot of my shirts, but also you don't sweat as much. Plus, it forms very nicely to your back, like it was made just for YOUR back. I didn't get bulky contact points between my back like I've experienced with some packs, so it minimized the usual hip/back busing and rubbing you/I normally get from pressure points. Super soft hip belt helped too.


The external straps for sleeping pads/bags was extremely helpful and gave the bag a lot of extra storage space; even though it is a 65, you can always use more room! I'd tie my jacket it to it for quick access. Yet, the top and back access points to get into the bag were crucial, I didn't have to dig around searching for things closer to the bottom of the bag; which seems like you can never find. And if you don't decided to use the entire space of the bag, you can compress it down pretty nice. When I went to Saline Valley I didn't need to pack much, but I put everything I did bring in the bag. Nice to cinch down and not have things rattling inside. Basically it's a very diverse pack, extremely functional.


Honestly, this bag has so many great features, felt like it had every strap, zipper and pocket for whatever I needed; and it is by far the most comfortable backpacking bag I've ever owned, and I have a crappy back.


I am 5'0 100lbs and got the XS. My only complaint is that I wish it could be tightened further. I'm little, wear a size 24/0 pant, and this just makes the cut. That's with fluctuating weight, and trail weight loss, it does the job pretty well. So if you're on the fence about a kids size, and price, you'd be way better off with this for the extra bucks.