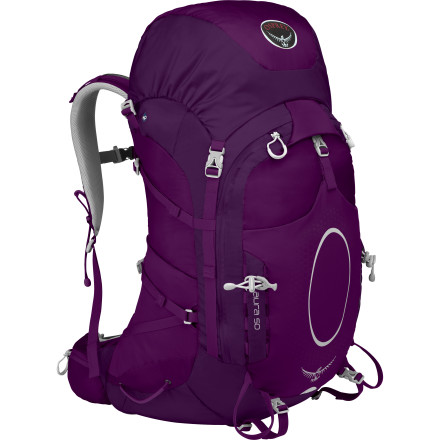 Description
The Aura loves fast, light trips, especially mid-summer desert day hikes.
The Osprey Women's Aura 50 Backpack uses an AirSpeed suspension system to provide serious ventilation for the hottest days. Mesh shoulder straps and a mesh waist-belt increase the cooling power, so you won't melt as the sun beats down. Several pockets and a large front flap help you stash all the necessities and keep them all organized.
Durable nylon construction resists abrasion
Side compression straps stabilize your load
Trekking pole, ice tool, and sleeping pad attachment points let you secure gear externally to save space inside the pack
Removable lid lets you slim down for side trips
Share your thoughts
What do you think of the
Osprey Packs
Aura 50 Backpack - 2441-3234cu in
? Share a...
comfortable light weight
Familiarity:

I've used it once or twice and have initial impressions
the girl who helped me try it on at the store said this is her go to back pack, it is light weight and comfortable, fits securely on my back. Im usually medium in clothing, 5'4 and 140lbs, im a size small with this pack. has lots of pockets and practical compartments.
Unanswered Question
I am also looking at the KYTE for my GF she is tiny. Are the hip belts the same size on the two small packs?
It is a good weekend pack
Familiarity:

I've used it once or twice and have initial impressions
I love Osprey brand and their packs are really good in general. I am not repeating the good parts . For Aura 50L, the pack is very narrow and deep, so it is difficult to pack and hard to access items you want in a hurry. The side pockets are jammed by the hip belts so only the front part of the pocket is usable. It cuts into my shoulders when the packed weight is over 30lbs.
Almost as Good as a Pack Goat
Familiarity:

I've put it through the wringer
The Osprey packs we took to Priord Lake definitely have a "high tech" look, but after hiking 25 miles over three days with the packs, I'm convinced that all the tech is for function, not just for show. Osprey has a reputation for the best suspension systems out there, and the AirSpeed system didn't disappoint. I could actually feel the air flow on my back when we were on the trail. With water and booze my kit weighed in at 29 pounds, and the Atmos carried it like a champ. I was also a big fan of the molded rubber pulls on the zippers that you can loop your finger through, and that's just one example of the well-designed details these packs are loaded with. The women's Aura 50 is the same pack as the Atmos, just fitted with a gender-specific hipbelt and harness.
I am 5'4" and I got a medium. Most reviews say a small, but it seems to fit well. Is there much difference between the medium and small?
Hey Madeline,

The differences between the sizes are in the torso length and fit on the hips. The Small is designed to fit a 16-19 inch torso length and 24-45 inch hip girth. The Medium is designed to fit a 18-21 inch torso length and 27-48 inch hip girth.
comfortable, well-ventilated
Gender:

Female

Familiarity:

I've put it through the wringer
I use this for day-trips to sport climb and I can easily fit my rope in the main compartment as well as all of my other gear (shoes, quickdraws, helmet, snacks, extra clothing, etc.) without a problem. I also have used it on short overnight backpacking trips and it's a great size for that.

It's quite comfortable. Even on hot days its design is such that there is ventilation between your back and the backpack -- thus minimizing a sweaty back. The padded hip belt and adjustable straps make walking long distances comfortable and relatively pain-free. Ideally you should get sized at a outdoor gear store to ensure you get the right pack size to ensure comfort. I'm 5'4" and the Small fits me well.

The eggplant purple color is kind of a burgundy shade.
Having difficulties unfortunately
Familiarity:

I've used it several times
I have an older aura 50/small. I'm 5' and less than 100 lbs. I have found that the Airspeed suspension system sets the pack so far away from my back that it throws the center of gravity off for my frame. I have been playing around with weight distribution (carrying 20 lbs) and straps, but not feeling "at one" with the pack. I think overall it has great features, but it could use another set of shoulder strap connect points for someone with a shorter torso. I've been training for weeks and still haven't found the right combination of adjustments. I'm heading out for a week on the AT and I have concerns.
re: size ... I've got a 2009 Osprey Ariel...
re: size ... I've got a 2009 Osprey Ariel 65, size small. Is it safe to assume an Aura 50, size small, will fit?
Best Answer
In my experience, Osprey fitting is pretty consistent from pack to pack. I've owned three thus far (46, 60, and 65 L) and they've all been pretty spot on for the sizing.
LOVE this backpack!
Familiarity:

I've put it through the wringer
This backpack feels like a part of my body even when fully packed and going up and down steep mountains in all weather. Never a sore spot, super comfy hip belt and shoulder straps, fantastic air ventilation on my back and so easy to adjust the weight on the fly... I love this pack. I only wish the hip pockets were a wee bit bigger to fit my iPhone.
ouch
Familiarity:

I've used it once or twice and have initial impressions
I wasn't sure what size pack I should get so I got fitted for one at a store nearby and then ordered the size that fit best from here.
I had under 20 lbs in the pack and after 3 miles my back and shoulders hurt so bad I couldn't go much farther. Maybe the lady who fitted me did a horrible job but I had bruises on my back from where the padding stopped and the pack sat on my hips. I kept trying to adjust the pack and readjust hopping that the shoulder strap wasn't right or the hip belt was too low but with so many options to change the pack I couldn't tell what it needed. I thought maybe I just packed stuff wrong and repacked the pack, but that didn't help. I am really bummed because the space and size of the pack are perfect. I am going to keep messing with it and hopefully I figure out something that is more comfortable.

I really like this pack. I switched last fall from the pack I had when I was 16, to this one at age 27. The waist fits perfectly on my wide hips (I'm 5'0 & 120lbs) and the length is also perfect. This bag is durable. I have taken this on many backpacking trips to the Adirondacks, and also Hawaii and Costa Rica. I will be testing it out again on the Inca Trail in August and can't wait. I love that it has a million pockets because I am the OCD packer and like to have a spot for everything so this works out great. Highly recommended! The only think I wasn't crazy about was the purpleish/maroonish color but it doesn't show much dirt.
Love this pack so much I had to buy 2 more for my daughters (one of whom is a Nat. Park Ranger!) who kept stealing mine!
Love the light weight, and the breathability. The fit is so adjustable all it took was a tug here, a slip there to change the fit from me to either daughter.
The pockets walk the fine line between "I wish I had a spot for this" and "where in the heck did I put that?".
People comment, compliment, and quiz me about it each time I use it-I have even let a couple of ladies wear it along the trail for a bit to see if they liked it. They always do!

Does the 50 really have a sleeping bag...
Does the 50 really have a sleeping bag compartment? I looked just recently and it did not. Maybe the '12 model does?
Yep, it has a sleeping bag compartment....a bit tight with the divider in place, but it is there.
Best Answer
No. Unfortunately, there's no separate access to a sleeping bag compartment in the 50L. The 50L size is made more for the ultra-light overnighter and therefore, Osprey did not add the additional weight of a sleeping bag compartment zipper.
Mine does not...infact mine does not even have the adjustable torso thingy...but maybe I unsuspectingly picked up an older model.
Mine also does not have a sleeping bag compartment.
This is an awesome pack! Perfect for a 2-3 day trip. The purple pack shown above is not the same color as the Eggplant Purple pack. It is maroon..... not purple at all. Still an awesome pack that I would definitely recommend!
What are the dimensions of this bag when...
What are the dimensions of this bag when packed? Height, length and width?
Best Answer
28" x 13" x 12"