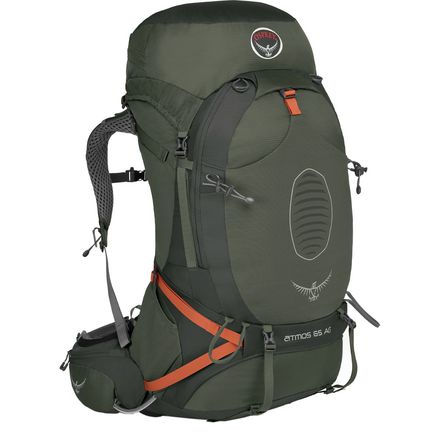 Community Images
Description
Enjoy the journey.
Backpacking isn't the most enjoyable thing when all you can think about is getting to your campsite and ditching your pack. The newly redesigned Osprey Atmos AG 65 Backpack features Osprey's Anti-Gravity Suspension system, so you can take your mind off your aching back and enjoy the views while you hike. The system places a continuous panel of lightweight mesh from the top of the back to the hips for a seamless design that automatically contours to your back. Not only does this make the pack more comfortable, but it increases your range of movement. On top of that, the Atmos AG has an adjustable harness system, so you can dial in the perfect fit for your individual torso size.
Built for multi-day backpacking trips, the Atmos AG 65 Backpack has everything you'd expect from serious mountain pack. An internal hydration sleeve lets you fit the pack with your favorite hydration system. A top access point makes for easy packing, while the floating lid adjusts to make room for extra gear on big trips. The lid can also be removed to save weight for those hard summit pushes. Two front panel pockets stash extra layers, maps, and a few snacks, while multiple gear loops allow you attach your trekking poles and ice axe.
Anti-Gravity suspension system
Adjustable torso length
30-50lb load range
Top access with zippered front panel access point
Removable/floating top lid
Removable sleeping pad straps
100D x 630D nylon dobby main fabric
Internal reservoir sleeve
Front panel pockets
Trekking pole and ice tool gear loops
Internal compression strap
Great pack
Familiarity:

I've used it once or twice and have initial impressions
This is my first Osprey pack and it didn't disappoint. I recently took it for a quick overnight trip on my families property. It was only 4 miles in but due to weather conditions I had her packed heavy with winter gear weighing in near 55 lbs. The bags mesh back design integrated into the waist strap hugs your body extremely well and made the extra weight a none issue. The pack is my new favorite as far as comfort, my only complaint is I would like to have some more external gear space. My old pack had side cargo bags that were extremely useful. All and all you can not go wrong with this pack!
Best pack ever
Familiarity:

I've put it through the wringer
You have to buy one to know how and why this backpack belongs to a whole new generation
Osprey 65ag
Gender:

Male

Familiarity:

I've used it several times
The bag over all is good. But there are some issues. 1. The bag is a pain in the ass to put on your back. Because the suspension front is folded, you have to first open it with your hand and then maneuver the bag on your back. 2. Waist pocket zippers are sometimes difficult to pull when your wearing the bag. This is because the pockets are to far back. 3. The sleeper bag compartment sometimes causes the zipper not move because if it is not packed fully, you need 2 hands to pull the zipper open. 4. The divider between the sleeping compartment and the main compartment is not zippered. It is strapped down. Maybe I will make one main compartment. 5. When wearing the bag, I felt a little pain on my left side above the waist. There is something hard on the waist belt causing the pain so now I don't pull the waist belt tight. Once all of these issues are dealt with then the bag is good.
This Backpack Is Fantastic
Im beginner hiker from Poland, bought this backpack in US at backcountry.com. Altough it was my first climbing trip , I wanted to quite large backpack. This backpack can survive a lot, starting from holding inside of him full size tent, big tripod, lot of cloths, food, documents. A big pocket slots in each corner of this pack can easily fit a lot of smaller things like med kit, knife, everything that can help you survive in a wild. My 5 days story in Yellowstone National Park with this backpack on my backs was amazing and comfortable even if i did almost 60 miles of hiking. Thank you Osprey, good job!
Best backpack out there...
Familiarity:

I've used it several times
When my wife and I decided to hike the Pacific Crest Trail, we knew we needed some quality packs that were going to be comfortable and durable for 4-5 months of straight hiking. I boiled my options down to Gregory or Osprey, and after trying the Gregory Baltoro and the Osprey Atmos, I knew the Atmos was by far the most comfortable. My wife and I got the men's and women's (Aura) versions, and have loved every trail with them.



My favorite part about this pack is the Anti-Gravity Suspension system. Osprey designed a continuous mesh backpanel from the top of the pack to the hipbelt. It conforms to your back like a sleep number bed! Just kidding, but it really is the most comfortable fit you can find. The hipbelt and shoulder straps are awesome - I've never had them slip or had to readjust them after miles of hiking.



We purchased our packs from REI so they each came with a raincover and small 3L drybag. Backpacking up here in Alaska, the raincovers have been essential. We haven't had our gear get wet with the raincover on while hiking, but when we left our packs on the ground in the vestibules of our tent (with the covers on and upright), the outside of the packs got a little damp overnight. One of my biggest nightmares is my TP supply getting soaked in the wilderness, so the small drybag is perfect for my daily "study supplies." Well done REI.



The Pockets: I'm a guy, pockets are big deal to me. I love Osprey's open-loop zipper-pull design, they make life easier when your fingers are numb and you need to access your sleeping bag quickly in cold temperatures. There are two pockets on the removable lid that I've used for clothing and food and have always hiked with the lid on. For this reason I don't like the redundancy of their "FlapJacket" underneath the lid for when the lid is off. The main compartment of the pack is large and easy to compress with outside straps. Hydration bladder stores inside the main compartment. On the outside of the pack are two vertical zippered pockets for keeping maps, snacks, or anything lightweight for easy access. I really like the outer open mesh pocket for stowing your jacket when you get too warm on the trail. The bottom pocket holds a sleeping bag separate from the rest of your gear in the main compartment. There is a water bottle pouch on each side - with two openings each -and they are easily reached while you have the backpack on. There is a pocket on each side of the hipbelt . . . only complaint here is the zippered openings aren't big enough for a man to reach all his fingers in easily - my wife has smaller hands and doesn't have this problem.
Not Osprey's Best Bag
Familiarity:

I've put it through the wringer
Don't get me wrong, I really like my Atmos, but I just feel like it's on the weaker end of Osprey's line of gear. I've now had my bag for about 5 years, and I'm used to it. I just wish that I would have purchased the Aether. It would be nice to have a detachable top fanny pack and to have the custom fit waist belt.
Very good pack,hipbelt velcro slips.
Familiarity:

I've put it through the wringer
Atmos AG 65 . I'm in between sizes (18" back)--I used a medium for 285 miles and a small for 350 miles on the PCT.
Pros:
*it carries a load of 35 lb really, really well--the load is predictable with every move you make.
*It has side pockets that permit easy access to water bottles while wearing the pack.
*Back ventilation was great!
*Organization was easy with two large front pockets, a large front pouch for wet items, two side mesh pockets, hip belt pockets, a lid with two pockets and a divider in the main bag.
*Zipper placement on the lid pockets permitted access for snacks, etc. without removing the pack.
*It had provision for carrying two ice axes as well as the Osprey style trekking pole carrier on the shoulder strap.
*Loops on the shoulder strap allowed me to attach a diy beacon pocket.
*Hip belt pockets CAN hold more than 60% of a large smartphone (iPhone 6/Samsung Note4) with moderate confidence, but they won't zip shut over the phone to save your life.

Cons:
*I felt slight backward pull due to the ventilation space behind the back mesh, that the lifter straps didn't relieve. The Exos 58 with 30 lb. fit closer with almost imperceptible backward pull.
*Not really light weight at over four pounds, though lighter than many.
*Can't be worn without a shirt because of the mesh on the shoulder straps.
*A hard element in the hip belt pressed on my hip muscles just below the top of my pelvis enough for me to return the pack.
*The hip belt pockets had short zippers and were too shallow to carry much. And the hip belt pockets will not zip shut over a phone and snacks, sunglasses, etc. The hip belt pockets on my ULA Circuit WILL zip over a big phone.
*The main reason for return: The "on-the-fly" hip belt adjustment slipped when it got wet from water dripping off wet brush. Then it slipped dry. After a while, I couldn't trust the rip/stick to hold the adjustment. Both sizes S and M had far too many miles of strap on the hipbelt.
*The pack squeaked after two weeks on the trail.

I didn't use the hydration pouch.

I've rated this pack 4 stars, because of the good things Osprey has done with this pack. When they reshape the hard element sewn into the hip belt and correct the hip belt adjustment, it'll merit 5 stars.

My current gear list includes:
zpacks 20 degree bag, wide, regular length.
hammock with netting, whoopie slings, tree straps,
Hammock Gear 20 degree under quilt, .
Warbonnet Superfly tarp,
8 carbon stakes, rutalocura
cat can alcohol stove with snuff can, alcohol in pint water bottle, foil windscreen, lighter,
Evernew 0.9 L saucepan, diy pot cozy.
Fleece zip neck shirt, North Face Thermoball jacket, OR rain jacket, rain skirt, gaiters (or rain chaps), mitten shell/fleece liner, synthetic insulated hood.
Platypus 2 L bottle, Powerade 1L bottle,
Aqua mira, chapstick, sunscreen, bug juice.
Personal locator beacon.
Velcro hip belt
Familiarity:

I've used it once or twice and have initial impressions
The suspension was great while it worked. The hip belt got wet during a rain storm and after that the hip belt could not be tightened without the Velcro loosening. I could not keep it on my iliac crest,so my shoulders had to take the weight...ouch. I can still pull the Velcro apart with my hands on one side of the hip belt. Also, the reflective stuff on the mesh pocket comes off when wet,so don't store your wet items there to dry when the sun comes back out.
Great pack for hot temperatures
Familiarity:

I've used it several times
For many years I've been a fan of Arcteryx packs, especially the Bora line, but won't deny that there suspension isn't the coolest (temp wise) of the bunch. Been mainly using my bora 80 and 95 for long trips but recently have been going on shorter trips with my girlfriend (3-5 days). The bora 80 would have sufficed but some areas we were considering were in the 80+ temp ranges so I decided to look for a new pack that would offer great air circulation.

Obviously the Arcteryx Altra 65 was an option but in the end I opted for the Osprey. It was a tough decision because I had always disliked the Ospreys because of what I perceived as weak lumbar support (IE Xenith vs Bora) and lack of adjust ability ie hip belt camber and load stabilizers. So you can tell i was a bit hesitant on the ATMOS initially but after taking it on a trip to Kibbie Lake, Yosemite NP on a scorching day through Rim Fire affected areas, I must say DAMN! This packs suspension definitely keeps you cool! Everytime a breeze came through, it felt like there was AC going on my back! Also the weight transfer was excellent, if not better than any other pack I've tried! (Bora still wins for 40+ loads). My only complaint though is with possible durability issues with some of the features like mesh pockets and very light weight buckles but only time will tell!

The pack is definitely a winner for overnight to week long trips. Will probably still be using my bora 80/95s for winter trips.

One thing to mention is that BackCountry's customer support as been phenomenal! Now I have owned the pack past the return/exchange period but they still let me exchange the pack for a bigger size. I did feel incredibly bad as I had thought I got the right size (was in between small and medium at 18 in torso) but the load lifters just didn't work as well... Really appreciate Backcountry going out of their way and allowing me to exchange the pack. Will definitely continue coming back to Backcountry for my outdoor needs!

-Kevin
Is this pack suitable for overnighters or shorter trips??

Hey Connor,



It really depends on what kind of backpacking you're into. If you're into minimalist backpacking, you can use this pack for much longer trips. This will certainly be enough room for one to three nights.
Unanswered Question
Hello Roger here,I bought this backpack recently in May,used it in June once and all the graphics came off the face along with the eagle,why was this a stick on print instead of embroidered, this was my upgrade from my north face pack that's still going strong after 9 years without an airport cover,if I was still using the sack I was using that pack would be brand new,got lazy I guess. Anyways for my faceless cannot advertise that it's an OSPREY atmos pack, that backpacker magazine raved about, what size osprey airport bag should I get,is it worth it or continue using the sack that a duffle bag came in that I have been using?

Best regards,

Roger
Favorite Osprey pack
Familiarity:

I've put it through the wringer
This is my favorite osprey pack I have bought, and I have bought many. Great size, while super lightweight. The great suspension got me through a week of backpacking in Norway with a heavy load. Great organizational pockets, I fit everything I needed without feeling like it was overfilled or off balance. I wish it had come with a rain cover incorporated but have now gotten one so all is well!
New Atmos, Same Love
Familiarity:

I've used it several times
I had an older Atmos model a few years ago and recently upgraded. Took it out for a long weekend in Michigan and absolutely loved it! More pockets, zippers, and straps than I knew what do do with, but it never seemed cumbersome.

The "Anti-Gravity" suspension system is a godsend--I was able to carry everything including 2 gallons of water without feeling any excessive burden. I was able to walk, climb, and even run without any jostling or struggle. The ventilation is the best I've ever seen and even kept my hydration pack cool.

It's obvious that someone spent a lot of time designing this bag well. Numerous pockets are easily accessible while hiking--pockets on the hips, the lid, sides, all over the place. The pack itself is roomy and can fit a ton. I had everything packed before I even realized the storage space at the bottom for my sleeping bag.

Osprey clearly knows what they're doing and how to make a bag worth recommending.
All you need is love and the atmos AG !!
I have had a few backpacks on my back the atmos Ag does not count as one, the way this backpack works is that everything you put in it is teleported to a temporary storage room on an osprey secret facility, then when the mesh touches your back the 158 silenced micro propellers turn on automatically carring not only the weight of the teleporter inside the bag but also 2% of your body weight, lulz yea I don't know how the built this one but it goes perfect with your anatomy muy gravity center seems to be in perfect balance with the distribution of the pack and the mesh on the back keeps the nice air flowing keeping you dry this is really the best backpack ii have ever seen a true new generation
Are you sure the top lid works as a "fanny pack."
Best Answer
I am double checking with our Osprey Rep but, I am pretty sure there is a waist belt to be used as a fanny pack. If I hear differently I will update this answer and follow up via email.



Feel free to hit me up at bporreca@backcountry.com or 801-736-6398.
Just heard back from rep, I was initially wrong. It does not have a fanny pack option, we will get the site updated.
Thanks for taking that Bill. Looks like the site was updated already!



Leta

Osprey Rep
Light and comfortable
Familiarity:

I've put it through the wringer
All around great pack. It has a bottom zipper to put your sleeping bag in and access it easily. Comfortable all day and easy to adjust while hiking. Holds your trekking poles on the front if you need to use your hands to climb. Only complaint is small side pockets that won't hold a Nalgene size water bottle
Solid backpacking pack
Familiarity:

I've put it through the wringer
This is an awesome pack that I got for my partner-- simultaneously lightweight, and yet can hold all your gear for an epic weekend of exploration! He can easily fit a 3 liter hydration bag, sleeping bag, sleeping pad, clothes, tent, cooking equipment, food, water filter, and seemingly endless amounts of other accessories (ie: the all important boxed wine!) inside/ strapped outside, mainly using it for 3-4 day backpacking trips. The packable rain cover is AWESOME for use in the northwest (where even though it's summer, rain is never too far away...), but it stashes out of the way easily if needed. Huge selling point was the lightweight mesh that allows for air to flow to your back while you have the pack on and are hiking (while it doesn't eliminate "swamp back", it definitely helps). Super solid bag that has lasted us 3 summers and countless adventures!
Do you have any idea when you'll get backordered packs out to people?
On my order it says arrive by may 22nd. So pretty soon I guess. Now with the summer sale, it's only 205$, worth every $$ !!

Update: It's been almost 4 weeks now but no ETA yet for the shipment.
Need BC to get these stocked
worth its (packed) weight in gold
Familiarity:

I gave it as a gift but have feedback to share
I bought this as a gift after my boyfriend got pack-jealous of my women's Aura AG. The AG system is beyond amazing to the point that it's hard to put in words--you just have to try it; it is so proficient at ensuring the weight rides where it should on the hips without pulling on the shoulders at all. He opted for the 65 since it has the extra 2 side-zip pockets and the pad straps. He wanted the option to be able to pad and pack his camera and lenses separate of the rest of the pack. the stretch side pocket and gear loops hold a tripod well and the side-zip pockets also hold the tent poles perfectly. You can't really ask for better tech than this pack is packing.