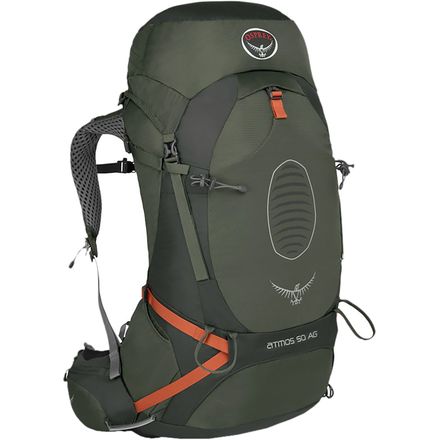 Detail Images

Community Images
Description
A versatile and well-designed pack.
From quick overnight hikes to weekend excursions into the wilderness, the Osprey Atmos AG 50 Backpack will get you where you want to be, without your back aching every inch of the way. Now featuring Osprey's Anti-Gravity suspension system, this award-winning pack is even more comfortable than before. You might be thinking an Anti-Gravity system sounds like it belongs on a spaceship rather than a backpack, but really the system is pretty simple and is composed of a single lightweight mesh panel that extends from the top of the back to the hip. This seamless design allows the panel to automatically contour to the shape of your back, while also allowing air to pass between your back and pack for a cool and comfortable fit.
An adjustable torso length along with an adjustable hip belt allows you to further customize the pack for your hiking comfort. Fully equipped for full days on the trail, the Atmos comes standard with a removable/floating lid that doubles as day or summit hip pack. An internal hydration sleeve lets you equip the pack with the hydration system of your choice, while two stretch side pockets can be used to stash gear or water bottles. Two front panel pockets are an ideal spot to stow maps, extra layers, and snacks, and multiple gear loops on the front of the back allow you to attach your ice axe and trekking poles.
Anti-Gravity suspension system
Adjustable torso length
Fit-on-the-fly hip belt
35-40lb load range
Top access with zippered front panel access point
Removable/floating top lid
Removable sleeping pad straps
100D x 630D nylon dobby main fabric
Internal reservoir sleeve
Front panel pockets
Trekking pole and ice tool gear loops
Internal compression strap
This pack looks great, but I am desperate to get the non-AG version. I have the Atmos 65 from ~2013 and love it. I really want that older model in the 50L.

If that is impossible, can anyone who used the older version and the AG comment comparing the two? Thanks!
hey Mark, the older version holds the weight slightly further from your back, and the hipbelt wrap is not nearly as clean or as comfortable. The AG really wraps your body, and holds it in a tight hug. I love that you love your old Atmos, but I think you will be stoked for the AG.



Thanks for the question -



Leta

Osprey Rep
Thanks for the quick response! I'm on the fence, but will probably go with this new AG model.
Hey Mark, if you're still on the fence, some words from a recent convert -- I swapped out my 2008-era Atmos 50 for the Atmos 50 AG this summer.

Leta from Osprey is right; this pack fits like nothing I've ever felt. Easily the most comfortable pack I've ever worn. It's not perfect for me though and I find myself missing my old pack a lot. Some things to consider:

- Old Atmos 50 had two front zip pockets. The 50 AG does not (only the 65). I really miss the organization. AG has an extra pocket in the brain but I'd rather have the zips on the front.

- Old Atmos had sleeping pad straps on the bottom. 50 AG does not (65 does).

- Old Atmos had daisy chains on either side of the front stretch pocket. 50 AG does not, or any lash points at all really, unless you want to repurpose the tool loops on the bottom or the guides that hold the straps for the lid.

- 50 AG is about a pound heavier than my '08 50. It FEELS a lot lighter because the suspension is amazing but still, the knees...

- My '08 Atmos 50 worked as carry-on. It was amazing. The new AG frame is much taller (and skinnier, to keep weight closer to your body) and needs to be checked. Big bummer.

- Along those lines, the frame is much more structured and the empty pack takes up a lot more room in my closet. When I see it in there it seems less like a bag and more like a suit of armor.

BUT it's all worth it I think:

- As said before, it carries like a dream. It feels so much lighter, the torso fit is really adjustable and the weight is closer to your back. I hike faster and my backpacking posture is much improved. This alone might have been worth the switch for me.

- It has a bottom zip!! I still miss those extra front pockets but it's great to be able to access most of my gear without emptying everything out of the pack.

- Bigger hipbelt pockets for snacks/camera/phone.

- Removable lid if you're into that sort of thing. My problem with that is if you leave the brain at home you lose all organizational capability. But stuff sacks I guess...

- Does your Atmos 65 squeak? My 50 did. No squeaks on the AG yet...

- You know how the inside of your Atmos 65 is curved to create that space behind your back, so when you pack you've sort of got to move stuff around this banana shape inside your pack? A LOT less of that, thanks to the taller, skinnier frame.

I hope this helps your decision one way or another. I know Osprey also makes a Stratos 50 that has the same sort of suspension the old Atmos did if you don't want to make the leap to AG. Have a great day!
Thanks Ross. I recently went with the Osprey Kestral 48. I thought it was perfect, but after loading it for a trip last night, it was very uncomfortable. I just returned it to another store.



My older Atmos 65 does squeak a bit, but not a big problem even for a complainer like me.



I wish I would have seen your comments about 2 hours earlier!! I like the idea of it being narrow and taller - exactly what I'm looking for! But I just ordered what seemed to be THE LAST old version Atmos 50 on earth (from Japan of all places). I definitely overpaid, but I'm so used to my 65L, I'm sure I will be happy with it's little twin.



But you helped me make up my mind if I need to get a replacement in the future.




I love this pack. It's very comfortable and easy to manage. It has ample storage space and lots of places to strap items on the outside of the pack. I recently used it for a hike from the south rim of the Grand Canyon out to plateau point and back (12 miles) and I barely noticed I had the pack on which was loaded to about 20-30lbs at the time. The color is also cool. I would recommend this pack to anyone interested in the osprey brand.
A very good bag .. That could be better
Familiarity:

I've used it several times
I bought this back for a 10 days trek of 120 miles in France and this backpack is very confortable and easily adjustable.

The only concern is about the side pockets on the hips belt that are really too small ( on one side my iphone with a waterproof case don't fit in and on the other side it was not possible to close the zipper with one hand when my wallet was in ( may be i should think of a smaller wallet...)

One easy access pocket on each side would be great and to reach the very top level, a vertical zipper to easily access the bottom of the bag without removing everything would be welcomed
Good pack that could be great
Familiarity:

I've used it several times
I bought this pack for a five-day hike through the jungle-clad mountains of Colombia to the ruins of an ancient city. There were fixed camps, so the loads were light (~20-25 lbs), but the heat, humidity, and terrain were challenging. In those conditions, ventilation isn't just a matter of comfort: too much moisture and pressure results in sores pretty quickly. Thankfully, the mesh back panel worked as intended.



The hip belt was surprisingly comfortable and did a good job of keeping the weight off my shoulders. The hip belt pockets were extremely useful for stowing frequently used items, but proved a little difficult to open and close one-handed. The layout and capacity were good – the internal divider between the main section and the sleeping bag compartment allowed me to stow my ziplock of wet, stinky clothes separately from the rest of my stuff. The compression pocket on the back was useful for stowing my river shoes for easy access at frequent crossing.



What was missing was an integrated rain cover – particularly annoying since Osprey offers one on other packs in this capacity range, and because the shape of the pack makes it difficult to secure generic ones over the area where the hip belt meets the body of the pack. The other thing missing is a way to secure excess webbing. ITX Web Dominators are cheap, and there's no excuse for major manufacturers not to include a few with a pack that costs as much as this one (or the Arcteryx Altra 75 I bought last year). Assuming the Atmos proves reasonably durable over future trips, those two fixes would turn a good pack into a great one.


Can this work as carry-on and fit in the overhead cargo on plane?
Daqi,



Depending on the airline you're flying with you'll have a different bag restrictions. Here are a few major air lines and their respective carry on size limitations compared to this pack:

(All in inches)

Delta Air Lines 22 x 14 x 9

Southwest Airlines 24 x 16 x 10

American Airlines 22 x 14 x 9



This Pack: [medium] 31 x 14 x 16 in



The length will be too big.



Shoot me an email anytime you have questions!



Jared D.

Expert Gearhead

801.736.4336

jdowns@backcountry.com








This pack is absolutely awesome. Just finished the Inca Trail in Peru last week and I couldn't be happier with my pack choice. I have 50L in cinnabar red size large and it was perfect for me (6'2" 200lbs).
Hike like a Pro
Familiarity:

I've used it once or twice and have initial impressions
Atmos makes an amazing pack. Definitely a bit pricey, but absolutely worth it.

Been on the trail pretty regularly and i've tried a lot of packs, including super minimal 30L pack hikes with just the essentials all the way up to tons of luxury items. This pack appeals to me on many levels, because whatever your style this pack can do it. THis bag is designed to be a one-size fits all for style. No major specialization, but it can do a lot pretty darn well.

Its a light pack, with every feature I could want and easily the most comfy i've ever used. Definitely need to make sure you size and adjust it appropriately. If your not sure, look online for instructions and videos on how to adjust a pack.

Pros:
Super adjustable
Amazingly comfy AG system
light for the features it has
Removable top is great for weekend hikes that don't come close to filling the pack

It was a bit large for a 3 day hike, so i removed the top. But I feel like it would be perfect for a week long hike. Less for cold weather, but i dont really do that much anymore.

Cons:
I'm a pocket guy, so the one giant duffel scenario isnt as appealing to me. But thats the trend.
wish the removable lid was held on with clips so you dont have to undo straps every time
Only major thing it should have is a built in pack cover. This is not a cheap bag at all, so needing to buy a $30 cover on top of it is a little crappy.
Price - not a cheap pack, and if you do your research you can likely find a pack equally nice for less. But the Osprey name is gonna cost ya.
Would anyone be able to confirm availability of size L in Cinnabar or perhaps Graphite Grey?

I'm interested in a backpack in the 50-55L range to complement my Aether 60, which is great for colder weather camping. However, it's a bit too large for warmer weather camping. My tent, pad and bag for 40+_degree nights is approaching the lighter end: they only weigh 6 lbs combined. So I am interested in this pack - a size Large shows to be 53L, which is perfect.

A 45L pack is a tad small for any food/water for a weekend of backpacking trip, but fine for an overnight trip or where I can readily access water sources on the hike with a filtration system.

Thanks, Marc
Best Answer
Hey Marc!



Just wanted to let you know that we will be receiving size Large of Cinnabar and Graphite Grey in the next few weeks. I'll do my best to let you know when we have one in stock.



Give me a call and we can chat!



Ben

brabinowitz@backcountry.com

801-746-7564
Hey Marc - Leta here with Osprey. Your selection and reasoning of the Atmos AG is perfect. An excellent choice! Enjoy it when it comes in!



Leta
Camping and fishing gear for a few nights.
Over engineered?
Familiarity:

I've used it several times
First off I want to thank Osprey for hooking me up with this awesome pack! You guys and gals rock!!

As most anyone who backpacks will know, Osprey has been making some of the best packs on the market for years now. They never seem to disappoint. Yet again, Osprey has somehow figured out a way to improve their pack designs. The major improvement with this pack is the "AG" or Anti Gravity suspension system. Seriously, this system seems to make the pack feel lighter than it really is. The large mesh panel on the back panel allows tons of airflow, while still being supportive enough for carrying loads up to 40lbs. Once you have the pack on you hardly notice it's there! The suspension system does an incredible job at distributing the weight, making the pack feel more stable in rough terrain.

The waist belt is the best waist belt I have used. It, along with the AG suspension system helps to distribute the weight of the load very well, allowing you to hike longer without feeling fatigued. The pack also offers cinch straps which help to keep the load in place, so the pack doesn't shift on you when you are maneuvering through large rocks or uneven terrain. The pockets are well thought out, making access to water bottles and snacks a breeze. The top pocket also removes so you can use it for short day hikes. And the large mesh stretch panel on the back works perfectly when you need just a little more room for a few items, or the trash you are packing out.

If I didn't know any better, I would assume this pack was German engineered. If you are in the market for a great pack, to fill the need for overnight up to 3 or 4 day backpacking trips, look no further.
Great pack, love the 'AG'
I used this pack a few times now and it's pretty good. Features are good but the best part is the 'Anti Gravity' suspension. Not only is it the most comfortable pack I've worn but the mesh is extremely breathable adding to the comfort. I'd buy another without hesitation. In fact I have the 50 and I'm considering adding the 65!
Do you think this pack is large enough for a 4 day backpacking trip or should I go for the 65. I usually do 2-3 day trips
Depends on how much you like to carry. If you are lightweight oriented and try to find ways to lighten the load the 50 will work. If you like to bring a lot of extra gear and be really comfortable bump up the pack size. For some this would be more than enough on 2-3 days others, no way.



Feel free to hit me up at bporreca@backcountry.com or 801-736-6398.
Hey there, Leta, the Osprey rep chiming in - Right on, Bill. It really depends on your gear. The good thing about going bigger is that you don't HAVE to fill it, although the bad thing about going bigger is that you probably WOULD fill it! You will love the pack, though!
Amazing Pack
Familiarity:

I've used it several times
I've used this pack a couple times now and it is by far the best, most comfortable pack I have ever worn. It has a great amount of room for 2 or 3 day treck and if packed right maybe a day more. The organization inside the pack is phenomenal. Unlike most small packs it has a sleeping bag compartment that fit mu bag and a pack pillow. The adjustable hood on the pack also allows for you to stuff the pack and still keep the lid on. The single piece netting built into back keeps your back totally breathable and a huge sweat ball like usual. All in all its an amazing pack and deserves the backpackers choice award that it has.
Anyone have a suggestion on what size rain cover to get for this pack?
where is this pack made from?
Best Answer
Most Osprey packs are made in Vietnam... I'm not sure about this specific pack, but that would be my guess!
Yeah, i heard that Osprey moves their design office to Vietnam as well. This pack look fantastic!