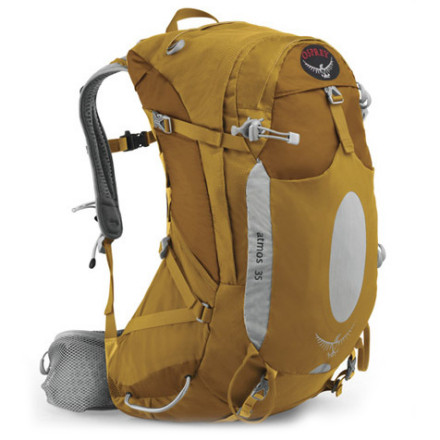 Community Images
Best Pack Ever
Gender:

Male

Familiarity:

I've put it through the wringer
This is by far the best pack that I have ever used - and I have been through a lot of packs. This pack has little compartments everywhere to help you organize your gear. It is big enough to store my BC shovel, probe, extra clothing/accessories, beacon, and a little lunch, plus a compatible camel bak.;

I also use this as my school backpack and it is rocking out like a champ. Put it through some serious abuse and it's got not a single tear or stain in the entire pack.

Great size, light weight, easily usable. MUST BUY!
This (older red model) is the first real pack I got and I love it. Great day pack, summit bagging pack or light weekender. I carried it once severely overloaded and survived but seriously, this pack formed my opinion of Osprey packs as among the best around.
I love this bag. It was super easy to carry a heavy load and my shoulders weren't killing me at the end of my trip.The shade of gold was also very pretty. I would highly recommend this bag to everyone.
I didn't think this size was available in...
I didn't think this size was available in the US. will there be more sizes in stock?
No, sorry - this is a "closeout" deal, hence the awesome price. This is all that is left, so their won't be more anytime soon.
Best Answer
The reason this is not available in US any more is because Osprey is now offering a similar pack--the Stratos series--that is ultralight, great fitting, and trampoline backpanel. This series is not available abroad so the Atmos 35 is still a great seller. The Stratos gives you the option of why type of pack you'd like: the 34 is a panel loader and the 36 is a lidded top loader style.

http://www.backcountry.com/store/search.html?mv_session_id=Czf6jZcJ&aff=1&q=stratos+34

Just some suggestions since it will become harder and harder to find the Atmos 35 in the US.
What is the most weight one can load into...
What is the most weight one can load into this pack and still carry it comfortably? Thanks!
Hey there, I think the sweet spot for this pack is 25-35 pounds. It can handle 40+, but remember, it is a lighterweight pack, and one of the ways that this is achieved is by lightening up the harness and hipbelt. So, to carry loads much over 40 "comfortably," personally, I choose a cushier hipbelt and harness, found in the Aether and Ariel Series. But then it might be too big for your space requirements.
Ya, I just discovered this pack recently and have fallen in love with its concept. I wish Osprey hadn't discontinued it. Anyone have any suggested alternatives? I really liked the mesh back support, double gear loops, and ability to carry heavier gear. Any suggestions?
My daughter in-law has this pack so I had to give it a look. I have the Atmos 50 and 65 and this basically looks like a scaled down model. Same great hip belt and the shoulder straps are padded nicely. It could use a few more exterior pockets IMO.
Lets just say that this pack was maxed out and still got me and my gear around NZ with style. I am forever an Osprey fan now. Osprey is the company I go to first when Im looking for any pack.
Almost five years after I purchased this pack, it is still my day pack of choice. It can hold a tremendous amount of gear when you need it. Thanks to load compression straps, when you have a small load, it doesn't flap about, but is held close and secure to your body. Pockets on the hipbelt sometimes require two hands to open. For winter time use, don't store a camera in the hipbelt pockets!
I put mine through four years of college on top of the hiking abuse and use it as my carry on when flying. This bag is extremely versatile, durable, and good looking.
Can i take this on an airplane? I wasn't...
Can i take this on an airplane? I wasn't sure if the TSA would have a problem with the stays...
Best Answer
Adam,
From the FAQ section of www.OSPREYPACKS.com:
"Which of your packs are carry-on compatible?
In our Travel series, the Meridian 22, Vector 22, and Porter 46 all meet maximum legal carry-on requirements.
Among our daypacks, most of the bags below 40 liters will meet carry-on requirements. Follow the 22" x 14" x 9" or 45 linear inch total for standard carry-on dimensions, or call your airline for specific guidelines."

Of course you could always catch a TSA agent on a bad day or they just might be stopping everyone with a sexy looking backpack that day... My point is that the stays *Shouldn't* be an issue, but you never know these days.

I checked the TSA website for rules on carryon LUGGAGE and this is all I found:
"TSA will screen any "Carry-on" baggage that will fit through the x-ray machine; however, it is up to each individual air carrier as to whether the baggage fits the size restrictions for your flight."
"Transportation Security Officers have discretion to prohibit a passenger from carrying an item through the security checkpoint and onboard an aircraft if they believe the item poses a security threat."

Good luck!
I am looking at purchasing either this...
I am looking at purchasing either this pack or the stratos 34. Other than about 60 cu. in. capacity what is the big difference in these packs?

I am going to use this pack for day hikes (maybe a summer overnight), trail running, and bicycling.
Best Answer
Coolhand (Luke?),
This becomes a subtly tricky question to answer because of the sizes you chose to compare, and the simple answer is "about $11." The stratos series of packs is basically Osprey's smaller day pack series with a front load design. The atmos is one of their larger pack series with a top load design. The exceptions to both of these statements is however right here where the two series overlap, the stratos 36 and the atmos 35 where they reverse their designs. The stratos 36 now becomes your top loading option (with front panel access) and the atmos 35 becomes the front loader (more or less).

They both have the airspeed suspension system and similar compression straps. The stratos has one ice axe attachment point, whereas the atmos has two. But the stratos has an integrated rain cover that the atmos does not. They both feature trekking pole storage on the harness. Some color options change between models and the atmos' constructions includes cordura.

As you can see, between the two models you have chosen, they are quite similar with just a few little differences. You have to make your own choice from here. But since I love throwing in my own $.02, I like the atmos 35 a little better; it is built more like my older model stratos24 with the large stretch pocket and the panel style opening is great for accessing and stowing climbing gear quickly (if that's your thing.)

I hope this helps a little!
Thanks for the answer! I'm going to try and try them both at a shop first then go from there. Either way they are both good packs.
From the picture, it looks as if the answer...
From the picture, it looks as if the answer to my question is probably yes, but can anyone confirm that this pack has the "stow and go" feature for trekking poles? And less evident, the description says it has a sleeping bag compartment, which I must admit, surprises me on a 35L bag...does it?
Best Answer
Thanks, Mike...the Osprey site does say it has the stow and go, but I wanted to be certain from someone who has the pack, and it looks like no sleeping bag compartment (which I don't need, anyway).

I am waffling between one of these and an REI Flash 50. The Flash comes in at 2lb 10oz @50L (with the option to remove the framesheet and/or lid and save weight, bringing it down to 1lb 13oz), and this at 2lb 14oz @32L. The prices are similar, and the Flash might give me a bit more flexibility if I need to bring a bear box, but this looks very streamlined, and I love the Osprey packs.

Another option is the GoLite Jam Pack, 1lb 15oz @50L... Decisions, decisions...
Cameron, it does have the stow and go but not the sleeping bag compartment. You have to move up to the Osprey Atmos 65 for that.

Edit on 1/1/11
I am interested in getting the Atoms 35...
I am interested in getting the Atoms 35 in Medium. I just wanted to ask if this would fit under the seat in front of you on an airplane.
Best Answer
James,

Even the Small version of this pack - at 32L - wouldn't likely fit under the seat in front of you. Obviously, the space will vary depending on what type of plane you are in, though my Osprey 22 - at 22L - will barely fit under plane seats when fully loaded and I have to usually shove it under there or keep it between my legs. If the pack was fully loaded I do not think it would be close to fitting, halfway loaded...maybe. But the overhead is a good option if you find out it doesn't fit.
I have been traveling around the world with my Atmos 35 for a few years now, several continents and lots of countries. It fits in overhead bins on airplanes perfectly, even going straight in, not sideways like the flight attendants asks you to. Very comfortable, love the air suspension, great for long camp trips in all conditions, climbing peaks, all your fun sports. Only negative is the hip section is a little narrow for me, but hard to ask for perfection, but they got pretty close. I have been giving this bag a good beating for a while and still no tears or any problems
A good day pack. The back webbing keeps the pack well away from your back and eliminates the sweating problem. I sweat like a pig when I hike and this kept the sweat from wetting the back of the pack. Plenty of room for even an overnight stay. You won't be sorry if you buy this one....
I got back from hiking the Presidential Traverse in NH. The packet worked great. The side pockets are large stuff area in the back are great.
This pack is a super tough, super comfortable, super ventilated and super light (for it's features, comfort and sturdiness)... seems like the operative word here is ... Super!

My only gripes are that the very frame that makes it so comfortable, well ventilated and strong, has a big curve to it which makes it pretty bulky. Also, I wish someone would make a pack with slightly larger waist belt pockets, with at least one of these being waterproof, rather than mesh.
This is the first back pack I've gotten myself (always borrowed before) and I must say, I love it. I don't have all the right lingo but I took this bad boy to Costa Rica for a week. It fit into carry on (little bit of a tight squeeze fully loaded, but still fit). It was really light and the back ventilation was crucial in the 95+ degree weather we were in all week. It is a little awkward to pack because of the frame, but it wasn't too big of a problem. The only thing with the fit was that the hip straps seemed a little high. I did order a medium and I'm just under 5'3", but I have a longer torso, so that could've just been that the bag itself was too big. Other than that, awesome pack! Looking forward to taking it on the road/hiking trip of a lifetime out west this summer!
Ok, I love this bag and use it A LOT. The frame does make packing a bit of a chore sometimes, but that's not bothersome enough to outweigh the benefit of the Airspeed back's ventilation and comfort. It is a great pack for cycling in that it does not get overly hot while riding. HOWEVER if you wear a helmet while you ride (shame on you if you don't), the top of the pack will bump into the back of your helmet (at least mine does), limiting your range of motion. Not good when you are cruising along and need to be looking down the road/trail. That's why I only gave this pack 4 stars. It's much better for hiking and general travel.
Love the pack. Very solid construction, comfortable when loaded down. Good amount of pockets, the waist strap ones are very useful. Extremely light (was actually quite shocked when I picked it up the first time). Spacious interior. Lifetime warranty is awesome.