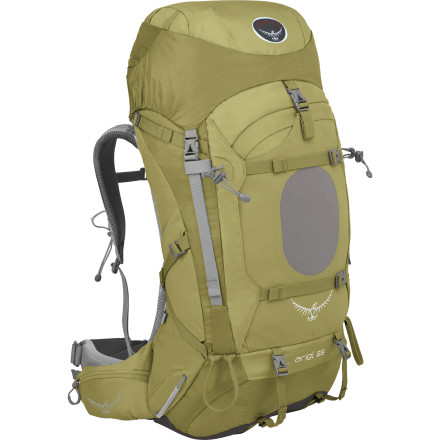 Community Images
Description
Have a 'so This is how a pack should feel' epiphany.
When Osprey designers engineered the multi-day Women's Ariel 65 Backpack, they included everything learned from 20 years of building and testing packs specifically geared towards the female anatomy. The LightWire peripheral frame provides support while keeping pack weight to minimum, and the IsoForm waist-belt can be heat molded for an even greater customized fit. Add in the comfortable Airscape back panel and the removable lid that doubles as a day pack, and you're set.

LightWire peripheral frame gives the pack structure and effectively transfers the load to the waist-belt
Single 6061-T6 aluminum stay provides enough support to comfortably carry loads between 35 and 60 pounds
Women-specific IsoForm CM waist-belt and harness provide supportive cushion, are fully adjustable, and are specifically tailored to the female anatomy
IsoForm CM waist-belt can be custom heat molded at CM Certified Osprey retailers
Airscape back panel has a highly breathable mesh spacer for improved ventilation
Top access makes for easy packing
Large J-zip on the front panel provides quick access to the main compartment
Detachable top lid has a built-in waist-belt which allows it to double as lumbar pack for day hikes away from the main camp
External hydration sleeve protects the inside of the pack from spills and allows you to hydrate on the go (reservoir not included)
Front mesh stash pocket is ideal for a rain jacket or puffy
Dual waist-belt pockets provide on-the-go access to lip balm, bug spray, and a small point-and-shoot camera
Sleeping bag compartment with divider allows you to quickly pack sleep gear
Removable sleeping pad straps provide a secure exterior attachment point
StraightJacket compression straps help to balance the load
Stow-on-the-Go Trekking Pole attachments allow you to quickly secure poles when not in use
Get sized!!!
Familiarity:

I've used it once or twice and have initial impressions
This is a great pack. I have the men's version of this pack (Aether 70) and I love it. My wife would love it too, except that we got a size or two too big. Well made pack, just do yourself a a favor and get sized. It's not a t-shirt.
Unanswered Question
Is this the 2015 version of this pack?
rain rain go away
Familiarity:

I've used it several times
This is a great pack!

-the hydration access is a must

- took this backpacking in Olympic National Park for 4 days 3 nights

-was able to fit all the gear I needed for the four days

-the only thing this was missing was a rain fly which I needed basically my whole trip because it rained. Fortunately, one of my campmates had and extra one.
I'm interested in buying both a hiking backpack and a day pack. It mentions in the description that this item "doubles as a daypack", how does this work and do you recommend relying on this product to act as both?
Bridget, thank for the question. You are definitely describing 2 different packs. Where the description says "doubles as a daypack", it's referring to the top lid that can turn into a waistpack for day outings.

This pack is phenomenal as a backpacking pack - you cannot go wrong. But if you want to reach out to me about describing what activities that you would like to do with your day pack, I would be happy to recommend one for you.



Thanks for writing!



Leta

Osprey Rep
Hi Leta,



Thanks for clarifying! I'm heading to Madagascar for two years and I'd like to bring a hiking backpack (I think I'm definitely going to get this Osprey one), an overnight bag for shorter outreaches (but that's large enough to carry a few outfits/shoes/etc) and a smaller backpack for daily tasks (thinking maybe a hydration pack with some extra storage room would be best)..Do you have any specific items in mind that may work? Thanks for your help!!
Hey I am 5'5 and i am 120 pounds but i am only 14 years old and i am worried if i get a small then i will grow out of it. Do you guys think i would be better off with a small or medium?
Sophia,



The big determining factor for pack size (S, M or L) is going to be your torso measurement that goes from your iliac crest to your C7 vertebra. That measurement will correspond to the size you'd want. The Small for the Osprey Ariel 65 is going to be good for ladies that measure between 16 and 19 inches. At 5'4'' without measuring, I'd think you'd be closer to the 14.5-16" range for your torso measurement (depending on how you're proportioned).



Shoot me an email anytime you have questions!



Jared D.

Expert Gearhead

801.736.4336

jdowns@backcountry.com
Best Answer
Good answer Jared. Sophia, can you measure your torso and see where you are at? I am 5'4" and a 15" torso, so I am an XS in this pack (I weight 150). It's all about torso length!
Built for a woman's body
Gender:

Female

Familiarity:

I've used it once or twice and have initial impressions
I recently took this pack on a 3-night bakcpacking trip and fit everything I needed inside easily. I'm a heavy packer, to me it's no problem carrying extra weight to enjoy the finer things. Point being, this pack could be used for longer trips, I've had friends travel all over the world with this.

Osprey's women packs have superb design, are fit to women's curves, and are well thought-out. From the pockets to the fit adjustments, this pack makes being in the backcountry a lot more convenient in every way.

FIT

I am 5'7" and 130lbs with an average to short torso and the Small fit perfect, with room to adjust for a larger torso. The waist-belt fit comfortable around with plenty of room for adjustment too. And the waist-belt can be heat-molded, that's pretty awesome!

For information on sizing and fitting your Osprey pack, check out this guide they have created: http://www.ospreypacks.com/en/web/sizing_and_fitting

COMPARTMENTS

The top brain of the pack detaches and can be used as a daypack. I was able to fit my shell, a sweater, and two water bottles in it for a day hike (see pic below.)

There is a sleeping bag compartment built into the pack located on the bottom with zipper access and internal straps to separate it from the body.

The body has access from the top and front panel access (making it easy to quickly un-bury rain jackets accidentally packed in the bottom.)

Water bottle pockets are located on each side with sleeves that have an option to hold bottles upright or sideways (making them easily accessible to grab when you're hiking.) Inside the sleeves there are a couple small straps giving you the option to secure smaller things you may want to carry here instead of water. This would be good to carry hiking poles or a fly-rod!

There are two zippered waist-belt pockets for small hiking necessities: chapstick, snacks, sunscreen, phone, etc.

There is an external hydration sleeve, but the pack does not come with a bladder.

The outside stretch mesh pocket is great for packing maps or stuffing a layer in.

There are multiple external straps to carry whatever else you may need. Great for strapping dirty shoes on with biners.

This was a HUGE upgrade from my current pack, an older hand-me-down that doesn't fit my frame. Osprey makes great packs that are actually shaped to a woman's curves. This I seriously appreciated! I was noticeably less stiff after packing this around, making my whole trip more enjoyable!
Love this backpack! Initially I ordered it in size medium which turned out to be a bit too big for me so I returned it for a small which fits perfectly. All of the compartments and pockets in the pack make it easy to fit more than I need for my backpacking trips. The detachable bag is super convenient for those shorter day hikes. Overall great bag, super comfortable and a must have for so many adventuring occasions!
I luv this backpack!
Familiarity:

I've used it once or twice and have initial impressions
I bought an Osprey Ariel 65 because I was looking for something a bit larger than my Osprey Aura 50. As with the Aura, according to their chart my measurements would put me in a small or a medium; I a€™m right on the line. I ordered a small and it fits me much better than my Aura, which is a medium. I ordered the Deep Sea Blue which is a very pleasant color, not too bright. Material is very durable and pack well made. The wide hip belt has thick padding; I had no sore spots after carrying a 40 lb pack for several days. My favorite feature is a zippered sleeping bag compartment, with removable partition, at the bottom so I can wait till the last minute to compress and stash my down bag. Also appreciated is easy access to the main compartment through a large L shaped zipper that basically lays open the panel of the main compartment. It has loops on the top pocket where I attached my bear vault, but actually had room to pack it inside. The stretch mesh pocket is very handy and also the extra compression straps. The only thing I would change on this pack is to add a zippered pocket on the sides. I would definitely recommend this pack. It's a keeper! Happy Trails
Fantastic Pack
Familiarity:

I've put it through the wringer
I have used this pack now for three years, have put hundreds of miles on it, and have lived out of it for about 6 straight months worth of time in the Sierra Nevada mountains. I have carried up to 60 pounds in it without an issue (no small feat for a 65 liter pack), and the pack is in as good of shape as the first time I bought it. Osprey might have a lifetime warranty, but there is a good chance you will get tired of the pack and end up replacing it long before you ever need to use it. Holds up to abrasion fantastically (I use it for mountaineering and carrying climbing gear as well).
Everything but the kitchen sink.
Familiarity:

I've used it once or twice and have initial impressions
I took this on a two day hike, with my sister, who is in the market for a new backpacking pack. We both were very pleased with all the features. The pockets on the hip belt are so useful, as well as all the other pockets. They gave the pack a lot of extra space that you could fill, if you really needed to. I got all my gear in there: stove, tent, sleeping bag, sleeping pad, clothes, toiletries. Plus, I had climbing shoes, a beach towel, and doggy necessity, which isn't normal for backpackers. Still, I had room for more.

The hydration sleeve worked fine. I just had to remember to put it in before repacking my bag. The front zip was really nice, and made it easy to locate items. And the zipper for the sleeping bag was quite handy. I misplaced my stuff sack, so I just stuffed the bag in the bag compartment and cinched it down tight. It worked great!

I have a 18" torso, so I got the the small. The straps are very adjustable, in the hips and shoulders. So, it works for me, but a medium would be better, so the straps aren't maxed-out, all the way. I like my packs to ride really heavy on my hips.

I'm very happy with this pack, though and I'm anxiously awaiting my next trip out with it.

I only did 4 stars because I like Osprey's sizing features on the Viva 65 better. They are just a little easier to use, so I wish it was the same here.

Questions? Hit me up!

Emily Jenson
Expert Gearhead
ejenson@backcountry.com
801.746.7587
Handled the trek in and out of Havasupai
Familiarity:

I've used it once or twice and have initial impressions
Great backpack! I used this for a Havasupai trip this last spring. When we compared packs before the 12+ mile hike mine was much lighter even with all my gear for a 3 day trip. Didn't cause any rashes from rubbing and the hip strap was really comfortable. Has lots of space to hold a sleeping bag, tent or hammock and everything else you need for a couple day trip. I could of slept in this backpack the whole trip!
great bag
Gender:

Female

Familiarity:

I've used it several times
My first trip with the bag was a 4 day backpack to the Tonquin Valley, Jasper National Park, AB, Canada. Carried sleeping bag-clothing-climbing gear-camera gear in 25C summer weather. Excellent hip belt, very comfortable. Bag carries well with load of ca 45 lb (I am 5'8''), carried on 20km hike in to hut. Of course it's heavy! But it could be worse (with my old bag ;)).

PLuses:
=Stable on back when walking over rough ground and full load. =Comfortable hip belt and shoulder straps.
=Quite cool with the mesh system.
=I like the separate compartment for water system (note- as others have said, load water first! otherwise hard to shove it in). =Lots of compression straps to attach extra stuff securely to pack. =Good ice axe loops.
=Light.
=Really like the zipper access to main compartment- this isn't useful when bag fully packed (too tight), but if bag half full, super easy to get into main compartment without undoing all the compression straps/top compartment.

Cons:
= Shoving the hydration bladder in a half full pack difficult. --
=Should come with a rain cover for the cost of bag!!
= I miss having a small inner pocket under the top lid (there are straps here used for taking bag off). This is normally where I secure small, important things like keys and wallet...
=I like the stretchy panel on back of pack for shoving in jacket etc- however, this is only really effective if bag is not totally full. They should have made the fabric looser, so that there was more room to fit stuff when underlying fabric tight.
For trips across the world
Familiarity:

I've put it through the wringer
I've had an Ariel 65 since 2006 and have traveled from the U.S. to West China on trains, planes, and automobiles, and also by foot and it has held up with no broken seams or rips yet! One of the buckles broke though; at least that buckle is still half way functional.

This has a inner pocket for a hydration pack, fits sleeping bag, clothes, tent, and has mesh side pockets for shoes or airing out dirty clothes, can even fit a fat nalgene water bottle in the side pocket!

I went to a store and was fitted for a size small. My torso length is 17"
So glad I chose this pack
Familiarity:

I've put it through the wringer
I shopped for a while trying to decide which pack was best for me for a 3 day backpacking trip. I chose this one and I'm so glad I did. I love the frame, the hip pockets, and the accessibility of this pack. The only thing that was a little frustrating was the location and accessibility of the bladder holder area. We packed our bags and didn't fill our bladders until we were on the trail so it was a really tight fit unless you take things out of your pack, put the bladder in, then put everything back, and who wants to do that. I could fit all my gear for 3 days but I know I could fit it for longer if I needed to. I almost went with the 75 but I'm glad I didn't 'cause I would have just carried more. All in all, a durable and extremely comfortable backpack. Once I had everything adjusted to the weight on my hips, I was set. My pack was about 35 lbs max, and I am 5'5" I got the size M.
Great pack for travelling
Got this pack for a month long trip through Europe. It works wonders. Love the detachable hood and different pockets. Perfect for what she needed to bring (too much stuff). If you want a carry on definitely get a smaller size.
I'm trying to decide between getting a small or a medium. I'm 5'7", 120/125 pounds with a slim build. Which should I go for?
Best Answer
You need to measure your torso from the nobby piece at the top of your shoulders down to the top of your hip bones. There are several Youtube videos to show you how to have a friend do it. Your overall height and weight don't determine your backpack size. It's not like buying a sweater. For example, I am 5'9" but am on the small end in backpacks because I have a 17" torso. So, I have a small Ariel 65. As for my width. You need to measure your waist around the top of your hipbones and compare it to the size chart. If you need a different hipbelt, you can buy one and swap out to hipbelt that comes with your pack.
Beautiful pack
Gender:

Female

Familiarity:

I returned this product before using it
This is a beautiful back pack. It's well made and durable, and the color is beautiful. I'm sad that, unfortunately, it's not what I was looking for. I researched for a pack to use when traveling to haul my belongings from place to place, and I thought this would do it. I love the back pack convenience and style, and while this one is that, it's not what I was looking for. :(
Couldn't Imagine a Better Pack
Familiarity:

I've used it once or twice and have initial impressions
This pack is absolutely phenomenal. I used it on a three-day backpacking trip through the Wilderness of Dolly Sods. I carried a two-man tent, a sleeping bag, a change of clothes, plenty of food, two gallons of water, among the other essentials. Of our entire group, I had not a single complaint about discomfort from carrying my pack. The waist pads are extremely comfortable and even have the option of molding them to a custom fit (I did not get mine molded, but it is available at select stores), however I don't find it necessary. The weight sits perfectly on my waist, causing no strain to my shoulders, back, and neck, and making it very comfortable to walk, run, hike, and cross streams with a large load. The pack is fully adjustable to fit on your person and to distribute the weight in any way one may wish. Initially I was feeling pulled back by the weight of my pack, but I quickly discovered it was due to how the top portion (which is a removable day pack) was positioned. Once positioned closer to my head, I had not a problem at all. I kept my 2-L CamelBak water reservoir in the removable day pack, and it was perfect. The hose reached perfectly and the water pressure was great. This pack also features a sleeping bag compartment, another plus, as you could remove and repack the bag while barely disturbing the organization of the other contents of the pack. This pack is great and I highly recommend it.
Love the individualized fit options
Familiarity:

I gave it as a gift but have feedback to share
Bought this for one of my backpacking partners and I love how I was able to get the fit dialed in for her. Looks great, super tough, awesome organization. Perfect for a few days to a week.