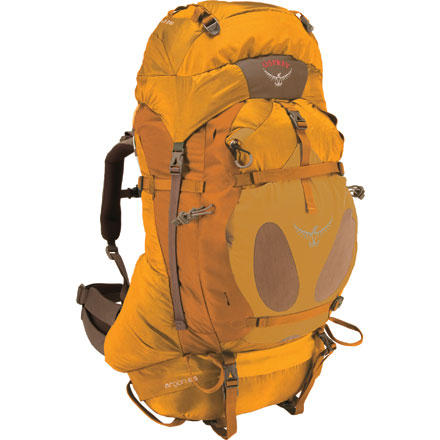 Community Images
The Osprey Argon 85 Backpack carries all you need for a whole week in the hills and, thanks to the ReCurve Suspension system, keeps you comfortable every step of the way. Even with 70lbs of gear loaded into this pack's 5300cu inch interior, the AirScape back panel and BioForm waist-belt eliminate pressure points.

ReCurve suspension features an HDPE framesheet, two aluminum stays, and dual aluminum rods for the active transfer of weight to your hips
AirScape back panel features three different foam sections for plush comfort and an integrated air chimney for supreme ventilation
BioForm CM A/X hip-belt features thermo-moldable foam so you can dial in the perfect fit (for info on custom molding: www.ospreypacks.com/en/web/custom_molding)
Removable AquaSource hydration sleeve converts to a hydration pack for summit bids (water bladder not included)
Removable top lid converts to a lumbar pack for day-treks
Integrated load-lifter straps let you pull your load against your back for improved control and stability over uneven terrain
Interchangeable, dual-density shoulder straps easily adjust to fit both men's and women's frames
Top-loading access point makes packing easy, zippered side-access port lets you get to gear without having to unpack and repack everything
StraightJacket compression wings let you adjust the pack's volume for carrying different-sized loads
Osprey's recommended load range: 50 to 70 pounds
Combat tested
Familiarity:

I've put it through the wringer
I ordered my Osprey Argon while I was in Afghanistan because I was traveling so much from base to base as a contractor. The Argon allowed me to pack all of my clothes, and special gear that I needed to do my job. Made carrying the load much easier with the suspension system and waist belt. That was back in 2008 and I still have it and use it. No tears, rips, holes, or broken anything. I love this pack and it is always ready to go. I am going to buy a smaller pack just for weekend getaways because sometimes it is a bit large take for short term. But for 5+ days this pack is spot on. Please don't forget my 5+ day also includes all the extra gear I have to put in it for work. Easily hauled more than 70 lbs. On one of my military flights it somehow got lost between Kandahar, Afghanistan and Al Udeid, Qatar and ended up on a military flight to Iowa. Fortunately they found it there and shipped it back to me in Germany via FedEx. The pack was never in a bag or or with the rain fly on. I simply had all the buckles, belts, and straps tightly secured and tucked in or rolled and taped. I thought for sure when it was coming from Iowa that it would be ripped or something torn off because of all the rough handling but nope, the pack was in perfect condition.
Loved this pack, used it very heavily for six months. Rough backpacking in the high alpine desert. Survived all of winter, hiked over 900 miles with this pack on in the six month period, felt comfortable every step of the way, even with loads of 80+ pounds.

Frame snapped, by accident and blame of entirely myself. Wish they had this pack when I returned it, you'll love it.
Love this Pack!
Gender:

Male

Familiarity:

I've put it through the wringer
Love Osprey! I've had this pack for three years now and its going strong. So comfy for such a big pack and I usally have 70Lb plus in it. the removable to works great for little hikes away from camp. And how can you go wrong with the almighty lifetime guarantee!
Unanswered Question
I'm looking for a pack for multi-day...
I'm looking for a pack for multi-day mountaineering trips as well as routine backpacking. How does this compare/contrast to the Aether 85? Will one be better than the other?
I am looking at this pack for hunting. ...
I am looking at this pack for hunting. For the most part I will be carrying around 50 - 60 pounds. But with a little luck I will be packing out about 100. I know the pack is only rated for 70 but I was wondering if it could handle the extra weight? no pack is comfy at 100 pounds. Will this one loose its charm? I guess I would ask the same question of the Aether 85.
If you're looking to haul that much weight, this would be a good bet. Maybe consider the 110L version, rated to 80lbs.
Hey Trev,

I'd definitely stick with the Argon series over the Aether series for that much weight. The Aether would carry the 50-60 no problem, but push it over 70lb and you'll appreciate the added comfort from the Argon's carry.

And since the Argon 110 is built on the same frame as the Argon 85, they'll both handle the same weight fairly comparably. The 110 will maybe organize and carry larger things efficiently, but if you see yourself needing more than 85L of interior volume, go 110L for sure.
I have the 110L version and you'll have no problem carrying 100lb.


Only had this pack for a few weeks. Used it on a 20+ mile backpacking trip in Moab, UT. Worked great. One complaint, however, is the small stretchy pocket on the outside has a pin hole in it from where it snagged on a boulder. The material is not the type of material that would withstand sharp or tear situations. Only other complaint is the pack does not come with a drinking hose magnet for the chest strap like the smaller water bladders do...nor does the pack come with a water bladder and hose. You can purchase these in a package for additional $$, but I would have liked to see them come with the pack for as much money as I paid for it. Overall I am very pleased with the pack so far however. I would recommend it to a friend. I own an Osprey day pack / water bladder (3L) and love it as well.
It's comfortable, but there are enough annoying problems with it that I'm returning it. I won't go through the whole list of annoyances, I'll just give you the main ones. First, the detachable top STRAPS on, not buckles, which is maddening. The back portion buckles, but the front of it must be strapped, so you find yourself fumbling with it in the dark or on the trail or in the airport. Second, the side pockets you should be able to reach into on the trail aren't accessible because either the zippers are impossible to work while you're wearing the pack or the because the pockets are just out of reach. Third, and most maddening of all, no matter how you pack it the damn thing will not stand up. When you take it off and set it on the ground it rolls over onto its back, getting the pack and whatever gear you have stowed there muddy. This alone drove me so crazy I went back to my old Kelty pack.
I've put my Palisades 80 on the shelf and replaced it with the Argon 85. I haven't put it through it's paces yet but after loading 30 pounds in each and doing some laps ... the Argon is the overwhelming winner!! It all comes down to fit and this one fits me the best.
The Argon is wider and therefore the weight rides lower. The unique, back hugging shape of the Argon suspension also keeps the weight tighter. You just don't seem to notice the pounds with this thing. Can't wait to load it up and hit the trail!!
Couldn't ask for a better pack
Thought I'd write a review of this bad boy after owning it for about 3 years. I've backpacked for about 12 years, and this is the best pack I've had so far. I won't get into all the technical bells and whistles because everyone has their own opinion on that stuff. I've used this pack for ski mountaineering and general wilderness backpacking. I have spent entire days with this pack wading up rivers, sneaking around casting to wary trout while nearly forgetting I had 65 lbs. on my back. Moderate to long alpine trips in the Rockies, 2 months in the New Zealand bush, light loads to massive loads, it really does it all while keeping you as comfortable and pain free as you can be while hauling around a bunch of weight on your back. Don't fret over the price either, worth every last penny.
Can I get a medium torso with a large hip...
Can I get a medium torso with a large hip belt?
I'm not positive how backcountry.com does it but at a local rei you can change the hip belt to fit your needs.
Hello! I'm sorry for my ignorance, but I...
Hello! I'm sorry for my ignorance, but I would like to know if the difference between the sizes M, L XL regards only the capacity of the backpack or anything else. I'm not so big, but I really need to carry as much as I can in this backpack. Thanks!
No need to apologize!

The sizing on this pack is in reference to the torso length. Because the torso length increases the length of the pack, it also slightly increases the internal space.

HOWEVER!!! Do not get this pack based on internal space. Please size your torso (http://www.ospreypacks.com/en/web/sizing_and_fitting) and choose the appropriate sized pack. If this pack fits you, it will carry like a dream and you won't notice the weight on your back. If you get a pack that is too big, you won't carry the weight correctly and it will be a nightmare's amount of uncomfortable!!!

Hope this helps!
This pack holds a ton of gear very comfortably, thanks to the belt and suspension, but it is a bit heavy as a trade-off. I can't afford a separate (lighter weight) "climbing" pack so I manage just fine with the extra weight.
BE SURE TO TAKE CARE WITH SIZING AND CUSTOM BELT MOLDING!
I was shocked during my purchase to find that I was barely a size Medium (I wear L - XL everything) so make the effort to be sized and fitted, as well as having the belt custom molded to your body (Authorized Osprey dealers have a trick little oven to do this) the result is a pack that I can carry 50lbs in all damn day without losing my smile.
Comfortable, but it takes practice to load and adjust correctly
This bag can definitely take the weight. With 2 weeks of expedition gear and rations being hauled over boulder and snow fields, around steep ledges/ lakes/ reindeer trails... I always felt like I could count on this pack to not destroy my back/ hips. I really like the side water bottle holder that is a type of nylon fabric and keeps a 1 liter Nalgene completely secured away. I also tucked my map for the day into this pocket with the water bottle. The brain is a good design but I would have preferred one pocket instead of the two (one small one large-- the small is useless). The outside mesh with the osprey logo on it is a waste of material in my opinion, but came in handy for picking up random trash. The gear loops on the bottom of the bag I cut off mid trip and fashioned them into a belt for my pants when I lost mine, I wasn't sad to see them go as it was one less thing that could potentially snag. The brain I would also take off and empty and use as a seat around camp to keep dry and warm. It's supposed to be a day pack but it wasn't ever particularly useful for me-- it wasn't comfortable to wear as a fanny pack and too small to keep a essentials like an extra layer, first aid kit, and water in for a day hike. That being said, I do like the false bottom and compression straps for keeping a small load in a large pack for impromptu peak ascents on an expedition.

The bag material is good quality, this is my second osprey bag and the other I use for canyoneering. Both have taken a serious beating on rocks and still look new.

That being said, this pack is kind of like a fancy car in the outdoor world. It looks good, but it isn't always the most functional for the way that I've taken a liking to packing. Too many straps/outside pockets and with the frame, it can be hard to really stuff the bottom of this pack full. I'm a big believer in keeping everything your hiking with secured inside the pack so you're not leaving a gear trail to your campsite, and to keep everything dry by lining the bag with a garbage bag and tying it off at the top.

Overall, I like this pack and I'll continue to use it, but the next expedition pack I get won't have so many external pockets and other features that are really more of a design element.
Great pack and great company
I bought the Argon 85 in 2010 but an injury prevented its use until a few weeks ago. When assembling my gear, I noticed the hip belt had not been shipped with the pack. I called Osprey and they immediately shipped me a hip belt, and they covered the shipping cost for a two-day delivery. Unbelievably great customer service!. And as stated by others, the pack performed great...comfortable and well organized.
Hey. I'm a big guy (6'5", 300 lbs, 42"...
Hey. I'm a big guy (6'5", 300 lbs, 42" waist, big, long torso). Any other big guys out there have experience with this? How's the fit? I'm thinking about retiring my "vintage" external frame pack--which I've customized a great deal to make it fit comfortably. I'm looking at a variety of 80-90L internal frame packs.

Any feedback is greatly appreciated!
Best Answer
Just because you are 6'5" doesn't mean you have XL torso length--you may fit better a Large torso better but still need those XL components. You could get the Argon/Aether 85L but exchange the L hipbelt/harness with Osprey for XL waist belt and shoulder harness to better fit what sounds like a XL build.

To measure your torso, have a friend measure your back along the spine from the top of your hipbones (run a finger from the bottom of your ribs down your sides until you feel the top part of your hipbones) to the knobby bone at the base of your neck (your C7 vertebra). With Argon/Aether, if your torso length is bigger than 22", go XL. If not, go L. (Note that all Argons come in the XL torso length, but the Aether only comes in XL in the 70L pack.)

My best guess is that you'd be an XL, but after years of pack fitting, I am always surprised by the lack of relationship between height and torso length.

ALSO no matter which pack you choose to go with, make sure you get your Argon/Aether hipbelt heat molded at a local shop if you can. Heat molding will ensure the best possible fit for both Aether and Argon series packs.
I'm a big guy too (just not quite as big) at 6' 3", 265 lbs (used to weigh 310), 42" waist. I scoffed at the thought of getting a Large instead of an XL but when it came down to it, the L fit *ME* better (I'm fairly proportional too, though tend to be a tad more leg than torso). I was even more surprised to find the L hip and chest straps fit rather than having to go with the XL too.

As an avid cyclist, I'm accustomed to having all my outdoor gear ideally sized for people half my size forcing me into 2 and sometimes 3XL (or 7XL Euro-size!) shorts and jerseys. The Osprey's size was quite a pleasant surprise.

This is all to say that fit is everything. Before dropping the bills online based on preconceived sizing notions, you might want to try some out in person if you can. To be sure, my intent was to do just that- shop local, buy global- to save some cash. But I lucked out and was fortunate enough to find this pack not only in my size locally, but on sale too!

Happy trails,
OK. I'll try and make this straight to the point and clear. I wouldn't go as far as to say that this is the best pack ever. It doesn't have every feature I'd like for mountaineering. For example, it could use some webbing loops like two daisy chains or something for more strapping. However, it is definitely a good all around pack and it's definitely a good purchase. It carries load much better than my last pack which was something closer to a rucksac made by REI. I recently took the pack with me to climb Mt. Shasta. I hauled up tons of gear including a 60m climbing rope to practice some snow climbing stuff. The most packed it got was on the descent from base camp. At that point rope, sleeping pad, probe, shovel, ice axe, crampons, snowshoes, helmet, WAG bag, top rain/snow shell, were all strapped on the outside of the pack. The rope, top shell, and WAG bag were secured under the top flap. It was a little awkward getting it all strapped on. I tie a cordlette using four small loop sewn into the front of the pack. Things definitely fit better when I'm wearing at least one of either my crampons or snowshoes so that both aren't strapped on. The shovel head fits well in the front wide pocket. The hip belt comes out, but I'm not sure from which points I would haul the pack from. I personally like the bottom access...I put my sleeping bag and bivy sac in there (easy access). The top flap has lots of space for store oft-used items. There's a strap inside at the top that compresses from the top. I found this useful for securely the rope as well. The fanny pack option is a little annoying. The buckles come out and get in the way. I don't even like the concept of a fanny pack...I prefer bring a super thin stuff sack type pack (but I don't normally do that).
I cant praise this pack enough...
Most amazing most comfortable pack I have ever used
Ive had it loaded with over 120lbs of tools water and food for a week long remote trail work trip and it was like a pillow on my back
well balanced and doesn't cause you to bend over when carrying heavy loads
Would buy again in a heartbeat...you get what you pay for and this is no cheap Kelty...