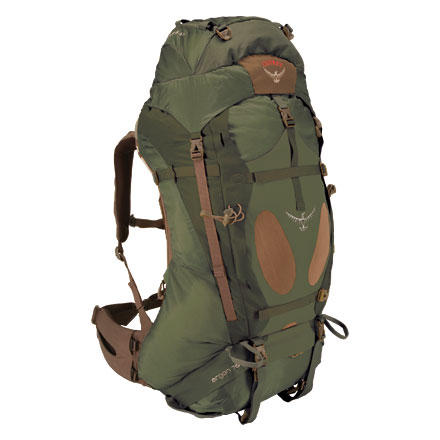 Videos

Community Images
Osprey loaded the Argon 70 Backpack with every plush feature the company could think of, from an ultra-padded waist-belt to an integrated hydration system. Two aluminum stays and a molded back panel increase comfort when you load up every bit of the Argon 70 Backpack's 4500cu inch cargo space.

ReCurve suspension features an HDPE framesheet, two aluminum stays, and dual aluminum rods for the active transfer of weight to your hips
AirScape back panel features three different foam sections for plush comfort and an integrated air chimney for supreme ventilation
BioForm CM A/X hip-belt features thermo-moldable foam so you can dial in the perfect fit (for info on custom molding: www.ospreypacks.com/en/web/custom_molding)
Removable AquaSource hydration sleeve converts to a hydration pack for summit bids (water bladder not included)
Removable top lid converts to a lumbar pack for day-treks
Integrated load-lifter straps let you pull your load against your back for improved control and stability over uneven terrain
Interchangeable, dual-density shoulder straps easily adjust to fit both men's and women's frames
Top-loading access point makes packing easy, zippered side-access port lets you get to gear without having to unpack and repack everything
StraightJacket compression wings let you adjust the pack's volume for carrying different-sized loads
Osprey's recommended load range: 50 to 70 pounds
X-Large variant comes standard with size Large belt and harness
Share your thoughts
What do you think of the
Osprey Packs
Argon 70 Backpack - 4272-4638cu in
? Share a...
Just got back from my trip with this pack. Good amount of volume in this pack. I don't like that the pack only has one water bottle sleeve; you can't depend on there being any running (or standing) water in the creeks in Texas, so having another external pocket for an additional 1.5-2 liters would be ideal. I REALLY don't like the water bladder being inside the main compartment of the pack. I think it is a much better design having an external bladder sleeve like on the new 2013 Xenith and Aether models.

That being said, the suspension system on this bag is amazing. I had 43 pounds in the pack the first day and it was comfortable. The BioForm CM padding on the hip belt and shoulder straps are significantly more substantial than the IsoForm models.

All things considered I will definitely return this pack to get the new Xenith series from Osprey. The the Xenith 75 M weighs in at a full pound lighter, and has the two external water bottle pockets and the external water bladder sleeve. I do love the color though... wish they had Kelp Green on the new packs...
backpacking in 11 countries in 11 months,...
backpacking in 11 countries in 11 months, wont always be on a trail but will be living out of a back pack none the less. I'm trying to decide between this and the gregory baltoro. Any opinions or advise?
In my opinion the Baltoro is more comfortable if you're looking to carry 25-45 pounds. If you're carrying 50+ pounds, this will support a little better.

Both are great, you can't go wrong.
I would actually consider a lighter system--with all the airline fees for luggage weighing over 50lbs, go with a lighter pack than either the Baltora or the Argon. Consider the Aether 70... Carries up to 50lbs like a dream.
Best Answer
About 70L. Somewhere in the range of 4300-4700cu in.
I am debating on getting either the Argon...
I am debating on getting either the Argon 70 or the Aether 70. I like the way the Argon is set up much better than the Aether having tried on both at a local retail store. I also like the color scheme better in the Argon. The key factor in not pulling the trigger on the Argon so far has been the fact that it is rougly a full pound heavier than the Aether. Up until this point I have been very carefull of every ounce that I put in my Atmos 65 for long hikes on the AT. After alot of research I have found several websites with varying weights on both packs. The most recent one put the Aether at 5Lbs and the Argon at 5Lbs 8ozs. This seems like an easier pill to swallow if it turns out to be the case. Can anyone confirm or deny these weights? Thanks in advance.
You should really just go straight to the source for that sort of info- http://www.ospreypacks.com/

I'm going to go ahead and use the Large and Medium sizes on the Argons and Aethers for comparison, but generally, the Argons run about 1lb+ or so more than the same size in the Aethers.

Argon L= 6lbs 6oz
Aether L= 5lbs 2oz

Argon M= 6lbs 1oz
Aether M= 4lbs 15oz

These are Osprey's official specs.
Actually, by the Osprey website, the weights are Argon 70 M = 6/1 vs. Aether 70 M = 4/15, and Argon 70 L = 6/6 vs. Aether 70 L = 5/2.

There is difference, but the benefit is additional comfort in padding and suspension. Both are great choices, but the additional weight of the Argon might be more than you are looking for!
Thanks Tom. I had a mix and match challenged moment. All better now.
I'm convinced, after weeks and weeks of...
I'm convinced, after weeks and weeks of research, the Argon is the back for me. I have one question I can't figure out... If I wanted to use this pack for hunting as well as backpacking does anyone know if the 70 is big enough for an Elk quarter or should I get the 85?
Thanks in advance
Seriously? Even a small elk is 400 lbs...a quarter of that is close to 100 after gutting. You will appreciate the extra space of the 85 I'm guessing.
Just bought the pack and I want to know...
Just bought the pack and I want to know if I can (or need to) treat it to prevent dirt from grinding into the clean open pours of the new fabric. I have the Nikwax UV proof but the only other protectors they have are for waterproofing. I am not after waterproofing unless it will help protect the fabric. What product can you recommend to protect the new fabric?
Best Answer
Jonathan, I don't usually treat my packs with anything but both of those products work well and would maybe help some. Bottom line, if you use your pack it is going to get dirty and there isn't much you can do about it.
Packed in for a 5 day winter camp. Loaded out with around 48 lbs. Very comfortable. You can pack more than you need and it's very comfortable.
Would this pack do alright for some weekend...
Would this pack do alright for some weekend mountaineering? 3-4 days max with no technical climbing (just crampons, ice axe, etc)
This pack would do alright for some basic mountaineering. A word of caution though: the curved back and frame of this pack place the majority of the weight a few extra inches away from your natural center of balance and can make scrambling and moving around objects a bit awkward. I'm sure that with practice, you can get used to this and make the necessary adjustments. It will however, feel a bit bigger and less snug to your back than other backpacks. Other than that, its a great pack and caries a heavy load quite well. Hope this helps!
OK, after 3 micro disc surgeries, PT,inversion...
OK, after 3 micro disc surgeries, PT,inversion table, Loratab 10s, Morphine 30's,etc,etc, If money is not the object, is there a pack out there for 3-10 day stints that would be my best bet? I've had Lowe, MountainSmith, Kelty, Peak 1. I usually stay under 45#'s. Any help would be appreciated.
Best Answer
Quite the list. I know the lite version myself.

If you're looking for 70L, a lighter pack is the Osprey Aether 70, a little bigger would be the Aether 85. The Argon series are heavier duty, but also just plain heavier. You should also look at the Arcteryx Altra 75. In your situation, you should really try on any pack you're considering and test it out with some weight first. If you're going to order online, and don't have anywhere local to fit the packs you're interested in, order up a few candidates at once, choose what feels and works best, return the others. BC won't give you any problems, and you'll know right away which one is going to be most comfortable.
Thank you for the adivse, I wondered about the Aether series or even one of Ospreys ultra lightweight models.
Hi i have the Osprey argon 70 but lost the...
Hi i have the Osprey argon 70 but lost the hydration pack and holder along with the 2 straps, any1 know where i can get hold of some spares thank you!
Best Answer
I would try to contact Osprey.

Osprey US Customer Service is open from 8:00 a.m. - 5:00 p.m., Monday - Friday, Mountain Time. Call toll free 866-284-7830 and one of our expert customer service folks will get back to you. We pride ourselves in providing real help from real people.

Or if you need to contact us in off-hours or prefer email contact us at cs@ospreypacks.com and a real person will get back to you!
Does anyone have an opinion on the jansport...
Does anyone have an opinion on the jansport big bear 68, 78 or 82? Why should I spend the extra money for an osprey? Is it that much better? I've never used either and am guessing the osprey is better quality and suspension.. longer lasting easier to carry.. ?? Will I regret it half way up the mountain or 5 yrs from now?
Best Answer
The extra money spent on an osprey goes into the durability and comfort. I've only used this pack a couple of times; but the quality of suspension is absolutely amazing. If you take care of it, it'll last you many many years. Jansport also makes a good pack, but if you're just now getting into backpacking - take purchasing a pack as an investment. While the jansport may be less expensive, its far less comfortable as well. If you're comfortable when hiking for multiple days, you'll be more focused on your environment and not your aching shoulders. A better backpack makes it more enjoyable and results in more trips!
You pay more for Osprey for their "ALL MIGHTY GUARANTEE." Osprey will repair for ANY REASON, free of charge, any damage or defect in their product – whether it was purchased in 1974 or yesterday. If they are unable to perform a functional repair on your pack, they will happily replace it.

You won't find a better warranty on the market! Well worth the extra bucks if you ask me.
I have both an Argon 110 and an older Jansport Rockies 100. Both of them carry way more than I want to anymore, but I can honestly tell you that the Osprey is considerably more comfortable than the S-Curve suspension on my Jansport. So, from that standpoint, you'll be happy. On the other hand, I really miss the convenience of all the external pockets that Jansport packs offer. Both manufacturers have excellent lifetime warranties, and equally responsive and top-notch customer service. However, as knanier mentions, what you're paying for is the quality of the materials, construction, and suspension that goes into a pack that will serve you well for many years. I'm about to turn 49 in a couple days, and just walked in the door from 50 grueling miles, and right this very minute, it's safe to say that comfort easily wins out over handy places to stash stuff. Hope that helped.
Please do spend the extra $$$ it takes to get the osprey. You wont regret it. I recently purchased an Aether after wasting $$$ on cheaper packs. Buy the good one first time out and it will be cheaper in the long run. Plus you will enjoy your time in the backcountry and you can focus on nature, not your aching shoulders/back/neck!! Enjoy:)
Is the weight on the large pack really 6lb...
Is the weight on the large pack really 6lb 11oz.
Best Answer
Not quite, it's 6lbs 6oz. It's the internal backsheet and the heavier suspension that does it. As I recall, knanier laid out the differences between the Argon and the Aether pretty well, so unless you need the Argon's suspension system, that might be the way to go at 5lbs 2oz. The Aether series is also Osprey's best selling line. Might check out the Arcteryx Altra 65 and 75 if you want a great suspension system, and can handle the price tag.
Write your question here...So, i need a...
Write your question here...So, i need a backpacking backpack but I'm not sure what size to get. I'm 6' and 190 lbs. Can you give me some advise?
Best Answer
You really need to have your back measured. Height and weight alone wont determine it...its more about the length of your spine. If I'd had to guess, I'd say you'd be pretty close to a medium, maybe a large if you've got a long torso and shorter legs.
Hi Guys, I've been drooling over this pack...
Hi Guys, I've been drooling over this pack for the last year. Now that I'm employeed again, I can afford it, but my question is should I spend the extra few bucks and get the 85 instead of the 70? I'm new into backpacking, and don't plan on doing much more than 3-5 days at a time. I'm asking this because I don't want to regret the buying the 70. Thanks
Best Answer
You should be just fine in the 70. Unless your doing weeks at a time and/or expedition mountaineering, I think you'll be happier with the 70. If you really do end up needing the extra space, backcountry.com has an unlimited lifetime return policy so you can always use that if you want to switch. But if you pack reasonably the 70 would really be just fine! Another thing to consider is the black hole theory, which suggests that people have a tendency to fill their packs - if you have the extra 15 liters, you'll probably use it and thus consistently carry more weight! Hope this helps!
More of a comment.. haven't used my pack yet.
Got it for $279 at moosejaw, haven't used it yet unfortunately, BUT just a word of advice. If you're considering the Kelp Green, thoroughly google search pics of the pack or find a brick and mortar place that has this one available to see in person, because the color in this picture may be misleading. It's still nice, but a little different that's all.
The Cadillac of Backpacks
Picked up this pack in July 2009 for a 5 day hike along the Berg Lake Trail in BC, Canada. I'm 5'9" and weigh in at 170 lbs; I had this pack loaded up with 50 lbs on day one, and it felt like a dream.
IMO, the Argon has the best suspension of any pack on the market. If carrying heavy loads over long hikes is what you do, then this pack won't disappoint.

Other features I loved:
1. The removable lid and hydration sleeve were great for day hikes out of base.
2. Lots of compression straps for tightening up your load
3. The WARRANTY is hands down the best on the market; if you break it, Osprey will fix it, no matter what!

Cons:
1. Make no mistake, this is a heavy pack. If you're a fast and light, gram conscious hiker, this is NOT the pack for you.
2. no pockets on the hit belt.

All in all, this is the best expedition pack I have ever used, providing unmatched load bearing capability and comfort.
As always, fit is key, so be sure to get measured up properly. Happy Backpacking!