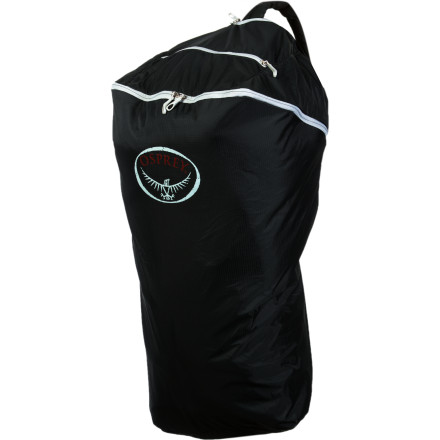 Colors
Description
Barbarian bag handlers have met their match.
Airport baggage handlers are among the angriest humans on Earth. Fortunately, they have a job that allows them to vent their anger in a way that keeps their families from bearing the brunt of their wrath. Unfortunately, the violence is directed at your luggage. Osprey's Airporter cleverly addresses the problem of these vicious valets by encasing your bag in a protective sack with its own strap so that no amount of hurling, dropping, or any other abuse will touch the bag inside. The Airporter seals with a customs-friendly webbing draw cord, and stashes away in its own pocket once your bag is safely away from the baggage carousel.
Share your thoughts
What do you think of the
Osprey Packs
Airporter Lockable Zipper Bag
? Share a...
Used this for trip to AT. Handled my 85 bag with no problem. I wish the strap was better cushioned. Was uncomfortable just from car to bad drop.
Disappointed
Gender:

Female

Familiarity:

I've used it once or twice and have initial impressions
I have to say this is the first time I've been disappointed with an Osprey product. I recently purchased this for a trip to Canada and when I picked it up from the carousel I noticed a bunch of small holes. When I came back there were even more holes. Although they are not large, I expected something better after only ONE use! I've put my pack through before and have had less damage. I'm not sure how many uses I'll get out of it, if after one trip it's got a bunch of holes already. I'm also worried about them tearing into larger ones. I also found the strap to carry it a bit awkward, but if you are only going short distances it's fine. What's good about it is that it does pack down nicely & you can hook it to your pack. I have an Aura 65 and it's there's a lot of room left even with a full pack. I've had my pack for 7 years and it's faired better than the airporters one time use. I was really excited for the airporter, but was sadly disappointed.
I have a Xeinth 75L, and wondering what size is appropriate. Thanks, Craig
Hey Craig,
Just to clarify... You have the Xenith 75 size Large or 75 liters? Looks like the size medium would be the 75 liter volume, size large would be closer to 80 liters.
If you have the 75 liter pack, then you could probably get away with this lockable bag in a medium. When your Xenith Pack is full, that would be a very snug fit. Or you could go with the Large just to be on the safe side and have a little extra room.
If you have the large Xenith pack (80L) then I would definitely get this locking bag in a large as well.
Hope that helps!
I have an Aether 70 which I plan on taking...
I have an Aether 70 which I plan on taking to Europe. I'd like to pick up an Airporter to protect it. Which size is recommended?
Based off the size chart provided for the size ranges, I would say Medium. However, like I told a gentleman below, I would pack up everything you intend on taking over with you before you go, and then use a measuring tape to determine what proportions you're going to need to accommodate before you finalize a purchase.
Hope this helps.
Will the S fit a loaded Osprey Farpoint...
Will the S fit a loaded Osprey Farpoint 55 with the daypack detached? Or should I get a M (which is out of stock.)
I would take a quick measurement of the pack's dimensions with everything you plan on having in it while using the Airporter. However, with the daypack detached, I would think a Small would be sufficient. Always verify by measuring before purchasing though; BC makes returns and exchanges ultra-simple and about as streamlined as the process can be, but it is still a hassle.
Great in Indian Deluge
Familiarity:

I've put it through the wringer
The Airporter did exactly what I needed it to do. My Farpoint 55 made it from Seattle to Delhi with several connection in great condition. I continued putting my Farpoint in the Airporter while on caravan into the Himachal Pradesh during the intense flooding and raining that was going on around there. Our groups bags were strapped to the top of our vehicles with only a thin tarp to cover, then driven through dust storms, flooding rain storms, and mud pits. Many of our groups packs got filthy and wet, but mine persistently came out of the Aiporter dry and clean as a whistle. The Airporter cleaned up well and packed down fairly small. When not in use I simply clipped it onto a exterior strap of my pack. Good product, does exactly what it was designed for. Would buy again.
So the large shouldn't have any trouble...
So the large shouldn't have any trouble fitting my stuffed Xenith 88?
Best Answer
Hey Sam,

That is correct, the large size should fit your pack just fine.
The tech specs state that a [S] size...
The tech specs state that a [S] size Airporter will fit packs 50L and smaller. I have an Atmos 50 and am looking for confirmation from someone who's tested this pack in the Airporter, and knows exactly how full I can fill my pack. Thanks!

***As a follow up, I purchased the Airporter in size small as stated and it fits my full pack with room to spare.
Hi Nate,
I didn't try the Atmos, but my Farpoint 55 with a sleeping and a yoga mat strapped to outside fit into the Airporter with space to spare. The key was not getting the bag to large in the horizontal.
Cheers!
Peace of Mind
Familiarity:

I've used it several times
You know how those check in counter people can be about loose straps. Its a 70L backpacking pack. Its has straps all over the place.
Have you ever watched those dudes chuck bags into luggage carts or onto the conveyer belt while waiting to depart?
How sad would you be to get to your adventure destination to find a shattered waist buckle? How tempted to you think a shady character is by multiple zippers and compartments bulging with expensive outdoor gear?
Zero out the straps. Protect the bag. Protect your gear.
This is a PERFECT solution to make your pack abuse proof and stealthy. When you plop it on the scale at the counter, you only need to quickly unclip the should cary strap and it stuffs into its own zipper pocket. When not it use the entire thing stuffs into its own zipper pocket down to no more than the size of a folded pair of rain pants. I'm very happy I bought mine and made air travel a non issue for my gear.
Older version, still awesome
I believe that I have the older version of this. But, it still is awesome. It protects the backpacks very well from abusive luggage handling habits that airport workers so often possess. Will always use one from now on when checking my backpack.
Osprey Airporter
Familiarity:

I've used it several times
Price was a little steep, but proved its value p/ the second leg of a 6-flight, 4-state trip. Protected the pack well, compactly, s/ sloppiness. Worth the price, and recommended.
Hello, does this fold up into it's own...
Hello, does this fold up into it's own pocket?
Yes, it does, intuitively. A good design.
When folded up it is roughly the size of a larger novel type book. (Not a textbook lol)