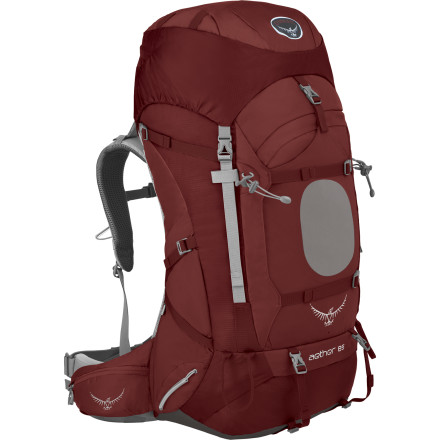 Community Images
Description
A beefy world-trekker for a variety of backpacking excursions.
Buy a plane ticket to China, pack up your gear in the Osprey Aether 85 Backpack, and wander into the land of infinite possibilities. Its large storage space, multiple straps, and gear loops enable the Aether to be used for a variety of short to long backpacking trips among rice patties, snow-covered peaks, and cherry-blossom forests. Plus, if you need more space, Osprey's attachable AddOns (sold separately) make the Aether 85 large enough for two-week-long expeditions.

IsoForm CM hip-belt balances firmness and cushioning for optimal carry while the spacer mesh IsoForm harness offers a comfortable fit
IsoForm CM hip-belt can be heat-molded at any authorized Osprey dealer for a customized fit
LightWireHD peripheral frame effectively transfers load to the hip-belt
Airscape backpanel supplies a smooth, breathable contact surface
Single 6061-T6 center stay maintains the backpanel shape
Choose between the S, M, L, or XL sizes (5004-5553cubic inches) based on how much gear you pack and how many days you're out for
Large top area and front J-zip offer wide, easy, and quick access to the main compartment
Top lid converts to a lumbar pack with built-in belt for short excursions from camp
Durable materials and construction ensure a solid pack that lasts season after season
External hydration sleeve in backpanel simplifies refilling and protects pack contents from spills (hydration bladder not included)
Compatible with AddOns packs (AddOns packs sold separately)
Osprey recommends the AddOns Daylite detachable daypack (sold separately) when your weeklong trip requires a little extra gear
Wide-mouth access to sleeping bag compartment with divider keeps your gear organized
Zippered hip-belt pockets provide secure storage
Dual-access stretch mesh side pockets stash your water bottles
Dual side compression straps and StraightJacket compression help to balance and secure the load
Removable sleeping pad straps, two ice axe loops and handle wraps, and Stow-on-the-Go trekking pole attachment help to keep your gear securely in place
I'm looking to do the PCT in spring/summer of 2016, is this pack recommended for that type of trip or would i need a larger one?
Best Answer
This pack would work great for the PCT! I own an Osprey pack and it has performed remarkably over the years. A capacity of 85L should be plenty, but fit is most important. Give yourself time to wear it around the house and do some test runs before jumping on the PCT.

Check this guide for more info: http://www.backcountry.com/explore/how-to-choose-a-backpack

Call in to us Gearheads about any other questions you may have while planning your trip!
Hey Eric - Justin is right on here. 85L should do you solid for the PCT. Will you have time to do some test drives before your trip? Some shorter trips here and there? That will give you great info on how and what to pack, etc.



Enjoy!



Leta

Osprery Rep
Eric,



I'll jump in and play devils advocate here. Where are you in the process of building out your kit?



If you've already got most of your stuff and have determined that 85 liters is the required size for all the gear you plan on bringing, then thats awesome.



But if you haven't built your kit yet and haven't carried an 85 liter pack for days on end, I'd say lets work together to get you into a 60-65 liter pack this way it's more manageable and we can get your kit a bit more dialed. We could look at the Aether 60 (item OSP0322) or the Atomos AG 65 (item OSP002J).





Feel free to email me and I can work with you on all this as I've set up a lot of folks for their AT, PCT, JMT and other thru hikes.



Shoot me an email anytime you have questions!



Jared D.

Expert Gearhead

801.736.4336

jdowns@backcountry.com
Feels Real Light
Gender:

Male

Familiarity:

I've used it once or twice and have initial impressions
Ok so I got this pack a few weeks ago, and so far I've only used it once. I had over 60 pounds (the limit) in it because it was only a two nighter so I was like well let's pack some extra goodies. It felt real light on my back. The material is definitely durable and there is plenty of room inside and outside. I do like that the water reservoir holder is on the outside of the pack. Allows more room on the inside. The detachable daypack is basically just a fanny pack, unless I used it wrong. The daypack isn't very comfortable, and I would recommend a different on than the detachable portion of this pack. Definitely was just going to be an extra bonus if it worked out to be a good daypack. I love that you can access the pack from the bottom, front, and top too. Excellent and useful feature. I'm extremely happy to have this as the first pack that I've personally owned (Borrowed my friend's pack for a while). I will probably update my review once I take it on some longer more intense trips. So far so good though! Oh yea I am a male, 5'11, muscular 200lbs, and the large seems to fit me very well.
An easy ride
Familiarity:

I've put it through the wringer
Man the harness/hip belt design is one of the best ever. Carrying this pack is wicked comfortable at 50+ lbs. over a long day on the trail with several elevation changes, one pretty severe. The only thing I could find that could be better is the water bottle access. If you pack this thing full it's pretty tough to access a Nalgene 1 liter bottle on the move. You have to take the pack off and wrestle the water bottle out of the stretchy side pocket to use. You can tug the bottle out but no way you're getting it back in either while wearing it. If you use a reservoir you're golden. This pack is as comfortable if not just a little more so than the Gregory 85 but Gregory really thought out the water bottle access thing better. I own both and recommend either one.
I gave this pack to my father for his birthday. He loves it!!

For anyone looking for a comfortable pack that can carry a weeks worth of gear this is a great option. The pack offers lots of room for your clothing, food, tent, and sleeping gear. The large stretch pockets on the outside of the pack allow you to easily stash gear that you will need to access quickly. The suspension system on this pack works exceptionally well to keep the load balanced and to distribute the weight of the load.

If you're looking for a large backpack for week long adventures this is a solid choice worth considering.
Great Pack
Familiarity:

I've put it through the wringer
This pack is large enough for the longer overnight camping trips. It will hold up to heavy loads without having to make too many adjustments to pack to make it comfortable. I use this pack to haul ski gear, moose hunting trips (get the rain cover), long extended fishing trips, and even basketball coaching trips and I have not been let down yet.
Once the pack is adjusted correctly to your body it is quite comfortable to hike in. The breathable mesh allows for some air movement to help cool you.
The versatility of this pack allows you for various trips and tasks.
If the pack is purchased second-hand (used), will the hip-belt "re-mold" to the new hip-dimensions of the second owner? Thanx
It depends on how much rigger the previous owner put the pack through. I personally bought mine second hand through the Osprey clearance sale in Cortez, CO and it has formed to fit my body well. The pack was also used as a demo pack in a store so the wear and tear was very minimal.
Unanswered Question
Any women out there with this pack? What do you think of it? Know that Osprey runs a "Xena" pack and not quite sure what the differences are other than that this one is $40 cheaper, slightly lighter, and has better reviews. Not sure how "mens" packs differ from "womens," but none of them fit very well on a short person with giant hips and a giant bust. Sternum straps and DD's are seemingly non-compatible.
Great Tree Climbing Pack ;)
I couldn't resist climbing up this old growth douglas fir tree. Even with 60 pounds on my back it was surprisingly easy.



After a couple uses, the Aether fits, and snugs right out to my back, so well that it really feels like a part of me. This makes for great balance on narrow trails and cliffs, and on icy patches of snow.



...or when climbing trees. lol
Excellent pack, well built, comfortable
My initial use of this pack was a 30 mile three night trip. I had 60 lbs in it, and the moldable hip belt was stock (not custom fit). I had previous problems with the hip belt on a lighter Osprey pack (see my review of the Volt 75) and this one dramatic improvement! The first two days was ok, but my hips were getting sore and i wasn't looking forward to day three, but to my surprise day three felt better! The hip belt settled in and I was able to tighten in more each day until it didn't chafe at all.



It's very well build, heavy duty construction, and handled the eight well, with plenty of volume to spare as well. I like the openings on it, and the top lid has a lot of volume which I like for storing often accessed items. The compression straps work well to suck things up close to your back-it feels solid and well behaved.



I expect to have this pack a long time!
Backpack in comfort.
Familiarity:

I've used it several times
I recently took this pack for a 10 mile, 5000 vertical foot gained, trek into the alpine region of the Wasatch Range. It outperformed not only my expectations, but disjointed my reality that a pack could feel so comfortable and mobile with weight while ascending vert!



The sizing is crucial of course, but I found this pack's moldable hipbelt allows for pretty much all of the weight to sit centered on my hips and relieves all tension from my shoulders and back. This allowed me to hike uphill for an extended time and pace without discomfort with the weight distributed squarely.



The pockets and features are similar to other packs but everyone should rely on their own personal use for pockets etc. The compression system on this pack allows it to be tension-ed down into a sleek and mobile pack.



I haven't the chance to obliterate this thing yet but i expect it to hold up to the strict abuse.




Love It, My go to
Familiarity:

I've put it through the wringer
This is the backpack I use on my larger backpacking trips in places like Alaska and the Tetons. I have an older model but it has withstood the test of time. The clean look is nice because it keeps all the gear nice and centered on your back. even with the clean look, there are a multitude of straps to get your sleeping pad, tent and gear that needs to dry on there with no problem. I especially like the mesh/stretchy pocket on the outside because it is perfect for accessing rain gear without having to open any pockets or undo any buckles. Also, the top comes off as a fanny pack for day excursions on longer trips. Lastly, the addOn system (just a series of cord loops running vertically along the back) made it easy to add an Osprey Daylite while gearing for a 28 day expedition in the Wind River range this summer so I did not have to buy a new pack. All in all, if I had to buy a large pack again, it would be this one hands down.
Amazing pack
Familiarity:

I've put it through the wringer
This pack is amazing and can fit everything you may need for multiple nights. I have recommended this pack to several friends and they all also love it. If you new or looking to upgrade this is the pack for you
How's the fit? I am stocky guy with large...
How's the fit? I am stocky guy with large torso. I am 5'11", weight 205 lbs, have a 44" back and a 36" waist. My torso length is 22". According to the sizing guide I should go with a XL but those sizing guides are a hit or miss kinda thing.
Best Answer
It does have an adjustable torso, but I would highly recommend you find a store that carries this pack and try it on. I am boarder line medium and large and I went with the medium and with the adjustable torso I have no issues with it.
I'm 6'4" and 260lbs and the large fits me perfectly. So may want to look into the medium.



But as Pat suggested, go to a store. This pack has interchangeable shoulder and hip straps. So your ideal fit may be a large waist and medium shoulders. Let a pro fit you.
Does this have a rain cover included? If...
Does this have a rain cover included? If not does osprey sell rain covers to fit?
Will this pack carry skis\splitboard like...
Will this pack carry skis\splitboard like the old Argon and Aether pack would?
you could probably hook them up with the different compression straps. It is not specifically designed for them but there are enough straps you could make something work
Great pack
Familiarity:

I've put it through the wringer
I was on the fence between the Aether and the Baltoro a while back and they were both comfortable so it came down to which had more features I wanted. the Baltoro won back then. When I saw the updated Aether and found it had all the improvements I wanted I jumped on it. I am glad I did I love this pack.



The trekking pole holder is much better than other packs. Being able to put your trekking poles away with out taking the pack off is really nice.



The add-on compatibility is nice too. I got the daylite day pack and it really makes it easy to bring a day pack with you if you are going to do some base camping. This was unheard of and difficult with other packs.



The hydration pouch on the outside is another great feature. It makes it easier to take the reservoir out to refill or use elsewhere. I have noticed that you need to put the reservoir in first to make a little space for it but hey it still works.



the hip belt pockets are great for carrying the items you need at hand. the pockets are bigger than other packs which is really nice.



This is an all around great and comfortable pack. Out of all the packs I have owned over the years this is by far my favorite.
I got this pack form rei not here and the 2012 model but the 2013 model has more features. There almost identical and it stores all of my gear weather i need it or not just amazing pack.
We rent these out at my work, extremely durable pack that will last you a long time. It contains more than enough room for all you personal and camp gear! I typically put my sleeping pad between the brain and the body of the bag and then tighten down to compress. I also use a trash bag, put the trash bag inside the bag then put everything else in there to make sure nothing gets wet, which is a cheap way of doing it but effective. I promise you'll be happy with the Aether 85