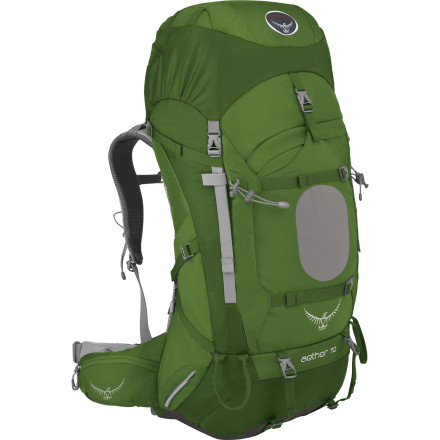 Community Images
Description
The customizable pack that does it all.
The Osprey Aether 70 Backpack really is the pack that does it all from gear-heavy weekend backpacking trips and ski tours to mountain-climbing excursions. Built with outstanding load-carrying comfort, the Aether 70 features a new IsoForm CM hip-belt that adds stiffness and padding for better performance with heavy loads without increasing the Aether's weight.

IsoForm CM hip-belt balances firmness and cushioning for optimal carry while the spacer mesh IsoForm harness offers a comfortable fit
IsoForm CM hip-belt can be heat-molded at any authorized Osprey dealer for a customized fit
LightWireHD peripheral frame effectively transfers load to the hip-belt
Airscape backpanel supplies a smooth, breathable contact surface
Single 6061-T6 center stay maintains the backpanel shape
Choose between the S, M, L, and XL sizes depending on trip length and the amount of gear you carry
Large top area and front J-zip offer wide, easy, and quick access to the main compartment
Lid converts to a lumbar pack with built-in belt for short excursions from camp
Durable materials and construction ensure a solid pack that lasts season after season
External hydration sleeve in backpanel simplifies refilling and protects pack contents from spills (hydration bladder not included)
Compatible with AddOns packs (AddOns sold separately)
Osprey recommends the AddOns Daylite detachable daypack when your weeklong trip requires a little extra gear
Wide-mouth access to sleeping bag compartment with divider helps keep your gear organized
Zippered hip-belt pockets provide secure storage
Dual-access stretch mesh side pockets stash your water bottles
Dual side compression straps and StraightJacket compression help to balance and secure the load
Removable sleeping pad straps, two ice axe loops and handle wraps, and Stow-on-the-Go trekking pole attachment help to keep your gear securely in place
ok so i am a new hiker but i have always loved the outdoors and camping and such so i am ready to invest in a new backpack. I was look at the osprey aether 60 and 70 and innicially i had my heart set on the 60. Now i am realizing that the sizes the 2 models offer do may not mean what i thought they did. When the options say S, M, L does that account for the size of the actual pack or the size according to the person whereing it? Also are both these packs acceptable for women to where them. THANK YOU!

Best Answer
Sophia,



Great questions! So the S, M, L is for the torso length and effects the volume of the pack slightly.



email me at jdowns@backcountry.com and I can work with you on whether a 60 or 70 liter pack is more appropriate for you.



Shoot me an email anytime you have questions!



Jared D.

Expert Gearhead

801.736.4336

jdowns@backcountry.com
Sophia, first of all, thanks for the question. If the pack is for you, please look at the women's version of this series, called the Ariel. Consider the Ariel 55 or 65. The torso length is what will fit you, or not! It is NOT your height! There is a sizing chart for Osprey on Backcountry, and you can measure it with those instructions. Please let me know if you have any other questions. Happy to help!



Leta

Osprey Rep
Great load hauler!
Familiarity:

I've put it through the wringer
I'll start this review by saying I absolutely love this pack. It is great for overnighters all the way up to week long trips. I have used it for simple overnight short trips and for extended fishing trips in the Cloud Peak Wilderness. It has the capacity to carry everything you need, even when I bring all my fly fishing gear (I tend to always bring way too much fishing gear). The pack stays stable on steep scrambles, long descents, and flat ground. Its got great hauling capacity, I can hardly feel a difference between 20 pounds and 45 pounds on my back.



I was fitted as a size medium at an REI and the medium size aether fits perfect. The adjustable back and hipbelt really help to dial in the fit!
Easy to use, easy to store
This bag is probably the best all-round backpackig backpack thats available. I bought this a couple of months ago after I spent a couple weeks in The Rockies using a 70 liter Kelty pack. The benefits from having a larger bag came with very few drawbacks so I imediately started to search for a bag around 70 Liters. Ive used this pack for several multi-day excursions in locations like the rockies, the AT and Northern Michigan and I've been very impressed. My favorite part about this bag is that it comes packed very small, and is very easy to store because the suspension belt is removable. Having the ability to keep this safe in my dorm locked in a small trunk with all my other gear is impressive. I just wish that Osprey provided a rain fly that came with this like they do with European purchases.
in the description it says "choose between S, M, L, and XL sizes depending on trip length and the amount of gear you carry" so does that mean that the backpack size is not dependent on the wearers height/weight but instead the size is in regards to the amount of gear it can hold? i'm 6'0 180 with size 32 legs and am having trouble deciding between a L or XL without measuring my back or trying one on personally.. ??
Best Answer
If you look at the size chart (located directly above the spot where you choose the size) you will be able to determine the right size for your body type. If you are borderline L of XL the " trip length and the amount of gear you carry" might affect whether or not you choose the L or XL
yes i see the size chart but i'm not able to measure myself or visit a store at the present moment so after reading the description it made me wonder if the sizing is more related to the amount of storage space or if the size is mainly related to fit.
Mainly related to fit. Someone who is 5'5" shouldn't get a XL just because it has more space
Hey,



So I am actually just under 6'0'' tall and weigh in at 180 lb with a 32" inseam. I'd personally opt for the Large since your torso length is most likely right around 20"



I'd start with a Large and if that doesn't work out, let me know and I can help out some more.



Shoot me an email anytime you have questions!



Jared D.

Expert Gearhead

801.736.4336

jdowns@backcountry.com
Features Galore
Familiarity:

I've used it several times
If you are looking for a specific feature in a backapacking backpack, there is a good chance that the Aether has it! Particularly I like what they did with the hydration sleeve, putting it on the outside of the pack in the backpanel, giving you more room in the pack overall! The heat moldable hip belt is also incredibly nice, ensuring you get the perfect fit for those long journeys. Further, the sleeping bag compartment and the J-zipper allow easy access to anything in your bag. I have only had a chance to use this for climbing, but it fit my 70m rope, 15 draws, shoes and harness with plenty of room to spare! In my opinion, a serious must have for your next backpack!
Get it.
Familiarity:

I've put it through the wringer
Best backpack around for general use. I've taken it mountaineering with heavy loads, ultralight trekking on the Appalachian trail, and traveled with it. Still going strong with little signs of wear. All the features might seem like too much, but they are really amazing. I'm constantly trekking and thinking, "I wish my backpack had a strap/hook/place for/compartment for..(insert purpose).." and almost every time..oh wait! It does have that feature!
Pictures true to actual color?
I picked up this bad boy in midnight blue and I love it! Our picture makes it look almost black, but once I had it in person I noticed the color is more of a dark navy. Not as dark as pictured above. Hoping to get some rad action shots soon to give a better example of what I'm talking about. If you have any questions on this guy, feel free to email me directly at skdavis@backcountry.com.
Hi,

I am thinking about this back pack or Arial 65. I checked the size of the backpack but not sure which size would be more comfortable for me between S and M size. My height is 5'5, and weight is 147 pounds. My body type is slim but my chest is little bit thicker than ab since I used to work out. Please help me.

Jun
You should measure your back to determine your torso length. Have a friend use a tape measure from the bony part that protrudes out right under your neck (put your head toward your chest so it's more obvious) down your spine to the iliac crest (flat shelf bone at your hips above your butt). Then compare however many inches that is to the size chart. You're chest is not a factor because there is an adjustable sternum strap.
bomb-proof pack!
Familiarity:

I've put it through the wringer
I got my Osprey Aether 70 back in 2007 and have used it for almost every trip I've gone on until about a year ago when I went with something slightly lighter and still find myself picking up the Aether first. This is my "go-to pack" for sure, I have been flat out abusive to this thing and it has delivered! The suspension system, although heavy, can carry anything you throw at it! I've loaded this pack to the rafters and every time is comfy and balanced. I would highly recommend this pack to anyone looking for a solid pack that can handle abuse and won't quit! I would buy another if this one was stolen or damaged beyond repair.
Couldnt Ask for more
Familiarity:

I've used it several times
Great pack. Light, durable "convenient" and comfy.



Osprey knows what they are doing plane and simple. I have used it for overnights and extended Days, alike. My one gripe is that there aren't a bunch of "organizer" pockets.....Then again, like I said above, its a very "convenient" pack. The more pockets you have the more junk you stuff in them.....not always a good thing.



Overall a great pack, zero complaints so far.
Osprey does it again
Familiarity:

I've put it through the wringer
I've used this pack on several trips over the course of the summer. From weekend trips to 8 day getaways, this pack absolutely nails it. Super light yet incredibly durable construction, great volume, and comfort all combined into one. I was able to carry all of my personal gear, food, stove/pot, tent and additional gear necessary to lead trips for 6+ days without any issue.



As with any pack, fit is half the battle. If you're unsure how to properly fit and adjust your pack, I'd suggest taking it to a local retailer for some assistance or using a friend's guidance.



I am 6'0, 175lb, and the medium fit me just fine. Osprey's size chart is accurate.
comfy
Familiarity:

I've used it several times
This thing is one of the most comfortable packs Ive worn. I'm super impressed and stoked to take it on some more trips.
God-Like Pack.
Familiarity:

I've used it several times
Bought the Aether 70L(s) last year for my 10day camping trip up too Algonquin first time ever doing back country hiking. I was able to fit everything in this bag! it has an awesome sleeping bag compartment which i can also stuff a large Coleman pillow in there as well. I then put my clothes at the bottom of the pack including 2 shirts, Shorts, Hoodie, 2 socks, 2 boxers. I then would put my Therm-A-Rest Trail lite sleeping pad on top of that, which would be followed by my drysack full of food.(10days worth), i kept my rain gear on top coat+pants with some fuel in there as well. It has a handy strap on the top to keep everything secured and tight. The top part of the pack had bug spray, deodorant, toilet paper, first aid kit, map, light, and couple of other stuff all fit nicely (which can also be used as a day pack BONUS!). The bag can withstand a beating and is very durable it has many compression straps to make it fit properly and snug. Side pockets were good to hold my water bottle and my platypus. The hip belt is totally awesome great feel to it and doesn't dig into your hips,i kept a pocketknife, cliff bars, lighter, bug spray and bug net. I would recommend this bag to anyone who was interested in looking to buy a bag, its downright amazing, 3 of my friends also picked up the same bag Aether 70L and Ariel 55 they would say the same thing that i've stated about it. You get what you pay for and it's always worth it to spend that extra dollar on something that will make your camping life easier, no regrets hope this helped you on your purchase!


Great pack
Familiarity:

I've used it once or twice and have initial impressions
Used a couple of times and cannot believe how well the pack feels when you have a ton of gear in it and like that you can get a specific size so the pack fits perfectly to your body size.



I would recommend this pack to anyone who is getting into serious backpacking and needs a durable pack that is well built but also has lifetime warranty which proves the company stands behind what they are selling.



Five stars
Did you know you can fit a 5gallon bucket...
Did you know you can fit a 5gallon bucket inside this thing? Awesome! and so glad I didn't have to clip it to the outside.
Best Answer
What was in said 5 gallon bucket? Picture or it did not happen.