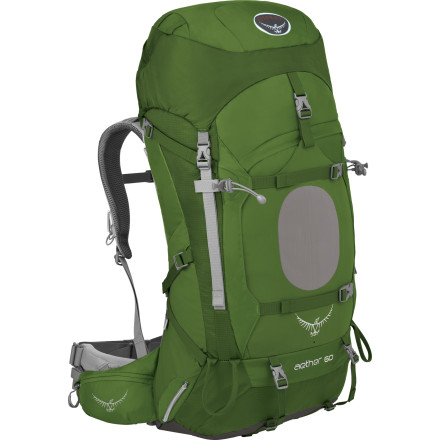 Community Images
Description
The difference between backcountry bliss and back-breaking pain.
A custom-fit pack with good support can mean the difference between a weekend getaway and a back-breaking death march. Shoulder the Osprey Aether 60 Backpack and you'll have 40 years of pack fitting experience and expertise on your side, including the LightWire peripheral frame for support and an IsoForm CM waist-belt that can be heat molded for a fully customized fit. Plus, the detachable top lid doubles as a lumbar pack so you carry the perfect amount of gear on day hikes after establishing your main camp.

LightWire peripheral frame gives the pack structure and effectively transfers the load to the waist-belt
Single 6061-T6 aluminum stay provides enough support to comfortably carry loads between 35 and 60 pounds
IsoForm CM waist-belt and harness provide supportive cushion and are fully adjustable for a custom fit
IsoForm CM waist-belt can be custom heat molded at CM Certified Osprey retailers
Airscape back panel has a highly breathable mesh spacer for improved ventilation
Top access makes for easy packing
Large J-zip on the front panel provides quick access to the main compartment
Detachable top lid has a built-in waist-belt which allows it to double as lumbar pack for short hikes away from your main camp
External hydration sleeve protects the inside of the pack from spills and allows you to hydrate on the go (reservoir not included)
Front mesh stash pocket is ideal for a rain jacket or puffy
Dual waist-belt pockets provide on-the-go access to lip balm, bug spray, and point-and-shoot cameras
Sleeping bag compartment with divider allows you to quickly pack sleep gear
Removable sleeping pad straps provide a secure exterior attachment point
StraightJacket compression straps help to balance the load
Stow-on-the-Go Trekking Pole attachments allow you to quickly secure poles when not in use
Unanswered Question
if my waist size is 33-34, would you recommend a large or medium? also, i would want to use this pack skiing, so would the consideration of wearing the pack over a jacket/multiple layers make it reasonable to buy a large instead of a medium?
Still my best pack
Familiarity:

I've put it through the wringer
I've been dragging this pack all over the country with me from Baxter park in Maine on the AT to the Wonderland Trail on Mount Rainier and it's still going. When I bought this pack years ago I figured I'd eventually upgrade to a larger size for thru hiking but I somehow keep coming back to this pack. I've done weeks and weeks on the trail with just this pack. It's been a serious challenge at times to make things fit but it's helped me to not over pack and forced myself to take only what I need to survive, not what I think I "might" need. It absolutely has shown signs of wear(Unraveled pack straps, elastic in the front wet pouch doesn't keep things as strapped as it used to, plastic belt lock has a piece broken out) but if you would have told me a few years ago I'd still be using the same pack after all this time I would have laughed, but it's still preforming great. It's one of those things you'll start to almost consider a "trail buddy" rather than a piece of gear if that makes sense(or maybe I've been hanging out in the woods to long). Heavier and maybe a little more bulky than other packs but worth every ounce for something that won't let you down.
Great Pack
Familiarity:

I've put it through the wringer
I recently was charged with outfitting my group (wife, sister, brother-in-law, brother, sister-in-law) with gear for a week long trip in southern utah canyon country. We got tents, sleeping bags, stoves, backpacks, the whole run. All of our gear held up and served us well.
The Osprey Aether got a bit beat up on the sandstone coming down the canyons, but held up well and was a great fit.
Would this bag be suitable for split or solid snowboard carry? (say when boot packing up a steep / icy section)


Best Answer
I use this pack a lot and I would think that the two horizontal straps would hold a snowboard or split board in place. I have used it with my skies and it has handled the job very well.
Used this pack on a month long backpacking trip through Europe. Carrying camping gear and everything else you could need for a trip through Europe. I wasn't ever able to carry it on as it was completely full. If it wasn't stuffed to the brim you might be able to sneak it on. If you don't want to check it, get the smallest version to be safe. One of my favorite features is the detachable lid. Great to use as a day pack or very fashionable over the should man bag. All the same its a fantastic feature that allows you to no have to pack in a separate bag. You will not regret getting this pack. Very happy that my personal gear head recommended it.
Best Backpack I've Owned
Familiarity:

I've used it several times
Considering I'd never owned a NICE backpacking pack before, I was incredibly surprised just how comfortable this was. The straps fit snug and secure and keep the pack from shifting and the frame distributes the weight so evenly that it was barely noticeable when hiking. The size is perfect, too. Worked perfectly for a week long climbing trip I went on. Was able to hold all of my camping and climbing gear and still had extra room.
How does the bag compare to the Atmos 65 as far as comfort? Atmos is bigger but has less weight capabilities anyone tell me why?
Best Answer
The Aether series packs use IsoForm CM for their waist and shoulder straps. They are going to be a more form fitted pack, and mold to your specific body shape, giving you a more custom fit than the Atmos will. In fact, the waist belt is custom heat moldable, and if you take your pack in to an authorized osprey dealer, they will heat mold the waist belt to your hips, thus giving you an extremely comfortable, perfect fit.

As far as the weight goes, the aether is going to be more comfortable with the extra weight because of the custom fit waist belt. You will be able to carry more of the weight on your hips comfortably than you will with the Atmos. My guess is that you could probably carry 60lb with the Atmos, but it won't be anywhere near as comfortable as it will with the Aether, because the padding in the straps isn't designed to carry that much weight.

Also on a side note, a very cool feature the Aether has is its external hydration bladder compartment. So when you have to refill your bladder, and don't have a quick connect link to your filter, you won't have to open up your pack and unload it to take the bladder out. Also, it won't get condensation on the inside of your pack! And when its full of cold creek water, it feels great on a sore back, and really helps cool you down!



Both of these are really great packs, the aether is going to give you a much more comfortable, custom fit, but the Atmos weighs close to a pound less than the Aether. So if 5L less space and the extra 12ounces aren't a big deal to you, the Aether is going to be the more comfortable, versatile option.

Another great pack is the Xenith, which is a step above both of these packs, and is actually what I use, and I absolutely love it. I was carrying a 50lb pack while alpine touring, and I honestly forgot I was even wearing a pack at times. Also it gave me great range of motion while touring, and didn't restrict me in any way. I have also taken this pack on several overnight trips, and one 15mile loop.

No matter which way you go, you can't go wrong with an Osprey pack.
What a pack!
Gender:

Male

Familiarity:

I've used it several times
This pack is the best backpacking pack I have ever owned! It has a great frame for evenly distributed support. If you size it correctly, it should sit very comfortably and distributes most of the weight around your waist. The 60 L seems to be the perfect balance of size and weight. The versatility of the 60L pack is awesome. I could bring it on a week long trip, or an over-nighter. And I didn't even mention how sleek this baby looks--not too clunky with too many pockets and straps like so many other packs have.
Wishing I had the new one
Familiarity:

I've put it through the wringer
I did 1200 miles of the AT with this pack in 2012, and there were a few problems with the previous model. there were rub points between the hip belt side straps and the shoulder strap bottom mounting points, and I had to actually send it in to get it fixed. Osprey gave me a new pack so I could continue my hike, but I am starting to see the same wear on the pack they replaced mine with which is to be expected. This new model however has an improved system that has fixed the previous problems... all the features I wished my old one had, this one has. Thanks Osprey for listening to what we all wanted! This pack can carry whatever it is you need it to, and keep you comfortable while it does. yes it's a little heavier than some other packs, but that is all because of the extra support it gives!
Perfect pack
Familiarity:

I've put it through the wringer
Perfect for overnight backpacking/fly fishing trips in the sierras. Holds large bear bucket, sleeping bag, sleeping pad, clothes, tent and all my fly fishing gear with of plenty room to spare. Plenty of different ways to store fly rods and spinning rods without getting in the way while hiking. Loved the detachable top summit pack, perfect for when i summited Mt. Whitney.
Osprey Aether 60L, a great pack
Familiarity:

I've put it through the wringer
I've used this pack on many trips over the past 3 years now. It has never let me down, I haven't had a single problem with it, and I've probably put around 200 miles on it in that time. I feel it's a great pack, but try it on before you buy! A pack that doesn't fit is a terrible pack for you regardless of how good it is. I cross-shopped with an REI pack, a Deuter, and a Gregory, all around 60L, and this one fit me the best so I went with it.



I use it mostly for medium range backpacking trips (5-30 miles) and it has always done the job and has held up great over the past few years.



Pros: Comfortable, hydration compatible, durable, good value



Cons: Heavy


Could this backpack carry the 4L clean bag...
Could this backpack carry the 4L clean bag from a gravity works filter system. I don't normally fill it completely but its nice to have the availability as its the only one I carry.



Alternatively I might be able to get a 3L platypus
Osprey generally specifies their own 2-3L bladder, so I'm guessing the 4L won't fit. (Especially since the compartment here makes it hard to put in a bladder that's not rigid. Honestly I think you're going to find it near impossible to find something that's designed to hold 4L and I'd suggest you size down....
I would have to agree, I put a 3L in there and it takes up all the room in the hydration compartment
Thanks for the input. My old Gregory z55 fit it fine and made it easier to carry up to 9L on hikes where no water was available (seriously zero water, in 100F temperatures). I'll have to consider my options.