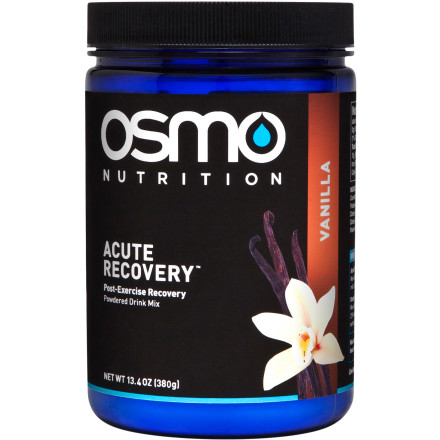 Osmo Nutrition designed the Complete Recovery drink mix to help get your body immediately on track towards recovery as soon as you've climbed off of the bike. It helps slow down your engine, encourages the matabolization of protein, and begins restoring glycogen stores so you'll be refueled and well-rested for the next encounter with the man and the hammer.
Organic whey and casein
Halts catabolic response
Replenishes depleted glycogen stores
not soluble
Familiarity:

I've put it through the wringer
Taste is subtle (good). Doesn't dissolve completely in water either stirring manually with a fork or in a powerful electric blender. Drinking the sediment at the bottom of the glass isn't very pleasant.

I can't tell whether I recover better using this product compared to just having a meal post workout. I just hope that the science behind to product is real and put my faith in it.
Tastes good to me
Familiarity:

I've put it through the wringer
I've been using for about 2 years. I only use after very long rides. I mix with cold coffee, milk or cream, and hershey's chocolate syrup. Tastes good to me.
Not very Tasty
Familiarity:

I've used it several times
I did not care for the flavor. even adding fruits or other flavors did not cover the taste. Hard to recover when the product doesn't taste good.
Get the most training in possible
Familiarity:

I've used it several times
I am in a unique situation where i have a relatively short amount of time to prepare for a bike race, about a month and a half. I was growing frustrated with my rate of recovery. I would ride and have to wait about 2 or 3 days for my legs to feel good again. This stuff has cut my recovery time in half and I noticed it the first time I used it. I also found it to taste pretty darn good. The powder is very fine and I don't experience any clumping (i use a blender). I mix this up with almond milk, some vanilla yogurt, a banana, couple hand fulls of blueberries and it actually tastes delicious.
effective & convenient
Familiarity:

I've put it through the wringer
Recovery is essential to reaching performance goals- we all 'know' it, but only experience teaches us to feel it. Pre-packaged recovery mixes are convenient, consistent, and effective. I tried DYI but it was more demanding than scooping it out of a canister. Osmo is well formulated- no GI upset and the vanilla has a good taste (the honey & spice - not so good). I mix I scoop of Osmo with 1 scoop of Endurox R4 for any effort over an hour- my recovery time has improved from 36 hours to 12-18 hours. Buy it on sale and stock up.
In Love
Familiarity:

I've put it through the wringer
I have become obsessed with this. I primarily use it in my smoothies after rides and it offers a great consistency and I enjoy the Vanilla flavor a lot. This doesn't destroy my stomach after a hard ride like some protein/recovery mixes do, and I feel awesome when my next ride comes around. I highly recommend it.
good recovery drink
Familiarity:

I've put it through the wringer
Use with Almond Milk, dissolves well and taste good. Use with chocolate almond milk and it is really good. Stuff works well.
Powder is thick like baking soda which is hard to pour in bottle water .

As for taste .. they need to do something with it .