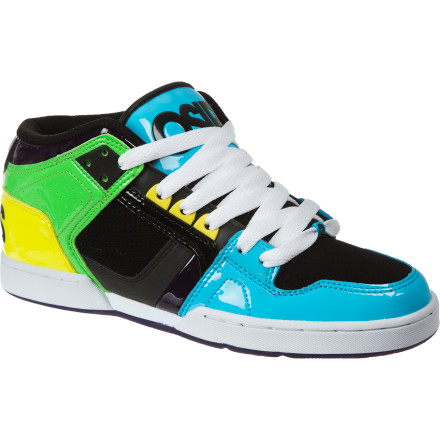 Detail Images
We time-warped the Osiris NYC Men's 83 Mid Skate Shoe directly from the streets of the city that never sleeps. These rugged leather kicks pay homage to the year of the camcorder, the last DeLorean ever produced, and slick, mid-high shred-shoe styling. Thanks to the smooth lining and flexible sole you can comfortably skate over to the music store to buy some CD's. Padded ankle support keeps you safe when you kickflip over a sewer grate and crash into your buddy's brand new digital keyboard on your way to the shop.
The NYC style runs small so order a half size up from your usual casual shoe size
This is my 5th pair of osiris NYC83 shoes i own and they are amazing. They fit great and are great to board with. The price is grrat and so is the shoe. Osiris NYC83's are now number 1 fav shoe.
This lil kickers will rock your socks. They beat walking barefoot, and when you push your board and go to snap that trick you will feel real slick. They do glow in the dark and with them you will make a fairly decent mark. Put these on your feet and feel super sweet.
I got them for my tween brother Who gives them a 4.5 when I asked him for his input he said he wears them with the laces tied under the tongue and a girl in his class flipped out saying you have the same shoes as Justin Bieber. Well I knew, and yes I was right, no one else in his class had that style. Win win.
How do these shoes 'wear'? We bought a...
How do these shoes 'wear'? We bought a pair of Circa's that my son only wore to and from school and within a month there were holes worn through the bottom of the soles. Trying to find something comparable style-wise that is a more durable shoe.
This would all depend on the Circa's you purchased. The Osiris NYC83 Mid is made of good materials and should last you a good amount of time. When you shop for durable shoes you should look at the materials used. Real leathers, canvas, and suede will last longer than PU or even Patent leathers.