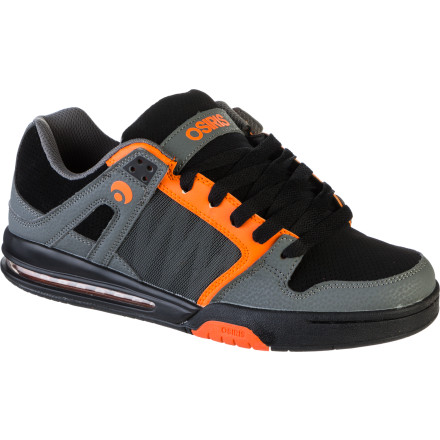 Detail Images
Kind of like a fly scoring dibs on a shaman's fungus-laced stash, our vision got pretty altered when our eyes landed on the Osiris Men's Pixel Skate Shoe. This airbag-cushioned impact-resistant skate shoe might make you realize the reason for living. Like a multi-layered mushroom trip, the Pixel's features a paneled upper to support your stumbles. Osiris added a combo lacing system for style and durability, as well as to make you hallucinate french fries crawling up your foot.
I've owned many skateboarding shoes, many being Osiris'. My shoes have always lasted me 8-12 months, on average because I tend to take good care of them, but these ones will not last me even close to 8 months.. The Osiris emblems on the back have already fallen off, the bottoms of the shoes are starting to wear down and the stitching is becoming looser, and I've only had them for a month with minimal use, haven't even skated with them. Also on the inside of the shoe the stitching is really bad, there parts where it is protruded out so far that it pokes me in the foot, constantly rubbing on the side of my foot and creating blisters. I'm very dissatisfied with these shoes..
are the sizes under the 'Select Options'...
are the sizes under the 'Select Options' list??
Yes they are. Those are all the sizes and colors we have left.
These shoes are the bomb... TICK TICK BOOM!

get yours now.. great fix .. great product.. DOGFUNK eat your heart out.. quick shipping low prices..

keep it up!
very cool shoes. look badass when dirty as hell. not so good for footbraking though (downhilling). very cool for loaded funisms.