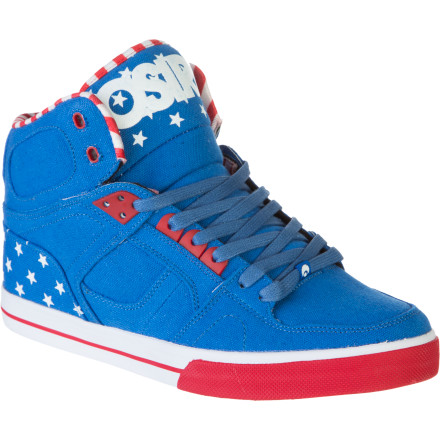 Detail Images
Throw on your Osiris NYC83 VLC Skate Shoes when you want lightweight shoes that will keep you and your board really feeling each other. Vulcanized construction gives you durability and virtually glues you to the deck, so it's easier to coax more response out of your board. Light padding in the collars and tongues bump up the comfort factor, so whether you are shredding for your life or just walking to class, your feet will be feeling good.
I don't actually have the NyC86's but I have a pair that are Identical except for the colour scheme (mine are blue, grey, and white), they don't wear nicely... but thats cause i'm ruff on my shoes, but other shoes I've had have (held up better), Comfortable as hell, I could walk in those things all day long, and they're a great build for large footed people like me (size 14.5) so it's almost a sure thing that you find your size, but your order may take longer to ship seeing how mine had to be built on a special order (cause they didn't have that colour scheme on order). I bought them from a Brand Store, which means I bought it in store, not online. hope it helped, they're good shoe's... Oh and the material could be higher quality.
Yeah. THAT kind of cush... as in cushy as hell. I really loved these shoes. The way they helped relieve you of pain while stomping a trick... boom. And they were otherwise just supremely comfy all around.

Defs a buy if you're looking for a skate shoe.

If you're looking for a casual shoe, these things are also pretty dope. A ton of colourways, and I can guarantee, they look good with skinny OR baggy jeans.
I just purchased these shoes and let me tell you that they are worth the price. Very comfortable and works well on the board. A must have for your collection!!
Ive always had osris ever since i was little i cant wait to get these