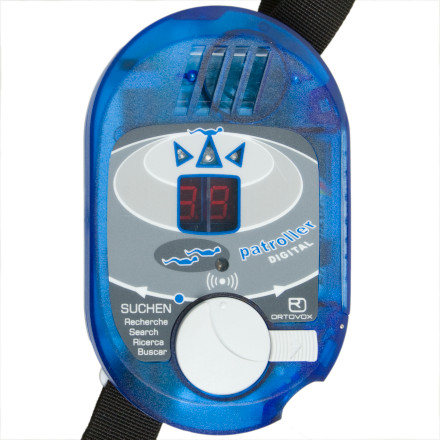 Detail Images

Community Images
Simplify your search with the all-digital, triple-antenna Ortovox Patroller Digital Transceiver, because simple means saving time and saving time can mean saving lives. Whether polishing your skills or performing a real, live recovery, the lightweight Patroller picks up on signals up to 40m away and then displays the distance in its red LED display. Once you get within 15m, the three LED arrows point to the origin of the signal to keep you headed in the right direction.
Fine search at 3m utilizes the third antenna for quickly pinpointing the lowest value (closest distance) to the buried victim
Multiple burial indicator alerts you when the Patroller picks up more than one signal
Emergency changeover switch on the front allows a split-second change from search to transmit when a secondary avalanche rains down on your search party
Waterproof housing resists impact and fits comfortably against your side with the included one-belt system
Earphone jack and small sound driver deliver tones that get loud and more frequent as you close in on a signal
Only uses two AA batteries to get 300 hours of transmitting life
Battery capacity displayed as a percentage when you turn on the Patroller
Good unit.
Familiarity:

I've used it several times
Shortly after purchasing the Ortovox Patroller, I participated in Level 1 avalanche training. During the training I had the opportunity to compare this unit to half a dozen different transceivers, including several units that are significantly more expensive than the Patroller. In single burial scenarios, the Patroller consistently picks up a signal at about 40m range regardless of burial depth (up to 5' in our simulation), and it will take you right to the transmitter. Certain more expensive units were able to pick up a signal at up to 50m range, but they were no more accurate in terms of locating the victim. In multiple burial situations, it can give conflicting directions. Following the signal to the general area of the burial, then searching in a spiral pattern resolves that problem. I think this unit is a good value, and I feel confident that it will perform well a real rescue situation. I'm not a fan of the harness system, but then again, I've never worn any transceiver that didn't shift around while I was wearing it. A leash would be nice to prevent dropping the unit while searching.
Patroller Digital Features
Durable, very easy to use beacon for a good price. And very light.
Difficult to detach when needed.
The beacon itself works well but does not have a leash/lanyard attachment for easy access. I used the Patroller for a Level 1 Avalanche class where they showed us how to use the beacon to search for buried victims by moving the beacon in all directions until a signal is picked up then keeping the beacon low to the ground to find the closest reading before digging. The Patroller is set up to be worn around the shoulder and waist, it is NOT convenient to peel off layers (unless you wear it over ALL your layers) unsnap the strap or fiddle with trying to let out enough slack to manage the beacon in a timely fashion while your buried buddy only has minutes to be found.

I ended up just taking out all the slack and slinging it around my shoulder and putting the beacon in my pocket for easy access with undressing and fumbling. The instructors/guides that I was working with shared the same concerns.

They recommended buying a beacon with a lanyard option.