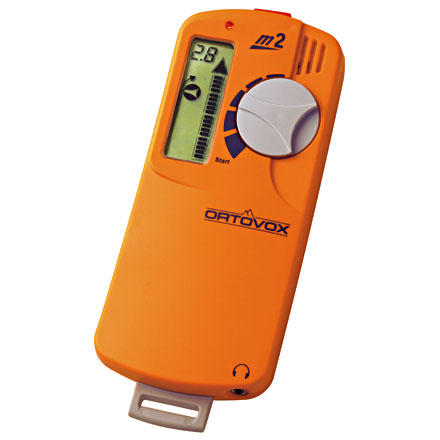 Unanswered Question
how does this beacon do for short range,...
how does this beacon do for short range, pin pointing? ie: within 5 meters. does it have a digital icon or anything for multiple burials, or just different sounds?
Not idiot-proof, but one of the best out there
Why do so many people complain that beacons arent redicuously easy to use? If youre in the backcountry, its your responsibility to learn how to operate your equipment correctly, big deal if that actually includes reading the manual and running some drills. I picked up the M2 last season after having the BCA DTS and couldn't be happier. Spent a little time learning how to use it and it performed admirably during the season.
Its accurate, comfortable thanks to the contoured fit (not as bulky and slightly lighter than the tracker), has a fast response time and is better than expected with multiple burials. Great range, and the hybrid feature's a plus. My only issue is with the on/off switch on the back, which can be a hassle with or without gloves.
I've converted to the germans when it comes to beacons, maybe you should too.
How does the M2 match up against the Tracker...
How does the M2 match up against the Tracker DTS?
the main difference between the two is that the M2 has a single antenna while the Tracker has 2, making it faster and easier to use, another huge difference between the two is analog vs digital, meaning it relies upon auditory info rather than a digital interface, digital is also much more specific in terms of search area. thirdly the M2 had recall problems because of battery issues (http://beaconreviews.com/transceivers/OrtovoxRecall.asp) and was discontinued in 2009, there's probably a reason why. If i were buying a beacon now i'd take a look at the newer, smaller, three antenna products, take look at the Oct issue of Powder for a solid cross-section of the current beacons.
the question is do i need two of the same...
the question is do i need two of the same beacons in order to make them work, also not really sure how one works and would love to hear back from someone who has used one from the snowboarding perpective...
No, you don't need to have the same type of beacon (I have a DTS tracker (easier to use than the ortovox IMO) and my friends have different models. Depending on where you live, there are classes available for basic beacon usage, backcountry survival, and snow science (Avy 1, etc). I'd highly recommend investing in at least a basic course when the snow hits again. Your friends will live to thank you for it.
No you do not need two of the same beacons for it to work. Beacon technology is now universal so any brand can be used with any other no matter if the frequency is analog or digital. As far as just using one, it doesn't work at all. The only way using one solo would be if you are in out of bounds resort area and ski patrol can get to you, or if other people in the area randomly have beacons they could pick up your signal. However being out solo with a beacon and no one is around, then it is rendered useless.
No! It will work with all modern beacons!
This is my first beacon, and after some practice is very easy to use. Not as idiot proof as some beacons, but after you get how it works it's really great.

I've used a few friends' beacons (tracker, pieps, etc) and I'm as fast with this one during the search.
I borrowed this beacon from a friend, and...
I borrowed this beacon from a friend, and it worked great. I'm curious if anyone knows where to pick up accessories for it though---I seem to have misplaced the shoulder strap and want to replace it before I return it.

It would be best to get on Orthovox's website, and either give them a call or shoot them off an email to see if they can get you a new harness for it.
I just bought a Ortovox 2 this is my first...
I just bought a Ortovox 2 this is my first becon did I buy a good one
It is a good beacon, bombproof and long range, BUT it is not the easiest to use on the market, and requires more training and practice than some others.
hello I would like to buy one of these...
hello I would like to buy one of these but I am want to make sure this can be use also in Europe. I believe in Europe they are the same but not sure . And also IF someone with me has one Ortovox , do they need to have the same one to have these connesting each other ??? Looking forward to hear from you .
In Europe this beacon will work even though some European beacon still have a dual mode that picks up the frequency from this beacon and also another frequency. As for compatibility with other beacons; they are designed to all work with each other.
This is my beacon of choice
I've used this beacon for the past six seasons, it has never failed me and still has a kept it's signal strength. 80 meter range is a great thing in a large search area. All my patrol buddies use it and it's design hasn't changed much over the years which tells me that it is solid. It is a solid piece of equipment for the price.
Have the people who advocate the Pieps DSP...
Have the people who advocate the Pieps DSP tried a multiple burial senario with 4 beacons, and 3 being within a 3 yard radius?
As far as i know (never used it in the scenario you describe) the DSP offsets beacon responses by a millisecond to make sure you hear all the beacons. You can flag one at a time and still get the multiple beeps. Again, i have not used it in the situation you describe. Plus, i think if you have 4 searching you could flag one at a time and basically do a process of elimination to find the exact spot for each beacon.
Beacon will not switch to search mode
After using the beacon for practice only a few times it will no longer switch to search mode. This is fine if I get buried but it would suck for the person I'm skiing with. Due to all the good reviews, I'm assuming that my beacon is just defective, but it's enough to scare me into buying another model.
I have an M1 that I purchased in 2000....
I have an M1 that I purchased in 2000. I've never had any problems with it. Is there any reason not to continue using it? I know technology has improved but I assume this is still compatible, am I correct?
Compatible = yesBeacons not are mostly all digital and can have many more antennas which increase accuracy and streamline rescue. Take a look at the pieps DSP, or BCA tracker 2
@Michael: what makes you say the M2 is...
@Michael: what makes you say the M2 is outdated? (except for the build date, and if you say 'technology' could you elaborate maybe). And what makes the Pieps worth spending an extra $130 or so
I am not @Michael but I can tell you the M2 is outdated because it does not use a full digital antenna. The DSP is much better because of the features it has multiburial, flagging, frequency check, ect. The Pieps also has a fourth antenna that check the emitting frequency every time you turn it on. 130 dollars isnt much more to spend if it could save time in your or a friends burial.
The M2 like the M1 or F1 is an excellent unit for someone willing to train & practice with it. For a trained searcher it should have a faster find time than any 2 or 3 antenna beacon for the simple reason it does not need to take the time to process the incoming information like the Pieps DSP, tracker, or similar beacon. It is easy for an excited searcher to outrun a 2 or 3 antenna beacon. That being said for someone not willing to practice with the beacon go with a tracker, Pieps DSP or similar type with the tracker being the easiest to use for a non-practicing beginner. Fast successful multiburial scenarios with the M1, M2 or F1 require lots of practice and excluding guides, ski patrol, & SAR folks I doubt most people would get enough practice to pull them off with success. Here again the Tracker & Pieps DSP would proform better for a person not trained and in not practicing often.
This beacon has all the simplicity and reliability of the F1 plus the added benefit of a more sensitive signal strength display and a distance readout. The dial adjust prompt is unnecessary but certainly doesn't hurt. This beacon shows you on a screen what the F1 tells you with sound. The only down fall of the beacon is the on/off switch and strap system which takes ungloved hands and some getting used to. The transmit/search switch is easy and fast which is what really counts. A great beacon and the only one with a faster search time than the F1.
I've been using an Ortovox M1 (blue case)...
I've been using an Ortovox M1 (blue case) for a number of years, which was a big step up from my first analog Ortovox. No doubt the technology gets better every year and I'm wondering if someone can clue me into how the M2 is an improvement on the M1 and whether the ultra spendy S1 is worth the money? Thanks.
The m2 is outdated now also. Go for the pieps DSP.
First, ask questions the proper way.
Second, what would the point of avalanche beacons be if they couldnt find ones of the same model?
We have one m2. I'm looking at buying another one. Can one m2 find another buried m2? Or do you have to have a special receiver?
this was my first and i'm still using it years later. it's a great beacon. it's easy to use. the display tells you which way to turn the dial as you approach the other beacon, if you are getting closer or further away. i've used this thankfully only in practice and it's as efficient as any other beacon my peers have. the strap is easy to use and fits the body well. the only gripe i have is getting it to shut off completely means you have to dig up this little tab and pop the bottom out. sometimes tough with very cold fingers, and impossible with gloves on.
I was looking at buying a used M2 that is...
I was looking at buying a used M2 that is white in color? The only M2's I've seen are orange... What does the white casing mean?
Best Answer
i think if it's white it is the older version. i have a white one. it was my very first purchase at backcountry.com. they were selling it cheaper than anyone else. anyway i think the updated newer version is orange.ONLY buy used if you know the complete history of the beacon. Is this really something you want to skimp on?
This is my first avalanche beacon and with friends we first tried it on our own doing some exercises based on advices from an avalanche survival book. The beacons were extremely easy to use, really user friendly.