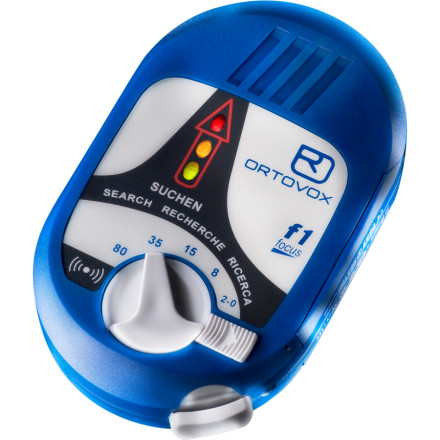 Community Images
The Ortovox F1 Focus is the most popular Avalanche Tranceiver ever! The F1 avalanche beacon is widely used by ski patrollers and mountain guides in the US and Europe. This reliable analog only beacon uses a three colored signal strength indicator in the shape of an arrow together with a loudspeaker to lead you quickly to the buried transceiver using the traditional grid search method. Recognized around the world as the leader in analog technology.
Just back from a great 7-day back country ski trip in BC. The tour operator wanted everyone to have digital beacons so handed out Trackers to those of us with F1's. I was not impressed with the digital during the practice search. In comparison, the F1 'locked on' and I was able to easily locate the buried beacon. The reason given for going digital was its advantage in multiple burials but it seems to me that a) you should only expose one skier at a time on iffy slopes and b) beacon practice trumps relying on technology during an emergency. I carried the F1 as backup and will continue to use it for our small group outings.
Is this beacon now out-dated? I was reading...
Is this beacon now out-dated? I was reading the CAA gear recommendations and it says that single-antenna receivers are obsolete (http://www.avalanche.ca/cac/gear/obsolete)

I've taken avy-courses and played with one of my friends analog beacons a few times and the operation seems logical and straight-forward to me, certainly no harder than a digital beacon. How about having only one-antenna and multiple burials? Should I be concerned about those?

Thanks everyone, keep earning those turns.
Best Answer
I call bullshit on that one. Sure dual-antennae beacons give you better accuracy, but I've used single-antenna beacons for years, and I can crank down on multiple targets within minutes consistently. Practice, practice, practice...Some of us with experience using any 457kHz transceiver, are better than somebody with all the digital technology in the world that has no idea what they're doing. A 'smarter' beacon does not necessarily translate into a competent operator, especially in a critical situation. Earn those turns and be mindful of where you are and who you ski with. That's my opinion anyway.
Thanks Phil,

How does it do in multiple burial situations? My understanding is that the signal will jump back and forth between targets, which could be quite troublesome.
It does what it's meant to...
Simple to use single antenna analog transceiver. The technology of these Ortovox analog units is fairly oldschool, but it works and is super reliable.

The unit itself is light and thin, making it almost unnoticeable, even with a full pack on for weekend bc trips.

Solid purchase...
functional and inexpensive
Unit works well. Not comfortable if worn as directed, even with "proper" adjustment. Strap material irritates bare skin. Wore my old beacon (SOS F1ND) one until I reworked the strap.
An essential piece of gear for backcountry travel, a beacon is only as effective as the person using it. with knowledge of how the beacon works and how to do a effective search this beacon is all you need. i found it very intuative to use allowing you to be quick and to the point.a decent range and may not have the bells and whistles of its digital counterparts but because of its simpler function is easier to use. whilst novices with digital beacons will be fumbling with different symbols,arrows and other messages the f1 cuts to the chase allowing very quick search times.all beacons take practice before you can become consitantly quick but the f1 is straight forward to use.this beacon may not be the most advanced but it is sufficent for anyone who wants to be in the backcountry.at a price not to be sniffed at dont assume that bigger is better!
I can hone in a lot faster with this setup than my friends with BCA beacons... when we play around, I hopefully do a good enough job reading snow that I will never have to legitimate search. You can't forget to turn it on because you turn it on when you strap it on, pretty convenient. Seems pretty sturdy, haven't had to test that aspect of it yet.
Unchanged for a good reason!
If you want to take the time to learn how to use this, it is the best beacon you can buy! The longest distance that I know of... You just need to be prudent in learning and seasonal practice runs! I have one that I purchased in 1994 that is still rolling strong and I wear when I lend friends my Pieps!
my F1 is at least 12 years old now. works great. the battery life is good. i like having the extra range (almost twice what you get with digital). i don't have any experience with the new digital transceivers other than messing around with my friend's tracker in his front yard for a few minutes.

i'm curious about this "ghost multiple reading" that one reviewer mentioned on this page. is that really legit? what's the explanation behind that?
Have had the F1 for 5 years. Easy to operate and dependable sum this beacon up the best, and isn't that all you need? Digital displays are cool, but I see no need for anything beyond the F1 at this point.
This beacon is quite easy to use and basic. Just what you want in a beacon. But I have not had to actually use it in a real situation, which is a good think.
Is there a way to tell how much battery...
Is there a way to tell how much battery life is left with this beacon? How often is it recommended I change the batteries?
With the original f1's when you turned on the beacon it gave a series of fast green light blinks to show battery life. When that was done it went to its normal blinking light pulse rate. Around 30 blinks was a full battery, 15 blinks was when I would replace the batteries.
Does every one in the group have to have...
Does every one in the group have to have the same device in order for it to work?
Best Answer
No.all beacons transmit and receive the same signal, otherwise it would really restrict who could search for you and who you could search for, which would be stupid
The ortovox person i spoke with recently said that the F1 cannot be found by the new S1. I do not know if they have fixed that in the new version...
Yeah, exactly, it is stupid. The person who said this works or worked for (this was last winter) ortovox. They said this in a briefing for a pro patrol at a major mtn in california. To clarify, the guy said that the first edition S1's will not always find a burried F1 in a multi burial scenario. Most of the time it will find them but it has been shown to not always find the F1 in this particular situation.
All beacons work on the same frequency, but over time transceivers can begin to have their frequency change. Basically there is a crystal that is inside that dictates the frequency. All transceivers have to be within a certain frequency range to be able to be sold. (I think 10-15 kHz) Pieps makes one that can check to make sure that the frequency range is adequate, no matter who makes the transceiver. That is, if I have a Pieps I can check all the people I am skiing with to be sure their transceivers, no matter who makes it. This is especially useful if you are with someone who has an older transceiver.
Years ago Transceivers sold in the US had a different Frequency form the rest of the world. Now however they have all switched to the international freq. So if you have an old US transceiver it will not be picked up by the new ones. That was awhile ago to it is definatly time to get a new one.
as straightforward as it gets
great beacon, not so useful for multiple searches. this goes in my girlfriend's or my dog's pack when we ski, now that i have the D3
I absolutely love the F1. I've been using it for 2 years now and I don't expect to go digital anytime soon. This beacon, with a little practice, will give you a faster search time than almost anything else. I consistently have faster search times than my friends with digital/analog combos(perhaps with the exception of the M2)and especially faster than pure digital. This beacon is logical and simple to use, even with 2 burials. It lacks the lag time of the digitals as well, which means when your on your skis doing your initial search, you don't have to stop and wait for your beacon the catch up. There are few quirks about this beacon and no "special" tricks or techniques to master. To sum it up, its the simplest and most proven reliable beacon on the market.
Having spent many years training as a ski patrol with this beacon, I find that I still can't persuade myself to switch to one of the newer digital beacons. The range (when searching), in my opinion, cannot be matched by the beacons currently offered on the market today. The F1 is a great beacon if you are practiced, if not you may have quicker results with a digital beacon. Also, I find that I get much greater battery life that any of my friends who use digital beacons. Simple, tried and tested get an F1!
move aside for new digitals
As the prime supplier to the avy professional market we are all to aware that the continuous carrier, when on send, signal on the F1 does make for a confused or ghost multiple reading on many of the current digital beacons... the M2 is always a better choice as this is not an issue with the trend going towards digital transceivers.cheers Surfnsteve.
My choice is: Ortovox F1 Focus
As a former Pro Ski Patroller, I am choosing the Ortovox F1 analog avalanche beacon; it was the model supplied by the Ski Patrol to all the Pro Patrollers. I was naturally interested, as well, in the digital beacons being offered, now, specifically the Ortovox X1; but after reading several reviews by both field-testers and actual users, I made my decision to stay with the familiar reliability of the tried and true! The reported main benefits of the Ortovox F1, over others, were its ability to better distinguish between multiple transmitters (useful for more than one buried person), greater detection range, and lower price! In contrast, others seemed to have had problems which the Ortovox F1 avoids, such as digital read-outs that were hard to read in bright light. Consider what the best device is for you and those who will use the device. You may well decide that a digital beacon is right for you. Whatever you decide, WEAR it! Also, carry a portable shovel and avalanche probes whenever you are out of controlled areas.
Don't forget compatibility issues when scoping out the latest and greatest transceiver. The Ortovox is probably the most used around the world, and has a PROVEN track record and excellent range when in a party with various brands of transceiver. This baby takes a little extra skill to use but for my money is the one to go for. Maybe the X1 would be better but only because of the 2 aerials. Digital schmigital!
The venerable F1 has lost some respect due to the hype of new beacons clamoring for attention. I have used mine for many years - it has proven to be reliable, durable and easy on batteries. Most importantly, my practice rescues are faster than most other people's. One reason is that I DO practice, the other is that, as taught in a beacon class, I trust my beacon. Even though it doesn't point me directly to the victim, it arcs me in quickly and accurately.