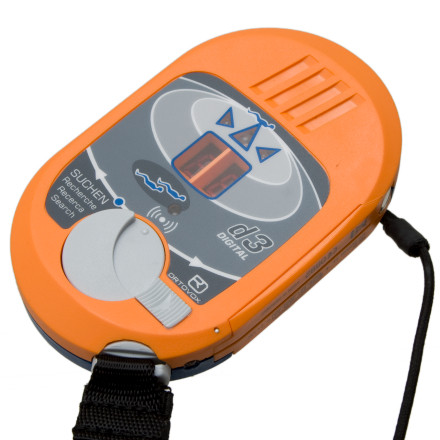 Detail Images
Buy this one...buy any one. Get a beacon...I have a different model (M2), but if you are one of those people that don't beep when you go by the sign, you are not only hurting yourself, but you are hindering the safety of others! Oh, and spend some time in the beacon park with said beacon and the probe that you got from this site too...and a shovel wouldn't hurt. Ski safe and know what you are doing!
On the Ortovox D3 - how do you locate...
On the Ortovox D3 - how do you locate multiple burials? Do you find the first then turn it off and back on to find the second and so forth? I know it has an indicator for multiple burials but how does it direct you to each one? Any thoughts on the new S1 vs D3 - or even the BCA tracker DTS? Does the S1 have a 5 year warranty too?
I don't think this one has a "flag" option to hide a signal that you have already found. Try teh BCA Tracker or Peps DPS

here is the manuel http://en.ortovox.com/Documents/GAL%20d3%20Druck%20ENG%20fk%20260707.pdf
The keep-it-simple approach
The D3 appeals to a user who wants a relatively simple and straightforward directional beacon, and doesn't want to bother with any special multiple-burial features (besides the indicator light) or other complications. As such, it is the most direct competitor to the Tracker DTS (aside from the hard-to-find ARVA Evolution+).
See my complete review here:
http://www.wildsnow.com/1881/ortovox-d3-beacon-review/
Perfect for getting started
This is a great beacon if you are beginning in backcountry but want something more than the Tracker. It's pretty idiot proof in single burial mode and multiple burials just takes practice.
Good Single Burial, Confusing Multi Burial
Very quick to latch on and direct you via flux line to a single beacon. Good luck with multiple burials though, this thing bounces all over, gives numbers that are way off the charts. Go to beaconreviews.com for some really good info regarding all beacons. Also the pouch is thick and adds too much bulk, and the strap makes it difficult to get close to the snow. I'm going to return mine and go for the Barryvox, or the S1.
Just tried it and loved it!
Just took my Avy I Cert class and got to try out my Ortovox D3. I was amazed at how fast I could find another buried beacon! Took me straight to it. Easy to read. The harness is a bit annoying as you have to have it strapped around you to turn it on, and if you don't want it on, you have to have a strap dangling from your waist. Also, it's hard to get close to the snow unless you adjust the waist strap.
Not as simple to use as I had hoped.
I have only played with them briefly to make sure I know how to locate with them. So far they are not being as simple to use as I had hoped. I'll try some more and report back.
this beacon latches on to signals super quick. it's really great for a single person rescue, but i find the multiple beacon search function to be a bit difficult.
Hi,I wanna know Cons & Pros Ortovox Patroller...
Hi,I wanna know Cons & Pros Ortovox Patroller Vs Ortovox D3.Thanks.
actually it says right there in the specs that the D3 is both digital AND analog.but i guess on the ortovox site it says it's all digital. ?*******D3 = all digitalPatroller = Digital and Analogue which gives greater range.*********
Is this the newest model? When I saw it...
Is this the newest model? When I saw it at my local shop and on the orthovox website it was a much bolder orange color...is this picture just having color issues or is it a different model?
, ☃bcs_badge_alumni_label☃
These are the 08/09 model and they are in fact orange.Thanks for the heads up, the product picture will be updated soon.
This is a nice little beacon. Handling multiple burials take a little more practice than some of the higher end beacons, but it is very intuitive. Love the harness, I don't even notice it when I'm out in the back country.
Beware if you have boobs...
As easy to use as this beacon is, I am having a tough time finding a place to settle it where it is not either impeding my motion or uncomfortable on my breasts... If there is a beacon with a different strap system I might reccomend that to other well-endowed ladies out there.
The range isn't the best, being all digital. Also, you are supposed to be able to navigate straight to a victim, but I noticed a tendency for it to follow the flux lines. Further, when you have it strapped on the way it's designed, you can't get the unit close to the ground while standing for precise locating. It's got a cable that keeps it within a couple feet of you chest. Might have to cut the cord. Finally, the multiple victim feature is a bit confusing, it jumps around to different numbers rather wildly.
, ☃bcs_badge_alumni_label☃
simple
My first beacon, what can I say, its relatively affordable, very simple to use, no complaints.