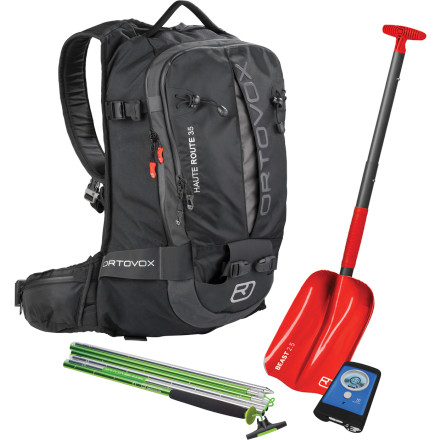 Detail Images
If your avy kit is outdated and you're ready to start over from scratch, or if you're getting serious about the backcountry and need to gear up, the Ortovox Haute Route 35L Backpack and 3+ Package has all the tools you need: beacon, shovel, probe, and a tough, versatile pack that can hold all the gear you need for a day chasing powder. The biggest of Ortovox's ski packs, the Haute Route has a special compartment for your brand-new shovel and probe, along with back-panel and front access to make getting at your gear as easy as microwaving popcorn. It's more than capable of carrying everything comfortably, too, as the O-Flex frame was developed in tandem with doctors at the Munich Back Center to distribute weight evenly between the hips, shoulders, and back so you won't feel the weight of the skis or snowboard on your back, no matter which carry system you opt for. You can use the compression straps on the side to lock down your load, and secure your poles or ice tools in the axe loops for hands-free travel.
Without a beacon, the rest of your kit is pretty much moot, so make sure you're plenty comfortable with the 3+ transceiver before you head out. The 3-antenna digital 3+ is easy to use, has a range of 40m, and transmits for 250 hours on a single AA battery, so you're not constantly worrying about switching out. With the capability to flag three burials and and an easy-to-use search interface, the 3+ is the perfect combination of advanced technology and intuitive simplicity—read more about it here.
Also included is the 240 Light PFA Probe, which is made of light 7075 T6 aluminum and has a quick-draw Patented Flash Assembly system that uses Dyneema tensioning cord to help you move quickly from searching to probing without fussing with a poorly-designed probe. It has an EVA grip sleeve for slip-free use and depth labels to assist in snowpit analysis and, at 240cm long, it can reach deep burials without trouble. Read reviews and see more images here.

Rounding things off is the Beast Shovel, which is made of burly aluminum that can bust through whatever snow conditions you encounter. The telescoping handle extends quickly, and the rubberized hybrid grip handle lets you hammer through hardened debris without losing your grip. You can find more detail here, if you're looking for some more reading. Pack, beacon, shovel, and probe—there's your avy kit right there. Also, please remember, this kit is NOT a guarantee that you will survive an avalanche; get educated, travel with partners, and be smart out there.

Haute Route 35 pack has a supportive O-Flex frame
A-frame and diagonal ski carry, snowboard carry
Compression straps and ice tool/ski pole carry
3+ Beacon has 3 digital antennas
40m range
Easy-to-use search and multiple-burial capability
Beast Shovel
Durable aluminum blade and shaft
Telescoping handle
Rubberized hybrid grip
240 Light PFA Probe is made of light, durable 7075 T6 aluminum
Patented Flash Assembly quick-draw system
EVA grip sleeve