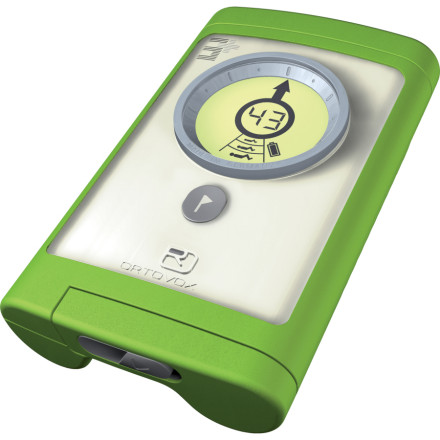 Community Images
Description
Make yourself safer and increase the chances you can find your buddies with the 3+ Beacon.
Find and check off multiple victims with the Ortovox 3+ Beacon's circular display, which answers your first three questions: which direction, how many people, and how far to them? A user-friendly, all-digital triple-antenna search tool for quick recoveries, the 3+ also features Smart Antenna Technology. The first of its kind, the 3+ switches between transmitting antennas to maximize signal strength even when you tumble in a slide and change directions.
In search mode, a simple circular real-time display tells you what direction to search and how far to the victim
Clear, circular pinpoint search shows you how close you are before you start moving away from the signal
Easy Mark technology shows the number of victims and lets you pin the signals once found (with a large button below the front display) so you can quickly move onto the next signal
After 120 seconds of no movement, the beacon switches from search to transmit in case you get buried in a follow-up slide
Rubberized housing protects against moisture and impact
Small bag with elastic strap secure the 3+ to your body
Backlit display allows nighttime rescues
Updatable microprocessor keeps the 3+ at the forefront of avalanche beacon technology
Share your thoughts
What do you think of the
Ortovox
3+ Beacon
? Share a...
Quite good beacon. Very handy
Familiarity:

I've put it through the wringer
Much better than BCA Tracker 2. Easier handling, better signal keeping, marking and other advanced features. I considered this one to be the best beacon until I tried Mammut Pulse. Than I got rid of the Ortvx 3+ and purchased the Pulse .
Update on use
Gender:

Male

Familiarity:

I've used it several times
Easy to use, long battery life, good case and harness. The instructions were a little vague on "buddy check" and marking, but I managed to figure ut out. However, during an avalanche training outing with our local search & rescue group, it seemed to freak out with multiple targets. I knew where the test beacons were buried and found this receiver couldn't locate them (actually pointed in opposite direction at times). It might have been a case of radio/cell phone interference or what the owner's manual described as signal overlap with multiple transceivers in operation. I'm going to test again without radio or cell phone on my person and with only one or two other transceivers. I will update the review after that.
UPDATE: I did test this beacon again with only one other transceiver in the area and found out that having your cell phone on will absolutely mess up the ability of the transceiver. Once I turned off my cell phone it behaved correctly and was able to locate the other beacon easily.
Easy to use for one's first beacon
Familiarity:

I've used it once or twice and have initial impressions
Never owned a beacon before this one. Read the manual when I first got it before any snowfall and got the chance to test it at a training site at Sunshine Village in Banff, AB yesterday.

After firing up the test grid and learning I had 2 victims, I was able to find both in just over 5 minutes in about a 50m x 50m area. For my first time using a beacon, I didn't think it was too bad and I'm sure with practice I could reduce my search time considerably.

A very intuitive and easy to use tool. Highly recommended.
where you suppost to update this thing in...
where you suppost to update this thing in montana?
Best Answer
Great Northern Powder Guides in Whitefish might do it. They are an official Ortovox partner so it'd be worth giving them a call at 855-766-9228
Very intuitive in search mode, which will save you time. The visual display gives you the info you need without being cluttered. Multiple burials are handled with ease, as long as you know which signal you are masking. Practice.
I like it.
Familiarity:

I've put it through the wringer
Simple & easy to use. S1+ is the next level up, but I got a deal on this & I'm happy with it.
I got this beacon a few months ago..in an upgrade from my F1 to do the level 1...everyone else had the Pulse and in every search test my 3+ was the fastest with single and multiple burials, And I didn't even had time to practice with it, i just read the manual and start using it. (which means its very very easy to use) One day tho...i saw this little piece of the inside plastic just peeled off, like an air bubble, it didn't affect its performance, i just found that weird, maybe the excess humidity accumulated when skinning up.. who knows...it says it can resist moisture and splashes.
Ortovox 3 Plus Avy Beacon
I tested the Ortovox 3 Plus and found it to be very good. Simple to use, takes only one battery, very accurate, light, slim and easy to read and fallow to the victim. Rubber grip is nice for holding, the product is made well.

Cons
The case is nice but I think the zipper should go and be Velcro and a little thicker tougher case for protection as well as the straps a bit wider and better comfort.

Pros
Overall the unit is superior and a great product.
Would definitely recommend
Easy to use and comfortable
A great transceiver for anybody thinking about going into the backcountry. But remember with any transceiver you need to go out and practice with it - before you go out for real. That is the only way you will learn how to use it.
Easy to use. Only uses 1 AA battery. Has a great battery life. I am a big mountain coach and this Beacon is easy enough for kids to use. I strongly suggest the Ortovox 3 Plus Beacon.
its so simple to use and its super sturdy so don't worry about breaking it in the park. its so reliable. 5 out of 5
Awesome blossom. Extra Awesome
I've had this beacon for a couple of months. All of my searches have been fast, easy, and accurate. I love the display, directional arrow, and green color (cause it's easy to find in my gear bag). It may not be the absolute best, but for the price it can't be beat. I would be pleased if others in my backcountry group were carrying this beacon. I have used a couple of other beacons and I find this one to be the easiest to use with gloves on.