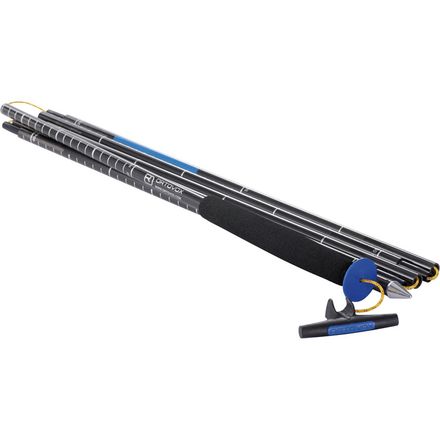 Community Images
Description
The PFA Carbon is a fast-and-light probe for fast-and-light backcountry skiing.
Shave weight from your backcountry skiing pack with the 6.2oz Ortovox 240cm PFA Carbon Probe. Not only does this probe have a carbon shaft and KEVLAR® cord to help reduce its weight, Ortovox also gave it their Patented Flash Assembly (PFA) to make it set up extremely quickly. Just a tug on the T-handle, and you're ready to go.
this is the best probe ever its as heavy as a i phone and takes all of 2 seconds to unfold and pull the cord that puts it all in to place its strong as u can have crash after crash on it and it won't bend like steel and its so compact. get this probe u wont regret it . 5 stars
Very Light & Very Effective
Very light, sufficiently long, sufficiently stiff, and assembles with a single pull.
I have never had to use this (fortunately), but it is worth the money. It is well made, sturdy and extremely light. So easy to assemble and disassemble.
Hard to go wrong with this Probe. Nice and light with a great handle, but hopefully I'll never need to use it.
Worth the extra few bucks..
Very quick set up when seconds count. Durable, and super light for a probe; in situations when ounces matter. I feel it was worth the extra coin.
For a piece of equipment that I hope never to use for real, I sure train with this a lot. It's function is smooth and reliable, and light weight to keep pack weight down. The real deciding factor for me was the longer warranty period that Ortovox offers, especially for a carbon probe.