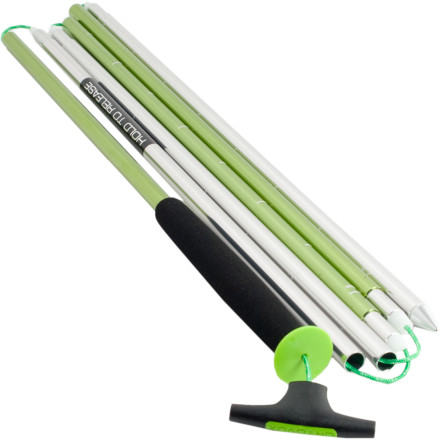 Description
The Ortovox 240cm Lite PFA is a fast probe for a duty where every second counts.
One pull and the Ortovox 240cm Lite PFA Probe is ready to help you pinpoint a victim in the last stage of an avalanche search. Its Patented Flash Assembly (PFA) system allows the 240cm Lite Probe to be extended with a quick tug on the T-grip. No fumbling with tiny buttons or screw-on attachments.
One time use
Familiarity:

I've used it once or twice and have initial impressions
I bought this probe this year and had not used it besides practice set ups. I signed up for an Avy 1 course and in it we did a simulated buried victims search with avalanche debris. The probe deployed fast as advertised but when put to the test on the probe line it did not hold up. I had to brace it the first few probes and by the end of the day it was bent up pretty bad
Haven't used the sucker yet-
Familiarity:

I've used it once or twice and have initial impressions
Haven't had to actually find a buried person with this yet, but it opens and engages quickly. Length is nice, as a recent burial in my area indicated someone was close to 2 meters down.




Rookie question here as I'm just getting...
Rookie question here as I'm just getting into backcountry travel and will be taking an avy class later this winter.

I've seen comments on the lack of markings on this probe and I wonder how much that matters. Seems that if I'm probing and find my target that knowing if the person is 120 down or 160 down is of small consequence as I'm going to dig like crazy until the target is found.



Please enlighten me!
I feel like having a depth measurement is more beneficial when digging a pit or checking out snow conditions. It allows you to really gauge how thick and where the layers are in the snow pack.
Yep, and for that you can guess if that's good enough (each probe section is 40cm and the colours alternate), or add marks if it isn't.
Does the trick
Familiarity:

I've used it several times
Fortunately I haven't had to use it for real, but in the many practice runs i've taken it through it's been reliable.

Super quick and easy to set up, and it's not too heavy for the price range.
Great affordable probe
Familiarity:

I've put it through the wringer
This is definitely a huge step up from the Economic probe from Ortovox. The mechanism for breaking down the probe is super simple and I haven't had any issues with deployment. The 240 cm length is great for occasional use in the backcountry or frequent use in the sidecountry, but if you are going to be using the probe on a day to day basis I would suggest stepping it up to a 300 cm length.
I bought this probe to replace a longer one that does not break down as small. It fits in my back much better than my old and is also quick and easy to use.
Fast and light
Familiarity:

I've used it several times
Very easy to open and secure which means no time wasted. T-grip is a must. Despite the weight it is a very sturdy probe. Punches through the hard stuff well.
Great probes but be sure to practice how they work before setting out ~ easy but still takes some figuring out & practice to be quick at it [ you would want to be quick at it if you ever needed to use them !! ]
Snaps together in a flash..
Gender:

Male

Familiarity:

I've used it once or twice and have initial impressions
Snaps together very easily and quickly, great compact probe. The only negative is the lack of measurement marks on the pole--the cm are only marked at the very top and bottom. But overall, great probe for a great price!
This is a basic avalanche probe at a great price. It's very easy and quick to open up and stays tight.
I bought it for around $22 from here. Great deal.
Let's get the cliche "hope I never have to use it!" out of the way.

I grabbed this for $22 on sale on Backcountry. Value - Ridiculous!

It weighs in at 291g (10.25oz) with the bag, 262g (9.125 oz) without, so the claimed weight is a bit light if you plan on carrying it in the included sack. I have a pocket in my pack, so the sack will stay home. That may be completely irrelevant for most of you.

The PFA system is intuitive and works well - pull it out, throw it out, yank and you're done. The T-grip is sized adequately for glove use without getting in the way. Although it's not easy to get the grip to clip onto the probe shaft, it's also not that important. The first time I used the release, it was sticky. It has since loosened up and works perfectly now.

When fully assembled, there's a tiny bit of play between the shaft segments. It's enough to feel, but I don't think it will result in much deflection during probing.

My only suggestion for improvement: Print the length markers all the way around the shaft. Presently, they cover maybe 1/8 of the circumference and never line up when the probe is pulled together, resulting in the need to twist and search for a measurement. Annoying in snow study, time consuming during a search!
This probe deploys super fast and the T-grip is really useful. Great weight vs strength ratio makes this a really solid piece of gear.
The flash assembly is great, pretty light, easy to use with gloves on. Works fine, have not had to use it yet in a real avalanche (fingers crossed)
Great for its intended use and also great for tent poles. Using it for a Nemo equipment meta 2p. Just for a reference, the poles stood up to about 40 mph winds without a problem. Very impressed! Comes with a nice case as well.
Does the job w/o extra weight
I used this all weekend at an avalance rescue training course and it did the job perfectly. It is on the short side but if a victim is buried deeper in Cascade Cement than this probe will reach, they are statistically dead before I could get to them.

It's also long enough to probe for a 3-man snow cave. Alas, it missed the pine tree that odorized my last cave, but that wasn't the probes fault. :)
I HAVE NOT USED THIS PRODUCT & HOPE I NEVER DO. I CAN TELL YOU THAT IT UNFOLDS & EXTENDS QUICKLY & IS WELL MADE. VERY HAPPY WITH THE QUALITY OF THIS PRODUCT, BACKCOUNTY.COM SHIPS QUICKLY & IS EASY TO DEAL WITH. WOULD RECOMEND BOTH.
What is the size of this probe when it's...
What is the size of this probe when it's collapsed, in the bag and everything? Thanks!
240 cm / 6 probes, "40 cm each" It should come in a carry case as well.
Best Answer
The longest section is the tip w/point and it's 17.5". The ripstop bag is 19". This probe is quick to set up, and light to run with. ~10 oz. I bent section2 on a rock but I was jammin it, and was able to straighten it back out over my knee instantly. Good probe.
Snaps together in a flash. Wide foam handle and pull tab make it easy to grip with both hands. So quick and efficient, I'll never go back to a lesser model.
assembles in about a second, even gives you enough time to go "holy crap that was cool" then go look for your burried buddy. Rubberized handle keeps hands comfy and gripped.
Ortovox Lite Probe is great
I gave this to my nephew for Christmas and he used it in a week long avalanche training course. He said that it worked great.