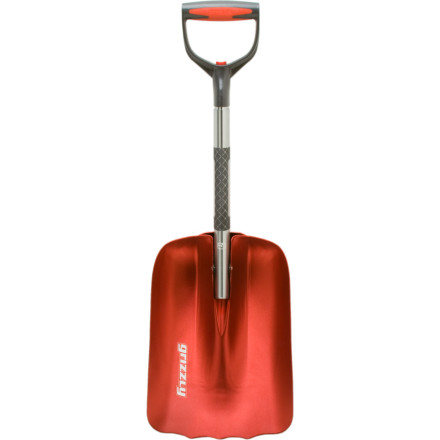 Detail Images
It might not be the lightest shovel on the market, but the Ortovox Grizzly 2 Shovel is a veritable backcountry backhoe. Fold the handle 90 degrees, and the Grizzly 2 becomes a pick, perfect for digging snow caves or chopping through windpack.
Long, ovalized shaft & comfortable D-grip handling efficient and ergonomic
Sharp, serrated edge chops through tough crust
Large aluminum blade easily moves wet, heavy snow
Share your thoughts
What do you think of the
Ortovox
Grizzly 2 Shovel
? Share a...
Great as long as space isn't an issue
This shovel is a solid as they come- it will get through snow, ice, and dirt (hopefully there's more snow than that though). The major drawback is it's compactness, or lack there of. It folds in half, but doesn't fully break down like most avy shovels. So, you really have to work around it if you're trying to fit a lot in your pack.
Im planning on getting shovel that will...
Im planning on getting shovel that will last me almost a life time, :) But only thing is, I don't do winter sport im looking for a GOOD shovel to keep in my car to dig me out of the snow. do you think this is a OVER kill?? IF not, i think i will be happy with this shovel!

-toe
I bought this shovel a year ago and had no chance to use it until this last blizzard hit NY. It worked perfectly and held up against ice and dragging against pavement beneath. The paint scratched but the head is fine. I had about 10 people ask me where they could get one as their dinky plastic shovels all splintered. The only downfall is that the handle will slip out and fall if it is not locked in. I leave it in the car because of size but just remember to take it out before a storm because it won't help if your car is buried. I had to heel kick the snow down enough to crawl into the window to get the shovel out.
Personally I think Ortovox can improve on this. First of all my ski packs have a specific shovel pocket and because the handle does not separate from the blade it doesn't fit in my packs. My next issue is that when the shovel is collapsed the handle extention just slides right out. As soon as I took it out of the box the handle slid out and dropped to the floor. I do think its great when fully extended and locked out, its just not gonna work for my current application. Those who keep their shovels inside the main pouch or have giant shovel pockets may have more success.
Does the handle on this shovel telescope...
Does the handle on this shovel telescope?
To elaborate, this quote is from the manufacturer's website:
"By pressing a button they can be extended and locked in four positions: in the super-stable chopping position with short shaft, in the equally rugged chopping position with extended shaft, in shovel position without pulled-out shaft, and in the end shovel position with pulled-out shaft."
http://www.ortovox.com/shovel/grizzly-ii-1#
This is a great shovel full of features. Specifically, there is an internal mechanism in the handle which facilitated deployment and locking. At first I was like, this thing is a pain! Then I realized that I didn't have to push the pins in to allow the plade to deploy/fold. The lever is in the handle. Quite trick. I like a d-handle shovel better as I wear mitts, so this version is exactly what I was looking for. The blade is plenty big enough to move lots of snow and the grippy surface on the shaft makes for easy use when wearing gloves/mitts.
will this fit in the black diamond bandit...
will this fit in the black diamond bandit pack
It should but it will for sure be a tighter fit....
Love this one. Super fast & sharp with the hoe feature and the serrated edge & packs down small for its size. It is not the best for smoothing walls in pits but in a rescue situation or building a camp I am thrilled with its performance