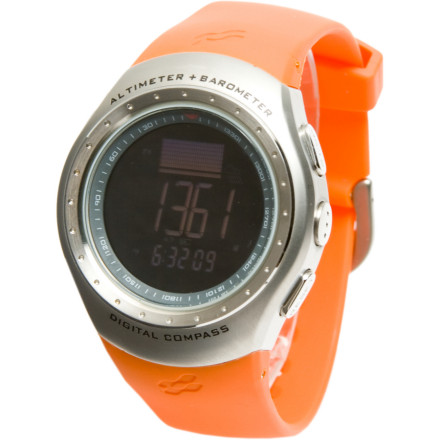 I finally found a replacement band for...
I finally found a replacement band for this watch, but I have no idea how to remove the pins to switch out the old band for the new. Can anyone help me with this? Thanks-
Best Answer
Geoff, where did you find your replacement band? WatchRepairUSA.com wants 90 bucks to replace mine. I couldn't believe it!
Geoff, can tell you the pin that traverses the inside of the band and watch is threaded. Get two mini flathead screwdrivers such as you would find in an eyeglass repair kit. You may need a pair of tweezers to extract the pins once you have unscrewed them. Where did you find the band. I cannot locate one anywhere for any price for my WC134 Titanium Granite Peak model
I just got this watch at REI. It was on...
I just got this watch at REI. It was on sale, with broken band and no manual,etc.
Can anyone tell me who I can contact to get a replacement band and a copy of the manual. Most of the functions are fairly simple to figure out, but not all!
Hey Dave, here's a link to the UK manual, should be the same:
http://www.origowatch.co.uk/manual.pdf

And you can chat these guys up for a band:
http://www.watchrepairsusa.com/origo/watch-repair
how do i change the temp on the origo...
how do i change the temp on the origo oc-038 watch
Hey, there isn't any way to adjust the thermometer temperature offset... so the best way to get an accurate temperature reading is to make sure the watch isn't on your wrist... with time you can gauge the offset your body temp induces into the temperature reading...
Looks and wears quite nicely, a little tricky to get on and off snugly without damaging the strap which has a history of failure (good luck finding a replacement). The manual is minimal and the features require frequent calibration.BUT for the money I paid for an ABC I'm happy !
Just got the watch and the time is off....
Just got the watch and the time is off. When i watch the seconds, inbetween 59 and 1 it staggers and after about 20 mins its 1 min behind. I replaced the battery did not seam to help. Anyone Have this Problem? Most likley will be returning this one.
that should not happen. i had a similar watch of a different brand. get in touch with the manufacturer's warranty or customer service department. when my watch displayed similar weirdness, they told me it was because the guts of the watch had been wet at some point. which made no sense to me, but they replaced it so i did not complain. it wasnt Origo, but i would not expect anything less from them...especially since we are not talking about a $20 timepiece.
how the heck do you change the battery....
how the heck do you change the battery. The directions say to align it with a 'mark' but there isn't one. Someone help. Thanks.
Hey there, some have a mark, some don't...take a coin and rotate the back until it stops, you might have to shake or use something to pry the battery cover off... reverse procedure after replacing the battery...
The Origo Granite Peak Rocks!
Granite Peak, at an elevation of 12807 feet above sea level, is the highest point in Montana. This watch has been one of the high points on my backpacking trips over the past year! The compass function is dead on (though I carry and use a base plate-type compass). The altimeter function is accurate, too. Since the altimeter function, as with ALL altimeter watches, is based on barometric pressure, it does require calibration (because: as the weather changes, the barometric pressure changes and the altitude readings are affected). I usually calibrate altitude at the trail head and at other known altitudes - in conjunction with my topo maps - during my hikes. Calibration only takes 30 seconds and altitude info is super useful. I use the weather indicator function (also barometric pressure-related) to anticipate upcoming weather. I use the countdown timer function when preparing meals and when using Aquamira water treatment (5 minutes to premix the Aquamira; 15 minutes before drinking the water). I use the chronograph function when I'm jogging. I use the temperature function to see how cold it gets during the night (note: watch can't be on your wrist for this function because body heat from wrist would affect the reading). I use the alarm function for days on the trail when I want to wake up early / stay on schedule (if I had my druthers, I'd make the alarm a little louder). The back-light makes the watch easy to read at night. The time function has two zones. The watch has heft which makes it feel solid. The watch band is thick rubber which, for me, is comfortable and it feels like it should last for some time. Attached picture shows the Granite Peak in action: 26 deg F at 8:53 am on Monday, September 6th, 2010 in the Wind River Range.

p.s. I bought a Suunto ABC watch and it was like wearing a saucer on my wrist - UGLY! Also, I liked the Granite Peak so much that I bought one for my son.

Enough said!
hey, ive lost my manual for granite peak...
hey, ive lost my manual for granite peak watch and want to know how to do some things. Can anyone let me know where to find a new manual or how to calibrate the barometer, altimeter, compass etc. thanks
Heres the link to the UK manual, should be the same:

http://www.origowatch.co.uk/manual.pdf
After I got this, I spent 5 minutes getting it out of all the packaging. Then I put it on my wrist and could barely get it off because the band is so stiff. I see what other people mean when they say they had problems with the band breaking, or breaking off pins. Not a good design. Also, I didn't realize how much it weighed until I had it on my hand. Then I checked the weight and some other altimeters and this one definitely seems on the heavy side (4.5oz vs. 2.5 or 3.0). It is like swinging a quarter pound hamburger on your wrist everywhere you go. I took it back.
Great watch overall with the following complaints:

1. It does not have easy access to the alternate Time setting (called TIME 2). I have it set to Zulu time, but is actually quite useless.

2. Band broke and is tough to find replacement.

3. Loses about 1 second per day. I need accurate time hacks, so I end up spending 5 minutes each day calling the Naval Observatory - not cool.

Otherwise, the watch functions great and I would've been happy with it if it kept time accurately.
I have had an Origo Granite Peak watch for several years. I like the watch and its functions. Problem is the wrist band is broken and it is impossible to find a replacement. The company has stopped supporting this product in the U.S. apparently. Do not buy this watch.
My husband bought this watch and after about a year the strap broke. Unfortunately the company went out of business in the US and they don't sell replacement straps. Furthermore the watch strap is designed differently than most watches and we are yet to find a replacement strap that will work with the watch...
I got the watch about 2 weeks ago and its been nice to have for sure. Its my first altimeter watch and so far so good. The functions are great and easy to use. Simple and pretty straight forward just a little heavy on the wrist is all. But time will take care of that.
While it worked well in water, after about a week the screen began to mist whenever I went outside!! Don't get me wrong, I loved the functions that came with this watch, but a watch that mists when its 55 and raining is not a watch that I want! Hopefully that was just a defect. Every other aspect of the watch was great. The Barometer and Altimeter are easy to use, and the watch is not too big. While the band is a little irritating (as it refuses to stay under the clip) the misting is the real problem.
Great watch for someone who has smaller wrists
I love all the functions of the watch, nice compass, large digital display. Not the easiest to program but if you know how to read the manual you will do just fine.

Pros:
1. Large display
2. Smaller form factor for those with smaller wrists
3. Price (very affordable compared to comps)


Few negative quirks that I've noticed:
1. The battery that came with the unit was drained so I had to replace it with the spare that they provided me with.
2. The retention band that keeps the band in place seems too loose and the watch band keeps popping out.
3. Temperature is spot on if you haven't worn it for over 15mins. Otherwise if the watch is on your wrist you can just take the temperature on screen and subtract 15 degree's and you will be within a degree or two of actual temp.
4. I can def. tell that the band will wear out over time due to the stiffness of the material and how you have to yank back a little while trying to remove the watch or even putting the watch back on.

For the price I think the watch is great, pretty tank like and will take punishment when I take it out.
Just got it, still deciding if I like it
So this is my first ABC watch, and I'm figuring it all out. One thing I notice is the AM/PM on time and alarm is imposible to read. Normally it wouldn't be a big deal, since you always know if it's night or day. BUT, when setting the alarm, it's quite possible to be 12 hours off and not realize it. The alarm chime is very quiet also, and probably would not wake me up from a solid sleep. Compass and altimeter seem to work well. Calibration, declination were very easy to set. Weather forecast is gimmicky and not needed. Might write an update after some period of use.
Unanswered Question
will work ok if i mount it on my mtb?
will work ok if i mount it on my mtb?
Unanswered Question
Shows metric and imperial?
Shows metric and imperial?
easy, sleek, not too big. Very happy
Great watch. Picked one up on Steep and CHeap for a great price and have been very pleased. I'm familiar with ABC watches (calibration, data storage etc) but this watch would be very easy to learn to use even if you'd never used an ABC watch before.

Altimeter- I have found that its accurate within 25ft or so, in my opinion that's good enough- i'm using it for hiking and skiing. Barometer is simple to use and read. Compass is accurate when calibrated corretly, declination is also very easy to set. Thermometer, like other ABC watches, is affected by your body temp. I've found my difference between the watch and actual temp to be ~20 degrees. If you need exact temp readings, take off the watch and leave it alone for a few min and it's really accurate. THe temp readings even go to 1/10th of a degree.

Size- I have relatively small wrists. The Suunto Core looks like i'm wearing a hockey puck on my wrist. This ABC is a "medium" sized face but I can say that it is def smaller than many other ABC's and therefore looks alot better on, thought its certainly not as small as say a Timex wristwatch. I'm pleased with the sizing, haven't had any issues getting it under any layers. The silver face is fancy enough that I can wear it in the office as well.

Highly recommended watch for the outdoors but good looking enough to be used for every day activities and work. Comes with an extra battery which is a nice touch.
great watch for the money
I love this watch. I needed an altimeter for adventure racing, and i didnt want to spend 3 or 400 bucks on a watch. during a race, i check the calibration 2 to 3 times, depending on the length of the race, and this watch stays accurate very well. I find the altimeter extremely reliable as long as its calibrated before use.

its also super durable. this has taken plenty of tumbles with me and it still looks awesome.

2 cons though -

1 is battery life. it seems to eat through batteries relatively quickly, but i do use it often, and battery changing is quick and easy.

2 is the bulk. its a thick watch, I understand that this is going to be an issue with most altimeter watches, but when on the moutntain bike, the watch bounces around on my wrist and often takes some skin off. when im on the bike, i usually turn the watch face to the bottom of my wrist to avoid this. A handlebar mount will also fix this problem.