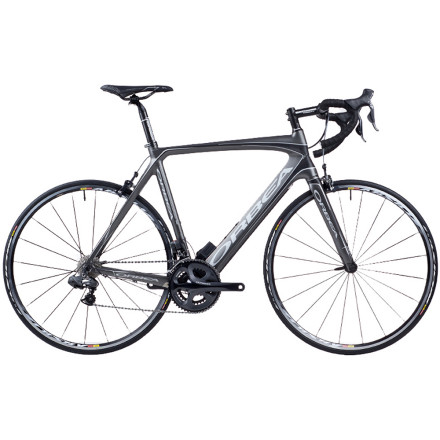 Detail Images
Shimano's Ultegra Di2 is truly exciting because it combines the operational joy of Dura-Ace electronic shifting with a reasonable cost. We have it here on the Orbea Orca Bronze/Shimano Ultegra Di2 Complete Road Bike.
What you'll get is a surprising level of performance. The frameset is made for city limit sprints and long easy rides alike, and the Di2 gives you shifting precision and consistency like you've never experienced before.
The Orca Bronze frame and fork are made with Orbea's Bronze grade carbon, and it's a blend of intermediate modulus fibers that have a touch more elasticity than the higher modulus fibers in the Gold and Silver Orcas. That the intermediate fibers also create a more durable frame is an added bonus for those looking at their first carbon fiber bicycle. The real benefit of carbon fiber is the silky smooth ride. It absorbs high frequency vibrations from coarse road surfaces better than aluminum or steel frames.
Like the Gold and Silver, Orbea molds the Orca Bronze frame and fork as a monocoque. Each of these is a homogenous structure with fibers running continuously along the length of the tubes and through the intersections. This increases the total strength of the bike along with the durability. There are a few structural differences that separate the Orca Bronze. It uses alloy dropouts, and the seat tube here is round where the Gold and Silver have a more sculpted, aero shape. This allows the use of a less expensive, standard round seatpost and conventional clamp assembly.
Otherwise the front triangle uses the same planar styling as the other Orca models. And the tube shaping isn't all about good looks. The angular tube shapes and sometimes pronounced edges are the result of FEA (finite element analysis) and their intent to create resistance to flex in critical areas like the bottom bracket, seat tube, and head tube junction. Orbea uses what they term as SSN (size specific nerve) technology to produce frames that offer the same comfort and performance characteristics across the size range. More specifically, each frame size has specific carbon lay-ups and tube dimensions.
The Orca Bronze also employs a tapered head tube that allows the use of a 1.5" lower bearing. The increased inside diameter of the bearing allows the carbon fiber steerer tube to be oversized as well. This increases the torsional and bending stiffness. This is a big part of what makes the Orca feel rock solid on high speed descents and through tight corners.
The build kit consists of a complete set of Shimano's Ultegra parts, including the necessary Di2 shifters and derailleurs. The Ultegra compact crankset and 11/25 10-speed cassette offer a wide gear range with plenty of room on the bottom end to help you get over steep climbs. Orbea provides the alloy steering components and cork bar tape as well as the carbon seatpost that supports a Selle Italia SL Flow Saddle. And finally, Mavic Aksium wheels and Aksion clincher tires round out the package. You'd be hard pressed to find a smoother rolling or more durable wheelset for day-in/day-out riding in all weather conditions.
The Orbea Orca Bronze/Shimano Ultegra Di2 Complete Road Bike is available in Anthracite/carbon or White/carbon/red and comes in six sizes from 48cm to 60cm. It comes with a matching Orca tapered monocoque carbon fork and integrated FSA headset. All Orbea bicycle frames come with a lifetime warranty against manufacturing defect.
I was super leery about purchasing a bike I have not ridden but when the Orca went on sale I couldn't pass it up.

I have heard great stuff about CC customer service and bike warranty so that made my purchase easier. I can definitely say I made the right choice. The Orbea Orca Bronze Di2 is really a great riding bike! It's very smooth and shifts like a dream. I broke my back at a younger age and was nervous the Orca would be too aggressive or rough riding for me. But it has been such a joy to ride. No back problems at all.

It's a race bike with comfortable geometry and a great overall package. Good frame and components all the way around. A very good deal for the price.

I would definitely recommend an Orbea if you are looking at a new road bike.
love this bike, it's a real steal
i ride a Colnago M10, but wanted a "spare" bike that was a little less rigid for longer/rainy rides (Orbea bronze has alloy dropouts that soak up the bumps a little better than the gold/silver frames). this particular configuration of the Orbea BLT (Ultegra Di2) weighs right at 16.5-lbs, the same as my Nago, has a very similar geometry, and feels a little more plush on the bumps and longer rides. i am 5'10", 30" inseam and weigh 165-lbs. i purchased the 53cm model and swapped the cranks from 172.5cm to 170cm to match my other bikes, and shortened the stem from the stock 110cm down to 70cm to get the reach right. other than that, this bike rode fantastic right out of the box.
Great all around road bike
Familiarity:

I've put it through the wringer
I purchased the Orca to replace another carbon fibre road bike that had been giving problems, mostly a ride that wasn't fast and smooth. I've been riding this bike for a month or so, on flat our pace rides (over 24mph) and in the hills (I live in Florida, no mountains to speak of) and this bike is smooth and versatile under both conditions. In Florida we get lots of rain and I was afraid that the DI2 electronic shifters would suffer for it, well, they've handled showers and a couple of washed out roads with ease! The ride and reasonable for a carbon fibre bike, shifting is smooth and seamless and the service from Competitive Cyclist was great, bike arrived mostly assembled, all I had to do was install the wheels, handlebar and I expected to spend some time adjusting brakes and shifters, no, it was great, no adjustments other than seat post height!
What's the largest tire this bike will...
What's the largest tire this bike will allow?
This will fit up to a 25mm tire
Backcountry and Orbea
Familiarity:

I've used it several times
As always, love Backcountry's customer service. The Orbea Orca Bronze is by far the nicest ride I have had on a bike. The Di2 shifting only makes it sweeter. The Bronze carbon soaks up vibrations so it feels like you are driving a cushy sedan on the freeway, a cushy sedan that can handle like a Porsche that is. 5 stars for Backcountry and 5 stars for Orbea. Couldn't be happier.