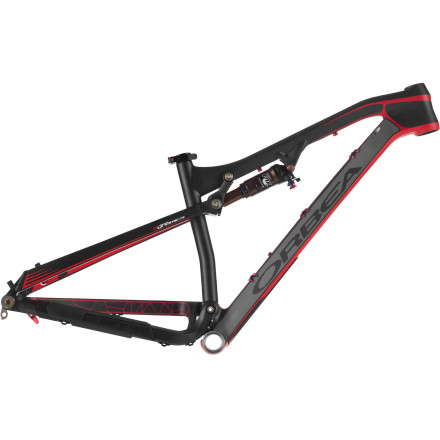 Detail Images
Orbea is perhaps best-known for its association with the Euskaltel-Euskadi professional road racing team, but the Basque company is creating quite a bit of buzz in the off-road world as well. When we described the 26-inch Orbea Occam Carbon, we touted its utility as a superior endurance racer due to its comfortable, active suspension, lightness, and meticulous craftsmanship. Of course, we stand by that claim, but 29er fans now have a big-wheeled, trail-taming option from Orbea -- the Occam 29 Carbon Mountain Bike Frame.
Like the 26-inch Occam Carbon, the Occam 29 Carbon uses Orbea's Silver grade carbon fiber. The front triangle is molded as one piece, with no joints. This process keeps the weight low while also increasing strength. Also similar to the 26-inch Occam, the seatstays are made of aluminum. Since the seatstays on any frame are subject to compressive forces, and carbon fiber is weakest in compression, this is an intelligent material substitution.
Despite these design parallels, the Occam 29 Carbon is not simply the 26-inch Occam, tweaked -- it was developed as an all-new platform using Orbea's Advanced Dynamics technology. From the earliest stages of design, Orbea analyzed the Occam 29 Carbon's performance in a computer simulation with virtual riders on board. Why is this so important? The variable and dynamic forces exerted onto a mountain bike by the rider are an integral part of how the bike accelerates, stops, and tracks over bumps, so it makes sense that Orbea considered these forces in their design process from the get-go. Of course, when a prototype was ready, Orbea replaced their virtual riders with real ones for exhaustive on-trail testing.
It's unfortunate that in some mountain biking circles, the phrase 'single-pivot' has become synonymous with 'unrefined' or even 'archaic.' This is nonsense. Single-pivot suspension designs such as the one found on the Occam 29 Carbon are still relevant, and often preferred, for good reason. When designed well, they're tough, lively, predictable, and -- when mated with a good shock -- easy to set up and tune. The Occam 29 Carbon's main pivot is located on the seat tube, above the bottom bracket. This neutral location strikes a superb balance between pedaling efficiency for climbs and sprints, and plushness for freewheeling descents. A 2013 FOX FLOAT CTD shock performs the squishing duties and yields 105mm of smooth rear-wheel travel. Adding to the Occam 29 Carbon's theme of sophisticated simplicity, this shock has a new CTD (climb, trail, descend) damper that makes adapting your tune to the terrain as easy as flicking a switch.
One oft-lamented characteristic of single-pivot full-suspension bikes is brake squat, the suspension compression that occurs when you grab a handful of rear brake. This brake-induced compression is often felt by the rider as stiffening of the rear suspension. It's important to point out that nearly all modern full-suspension designs, including much-hyped linkage designs, squat while braking. However, single-pivot designs have a reputation for squatting/stiffening more, and to some riders, this is an undesirable trait.
To resist brake squat, the Occam 29 Carbon incorporates a concentric pivot at the rear axle. As a result, the brake caliper is not wholly beholden to follow the arching path of the chainstays, which form the main levers of the swingarm, as the suspension cycles. That freedom of movement results in more active suspension under braking, producing a ride quality similar to that of a more complex four-bar suspension system, or a single-pivot bike with an aftermarket brake floater. End result? With the rear brake on, the bike will stutter less over bumps and have improved traction.
When looking at a 29er's geometry, two measurements we always examine closely are head tube angle and chainstay length, and we like what we see with the Occam 29 Carbon. At 17.5 inches, the chainstays are sufficiently short to allow for nimble traverses in switchbacks. We also feel that the 70-degree head tube angle (with a 100mm fork) is spot-on, because it creates stability, but allows for the kind of minute steering corrections that are sometimes required to keep momentum-carrying 29-inch wheels on line.
Orbea designed in clean cable routing by running the rear brake and rear derailleur housing along the top of the down tube, secured by bolt-on guides. The front derailleur cable is internally routed through the frame to shelter it from contaminating muck. Hard plastic down tube and chainstay protectors ensure that the carbon finish in those areas is not marred by kicked-up rocks or chain-slap.
The Orbea Occam 29 Carbon Mountain Bike Frame has a 1-1/8 to 1-1/2 inch tapered head tube, and you can run a 100mm or 120mm front fork. The rear dropout accepts either a 12x142mm thru-axle or a standard QR. The brake tabs are the post-mount style. You'll need to pair the frame with a 31.6mm seatpost and a 34.9mm high clamp/bottom pull front derailleur. The Occam Carbon 29 comes in sizes Small through Large. All Orbea frames have a lifetime warranty against manufacturing defect.
Does the Occam Carbon frame have the kashima...
Does the Occam Carbon frame have the kashima coat Fox rear shock?
Unfortunately, the shock is not a Kashima shock on the Occam Carbon frame.
This bike is killer!
Gender:

Male

Familiarity:

I've put it through the wringer
Got this frame about a month ago on sale as an upgrade from a large Santa Cruz Tallboy 1 carbon. This frame fits me much better than the old one due to the long top tube ( the sizing from Orbea is on the larger side but that allows for a shorter stem ). I have rather odd body geometry which means that at 6ft 1 1/2in I have long arms with wide shoulders, a long torso, but short legs (32 inch inseam pants drag on the ground for me) . I ended up running a 120mm Fox Float Factory 32 Kashima in 15qr to raise the bottom bracket and slack out the head tube angle. I picked up a dropper post for my crazier out of town rides but have a standard KHS Q2 carbon post with a lighter seat for the local lung killing spins. For the local build I have it at 24.65lbs with stout parts and the dropper pretty much adds 350 grams so it's still very light. Mine came with a shock remote that at first I wasn't happy about but once I began to use it I can't imagine the bike without it. The rear end is pretty much the same thing as the DW Split Pivot and Trek ABP. From what I have ridden it feels like a slacked out Trek Superfly 100. I demoed an Ibis Ripley a while back and it was a strong contender but the price and lifetime warranty on the Orbea Occam C was too good to pass up. If you're a taller rider that needs to stretch out when they ride then this bike will do a fine job for you. With the 12x142 upgrade from Orbea this bike is a super stiff fast but surprisingly maneuverable race/trail rig. At this price it is a hard deal to pass up!
Does this come with a headset?
Does this come with a headset?
This frame does not come with a headset. Do you have any more questions on this frame? Email me at mfarr@backcountry.com
Actually it does. Called this morning and was told it comes with an integrated FSA zero stack.
what does this frame weigh?
what does this frame weigh?