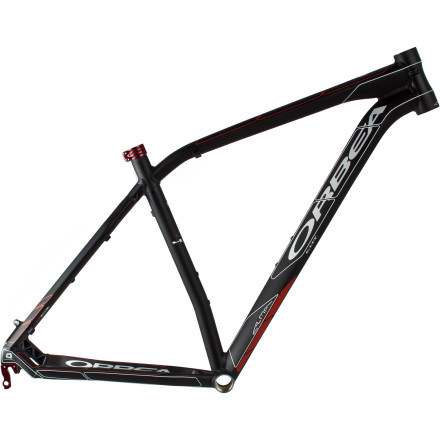 Detail Images
Ever wonder what's been happening with aluminum since carbon fiber has become all the rage? In some cases, it's only gotten better by being swept along in the mad rush for lighter – stronger – stiffer. With the Alma 29 Hydro, Orbea shows that metal can still compete with carbon. On a strictly performance basis, the Alma 29 Hydro is a fantastic machine. On the scale it's still the underdog in comparison to its carbon fiber big brother, but it wins big time at the checkout.
As the name would imply, the Alma 29 Hydro makes liberal use of advanced hydroforming technology to shape the tubes. The tube profiles and general shaping mimics the carbon fiber version, and there's a reason for it all. You'll see that both the front and rear triangles are actually quadrangles, with four corners and four sides. The fourth member unlocks the triangle in a way that invites a small amount of deflection in the frame. Orbea's engineers intended it to absorb some of the harsh input from the trail. They call it their 4x4 design. Couple this comfort-adding design with the advantages of 29er wheels and the Alma Hydro 29 is a true all-terrain bike.
Like we said earlier, aluminum has been improved over the years. Where we used to ride with straight gauge alloy tubes many years ago, Orbea employs TIG-welded, triple-butted tubing here. The butting process reduces the wall thickness away from the weld zones where the tube can be thinner and therefore lighter. This helps with ride quality as well. The thinner tubes temper the overall stiffness of the frame.
One of our favorite elements from the Alma 29 Silver is the lack of bridges on the rear stays. This seriously increases the tire clearance so that mud and leaves that get stuck to your rear tire can pass through without getting hung up. The Alma Hydro gets this same free-running design. The aluminum Alma also uses DCR (direct cable routing). This version can use a standard cable set as well as Gore's slick-shifting cables like the carbon version does.
The Orbea Alma 29 Hydro is available in Small, Medium, and Large and comes in three colors – Black/yellow, White/blue, and White/red. It has a straight head tube with 44mm ID. The frameset includes an FSA semi-integrated 1-1/8" headset. It requires a 31.6mm seatpost and a 34.9mm top-pull front derailleur. The bottom bracket uses typical English threading. All Orbea bicycle frames come with a lifetime warranty against manufacturing defect.
what frame weight ?

thank you
Can I use 26" tire for this frame?
Can I use 26" tire for this frame?
It would not be recommended. The frame would fit 26" tires obviously, but the bottom bracket would be very low.
good day

How much will delivery to Ukraine?

what frame weight in size L?

thank you
I read elsewhere the size small in this...
I read elsewhere the size small in this frame runs 26" wheels. Is this true?
Do you send frame to Brazil?
Do you send frame to Brazil?
Hi Micael,

Yes, we can ship Orbea products to Brazil.
Can this frame be used as a single...
Can this frame be used as a single speed?
You could use this for a single speed, but it probably isn't your best option. The rear dropouts are vertical, which means there is no way to adjust chain tension through moving the rear wheel. Instead you would have to instal a secondary way to tension the chain, such as an eccentric bottom bracket, or a separate chain tensioning sprocket. Kind of a pain, so you would be better off finding a frame that is designed to be used for a single speed set-up.