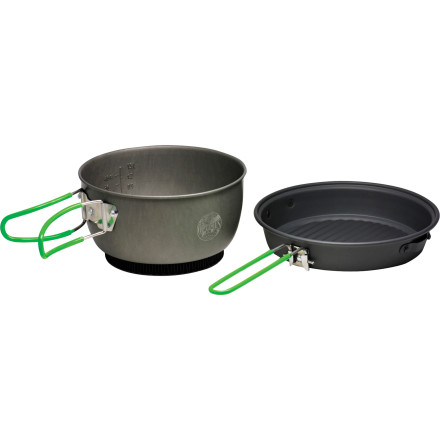 Videos

Community Images
Description
Use less fuel; pack less fuel.
Efficiency is paramount when you are carrying a week's worth of gear on your back. The lightweight, packable Optimus Terra Lite HE cookset uses a heat exchanger on the pot's bottom to reduce boil time by 20%, so you use less fuel when you cook. The pot is graduated with both oz and mL marks so you can keep track of how much water you are mixing with those dehydrated mystery meals.
Optimus Pot and Skillet Prime!
Familiarity:

I've used it several times
I love this cook set. I'm so happy that I ordered one before a trip down to southern Utah. It's super light and stores really well. We have the Optimus Crux stove so getting a cook set from the same brand just made sense and I'm glad we did because it works perfectly with our stove. The original pot that the stove came with was small and could only feed one person at a time where as this pot can make food for 2-3 people easily. The Skillet I wasn't super impressed with but that could be because the wind was super high that day and when I tried making some toast and it didn't distribute the heat evenly so it only toasted where the flame was. Also keeping it on the stove was kind of hard but that could be because of the wind. I would say use the skillet when it's not winds of 25+ mph. Anyway my overall satisfaction with this stove is really good and I would recommend this cook set for casual camping trips and not intense backpacking adventures.
Pretty Alright
Familiarity:

I've used it once or twice and have initial impressions
I agree with another reviewer that because of the ring at the bottom, it's a bit precarious on top of a backpacking stove. It had to be set just so.



It did boil water way faster than I've experienced with other pots and kettles.
Optimus Terra Lite HE Cookset
Needs a better lid/pan
Familiarity:

I've used it several times
The pan is stamped with griddle pattern and does not fit on the pot great when handles are out.(see photo). It worked on my 6 day trek into the bwca. It almost seems like these two shouldn't be paired together. The pot is decent so far. Not that stable on my crux stove. Spilled twice on the trip. Be careful and make sure it's on the stove evenly. It's a very narrow ring that actually hits the stove.
I skimmed over the specs when I was ordering, I will say the cook set is larger than I thought, but that is my fault. On the upside, the pot and pan fit together which gave me a place to drop some of my food as well as my Pocket Rocket. Overall, I didn't lose as much space to it in my bag as I thought I would since I could stuff things inside of it.



I've only went out once with it, but I the pot heated really nicely and I had boiling water in a jiffy. And, even though it is NOT non-stick, cleanup was easy. It was a little much for just myself, but it will be perfect for cooking for 2, maybe even 3.
The pot works great but for the life of me, I can't understand why they made the "fry pan" with a corrugated bottom. It's not non-stick and with the grooves, you can get any utensil to the very bottom causing food to stick and burn. Also, with the pot handles deployed, the lid doesn't fit very tightly and sits at an angle. The pot works fine and is very efficiently with the heat collector on the bottom. I think the better option is the set with 2 pots, one being nonstick and a flat lid/fry pan also non stick. The lid fits tightly. This set comes with grippers rather than attached handles.
This is a great little cookset. I find the size to be just about perfect for two people and my MSR Windpro fits inside nicely. The heat exchange seems to be pretty effective. It will boil water fast and does a good job of distributing heat from the stove across the pot to keep it from getting hotspots. About the only thing I don't like about it is the fact that it's pretty heavy.
would a whisperlite fit in this set?
would a whisperlite fit in this set?
Best Answer
First of all, the dimensions are backwards. The pot is 7.4" diameter x 3.9" tall. The Whisperlite folded is 4x4x4" and needs at least a 1.5L pot to stow. When you set the stove inside the pot it should tilt over and give you plenty of room with the slight height difference, so, no problem.
i really like this set from its descript...
i really like this set from its description...just wondering if it is non-stick and if the pan doubles as a lid for the pot
Best Answer
Yes, the pan can be used as a lid, and no, it doesn't have a non-stick surface.