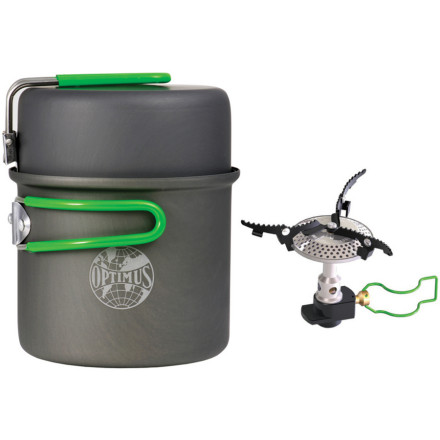 Detail Images

Community Images
Description
Optimus couldn't have made dinnertime when camping any easier.
Make your next backpacking cooking experience a breeze with the super-lightweight Optimus Crux Lite with Terra Solo Cook Set. The Solo includes a 0.6-liter hard-anodized aluminum cookset with frying pan. The Crux Lite has a 3000W burner that boils water fast and won't spot burn when simmering.
Tera Solo 0.6-liter pot is designed for a 110g fuel canister, the stove, and a foldable spork to nest inside (as with most things in life, spork not included)
Set includes: Crux stove, 0.6-liter pot, lid that doubles as a fry pan, mesh storage bag, and neoprene sleeve for on-trail storage
Great solo cook set!
Familiarity:

I've put it through the wringer
I've had my cook set for about 4 years and still love it. It's a bit difficult to fine tune the temperature. But I mostly use it to boil water for dehydrated meals or to make tea in the mornings. The frying pan is very small. It's probably large enough to fry an egg...and it definitely makes a better lid than anything else. The pot is perfect for drinks/oatmeal. I've used the stove in Colorado at high elevations (10,000 ft) and low temperatures (20 degrees) and have not experienced any issues. I love how the stove, fuel, and cookset can nest inside each other. Easy to pack and easy to use!
Nice little stove
Gender:

Male

Familiarity:

I've used it several times
This stove does what it says it does, if more slowly than I'd like. I bought this thinking I was getting the 'Optimus Crux Stove with Terra Weekend HE Cook Set' that my buddy has. We put them side by side to heat up some water for our mountain house (at 5800 ft, temperature in the low 20s) and, while we both ate some tasty chow, he ate about 5 minutes before I did.

As a stove it gets the job done and works well. It packs up small and is fairly easy to clean. Really, my only complaint is that it cooks more slowly than it's big brother and uses more fuel for the same thing as a result.
Pleasantly surprised
Familiarity:

I've used it several times
I wasn't particularly optimistic about this stoves abilities when I first opened it but this little guy works a charm - super happy with the weight/compactness/speed
Little guy has bark and bite!
Familiarity:

I've put it through the wringer
Great stove. So light so tiny, my wife kept talking about "how cute" it is. I could care less, but sure thought it was efficient. The two pots are the RAD-NESS! Easy to handle, easy to pour with into say a freeze dried meal. Its the perfect size to put your fuel into too when you're done so you have one light compact unit in your pack. Seems to boil water FAST, the pots have those funky bottoms to allow more surface area for fast boiling = gangster.
Killer backpacking stove
Familiarity:

I've used it several times
This little stove rocks. If you are looking for a solid cook system that is light, efficient, and compact look no further. Everything, including fuel, can be packed into the pot and pan container system. The stove itself fits in a little neoprene pouch that fits in the underside of the fuel canister, then you slide the fuel in the pot and cover it with the pan, throw it in it's mesh bag and your ready to go. At 10,500 feet at 72 degrees this stove boils 550 mL of water in 48 seconds. This stove works great for boiling water, haven't tried 'cooking' anything in it. I feel that it is too hot for that.
I timed it in my kitchen and this thing boiled 1 liter of room temperature water in like 3 1/2 minutes. It all fits together really nicely and is pretty light.
This is so much smaller than I thought it would be. It's great. It seems really durable. The only downside is that the pot and the pan do not clamp together. It must be stored in the neoprene sleeve to be effective. It's not a big deal, just a small detail. It's awesome that everything can be fit in the pot and pan. If you are thinking about buying the Crux lite stove, you might as well get this whole set. It works together so nicely that it's worth the extra money.
wher do i buy the gas canisters? I want...
wher do i buy the gas canisters? I want the one that fits in the boiling pot?
Any camping retailer sells the gas canisters. You'll want the shorter canister to fit inside the pot. Any brand of fuel will work; MSR, Jetboil, Coleman, ETC...
Amazon has the Optimus Crux cooking set...
Amazon has the Optimus Crux cooking set for $50, can you price match?

Item # OPS0012
Feel free to call Backcountry.com's customer service line at (800) 409-4502. We can check on the other site and set an order up if the price match is approved.
Does anyone know if other fuel canisters will work with this product. I just received it today and I wanna know if jetboil canisters will work with this as well. Can anyone help?
Yes, Jetboil canisters will work with this!
Optimus Crux Lite with Terra System
Love this stove!
Gender:

Male

Familiarity:

I've used it once or twice and have initial impressions
This is a great little stove! I haven't used it much, but it's small, easy to light, and the cookset that goes with it is really cool. I store a four ounce canister of gas, the stove, a small fork, and a P-38 military can opener in the clamshell/cookset with plenty of room left. Used it today to cook some beans while I was out messing around in the mountains with my bros.
I'm interested in this set. How easy are...
I'm interested in this set. How easy are the posts to clean? I know it's aluminum but doesn't say anything about non stick.
Best Answer
They're not too hard to clean. No, they're not non-stick. Subjectively, you have to consider in that what it is you're cooking and whether you're letting the food residue dry up before washing or if you've burned the food. Most of the time it's an easy wipe out after cooking, but a little scrubby sponge in your kit and a little hot water will go a long way in cleaning up any pots and pans that anyone makes. This is a nice little lightweight set, but it's definitely a solo deal. The top makes a much better lid than it does a frying pan though.
I bought this set and love it for myself,...
I bought this set and love it for myself, but when my wife and I camp, its a bit small. Does anyone know of a single large tall cup or pot that this set would nest into or fit inside of (maybe 900ml or 1.5'ish?) so that it won't take up too much more space but will allow me a larger option for boiling more water? Thanks!
Before you jerry rig something, check out the GSI Dualist, 2 bowls and 2 (coffee) cups w/lids, I've got this unit and its a great all around combo. Pot is 1+ L in size and is non stick, had it for about 3 years and completely satisfied
This is a well made stove and I like that the a small can of fuel, and stove will fit inside of the cook set. It comes with a bag for the stove that will protect the finish inside of the cook set. They also provied a mess cookset bag for the cup and pan.
My only complaint was it was not made in Sweden as I thought.
Can the stove and the fuel fit inside the...
Can the stove and the fuel fit inside the pot?
It was my understanding that the pot on the Crux Lite will only fit a 110g canister, not a 230g. Am I wrong? I need to know if this pot will fit a standard 230g canister from any canister brand, not just Optimus.



Thanks