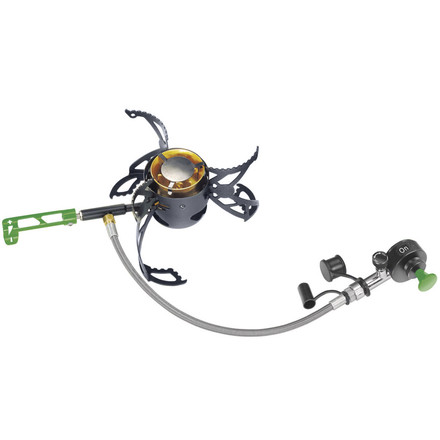 Community Images
Description
Boil water and cook your dinner in the highest, coldest places on earth with the Optimus Nova Stove.
The lightweight, compact, dependable Optimus Nova Stove takes on the harshest conditions from arctic travel to high-altitude mountaineering. It runs on white gas, Optimus arctic fuel, kerosene, diesel, and jet fuel, which is why it has become a popular choice for expedition travel where fuel may be limited. The Nova Stove's quick-priming gets a roaring flame going quickly, and the adjustable heat lets you simmer as well as boil. This burly white gas expedition stove weighs only 15 ounces and packs smaller than a fuel bottle. Get one for base camp and one to pack for your ultralight summit push.
A gallon of fuel into this already
Familiarity:

I've put it through the wringer
Decided its time for a review after running a gallon of fuel into this. I have had zero issues with this device even with using older not so clean fuel. The only downside is the weight. Melts snow just as fine as other stove and I have boiled several huge pots of water on this running it for 5 hours nonstop.
Stove rips
Familiarity:

I've put it through the wringer
This stove rips and is my top choice for backpacking stoves. My favorite features are the unique folding legs that allow the stove to pack small and the metal gas pump. MSR Whisperlite has a plastic gas pump which is a delicate situation to put yourself in when you are out in the woods. Plus the Optimus Nova has one valve that will burn all fuel types so you don't have to switch valves for different fuels like the Primus stove. This stove rises above the rest.
Beware of replacement parts
I own a previous generation Nova (prior to the Katadyn acquisition). It worked great for about 4 years and numerous trips but I recently discovered my fuel line had a small puncture in it rendering the whole stove useless. The newer models have a different style fuel line connector and there's no existing replacement parts for a stove that's only 4 years old. Ebay also turned up nothing in the parts department. So either I have to shell out $80 for a new fuel pump + compatible hose or buy a new stove completely. I think I'll switch to MSR -- they offer lifetime warranties and replacement parts seem to be much easier to get your hands on.



Conclusion: great stove. poor warranty and parts availability when you need it.
Lives up to its claims
Familiarity:

I've put it through the wringer
This stove does everything it claims it does. Its is reliable; I have used this stove on many backpacking trips with out any issues what so ever. The stove is extremely accommodating; I have used gasoline, diesel , camp fuel and even alcohol to operate this stove. The stove is durable; I have had my stove since 2004 and it is still going strong. Overall, this is an excellent stove.
I need a new leather cup for my Nova. Is...
I need a new leather cup for my Nova. Is it possible to purchase just the cup without buying the entire replacement kit? Ebay has cups for the Trangia. Are they compatible?



Thanks
Best Answer
I guess you already have found the answer but if the problem is that the cup is dry just apply some grease and it is as good as new.
This is a great light weight backpacking stove. While I was always a huge fan of my Primus stove I needed something a bit lighter. I love the convenience of using whatever fuel I can easily get. The adjustable heat takes a light touch but worth it!
I received this stove less than two weeks...
I received this stove less than two weeks ago and test drive it. The "ON" "OFF" feature on the pump doesn't work. I bent the tube away from the body and the "OFF" mark on the pump, yet it continues to roar. What else could be the problem?
It need to work! send e.mail to "Optimus"
I was hesitant to email "Optimus" because of a previous discussion about a problem with another stove, but I did it anyway, and I haven't received an answer yet. The discussion I was referring was that the customer rep from Katadyn Optimus haven't even read the users manual on that particular stove! There's no way he'd understand.
Favorite liquid fuel stove
all metal construction makes it very durable (hate the plastic msr pumps). Flame adjustment is the best around. Magnetic cleaning needle is actually very handy. I have burned only white gas and kerosene in this stove and both performed perfectly although kerosene was harder to get lit. I only use this as my snow melter or when cooking for three or more, overkill for solo use.
I bought an Optimus Nova (Brunton version) in 2007 & the only problem has been the thread stripping on the fuel bottle, which was probably my fault
In Scotland I used mainly kerosene as fuel in winter, pre-heating with methylated spirit (alcohol) but used unleaded petrol for pre-heating as well as the main fuel in summer since the flame from petrol is easier to see.
The stove has been very reliable, easy to use & will light practically anywhere using a flint&steel sparker, which benefits from being attached to 12-15 inches of reflective guyline. Harder to lose but easier to use.
I keep a windshield wrapped around the fuel bottle where it doesn't get damaged and find the 600ml bottle is easier to pressurise than the larger one.
A Great Stove Ruined by Quality Control Problems
I loved the design and, in theory, function of this stove and was excited to get it for use on my winter and mountaineering treks. The first one I got was defective such that fuel could not enter the burner - there was metal debris blocking the jet that was confirmed by the service rep when I sent it back. I was concerned, but gave it another chance and had them send me another.

Mistake.

I have used this stove over a dozen times including x-c ski trips, snowshoe overnights, and a few climbs in the Cascades. I wanted a highly reliable and powerful stove that would melt snow and get me hot water in rough conditions. between a recall and several difficult field fixes, I have to call this stove completely unreliable. When it works, it has the power of any stove I know with wonderful flame control. Problem is that there is always a ripped seal, leaking pump, misfit part, clogged part or some other issue. I have seen every part to this stove because I have had to dismantle both the pump and burner to varying degrees multiple times. I cannot take it into the field without the expectation of it working properly for more than a single use, if that.

I have used white gas primarily, although also tried kerosene. I prime the stove with denatured alcohol, keep it clean, oil the pump, and yet still it fails me. I will be contacting Optimus to see if they will refund or do something about it. I will not accept another one of these stoves however. My next one will be a Primus or MSR multifuel type.

I know there was a recall of this stove for ones made between certain dates, but that did not fix many of the problems for me. I do a lot of stove tinkering and have Coleman 442 and 400 stoves, Svea 123 and 123r stoves, and would use any of those in a heartbeat over this because I know they will work. The only thing impressive about this stove is the list of things that have managed to go wrong on a stove that inherently seemed so well designed. I hear that the QC issues started after production was moved to China, but all I know is this stove stunk for me, and I would not try to sell it because I would feel lousy for the new owner.
Does this stove burn Gasoline/Petrol? I'm...
Does this stove burn Gasoline/Petrol? I'm suprised that it seems every fuel is listed except for gas. I'd rather burn Gas than diesel at cold temps anyways, knowing about the diesel gel point. Anyone know about this?
Best Answer
Yes, it burns regular unleaded gasoline. Number 2 diesel gels at about 10 degrees F, so gasoline, kerosene, or white gas are always going to be better performers for temps below that. Gasoline freezes at -43f, K-1 at -30f, white gas at -22f. Hope that helped.
Most descriptions take for granted the Nova burns gas however this stove burns white gas the best. Whenever burning unleaded gas, I've experienced an erratic flame due to additives including ethanol. Also the jet needs cleaning/maintenance more often. I've used unleaded gas only in emergency situations.
I've never owned a more versatile stove in my life. I love that you can use basically any type of fuel with this stove. It is good for other things than just boiling water. It will boil water fairly quickly, but you can also actually cook food and not scorch it. Optimus got it right with this guy.
This is the best stove I have ever owned. I have gone through the whole generational thing since the 1970's and at one time thought MSR had finally figured it all out, but this stove is it. Years of backpacking, traveling, and guiding, and this is the stove I bring every time. Buy it!
First, I have way too many stoves. Several SVEAs, a couple TRANGIAs, and Primus as well as several gas canisters. I do a lot of baking when camping using an Outback 10" and always take my coffee press and plan my meals more than my route. I purchased this stove wondering if it could replace any of my others since we go with a large group of Scouts and we need stoves that are trustworthy and reliable. This one is my most favorite which says a lot.

I can simmer, bake and the fuel last a very long time compared to the others. I have not had any fuel issues but only use Coleman fuel and never anything that could clog the ports. I have used it snow camping and on high it melts snow fast and has created lots of meals. I give this one a real five stars. I have camped with people using a whisperlite and those things are tempermental. This one is not. Period!
I hate to give a bad review on something, but I was very disappointed with this stove.

Pros: It will cook your food, and it simmers well.

Cons: Very Leaky. It leaked BAD from the control valve on the pump, and the o-rings on the quick connect kept getting torn somehow, and therefore it leaked there as well. Also, it is hard to get the fuel out of the fuel line, so when you disconnect it, an unwanted amount of fuel comes out of the hose. I do not know if I just got a bad one or something, but this is my experience. I only had it 1 week.
At first I was having trouble lighting the stove. Turns out I wasn't using the magnetic thing to clean it before each use. To anyone that buys this stove, you MUST clean the jet before each use. Once I figured that out I was lighting it effortlessly, even in the rain. The stove is powerful wait a fairly good flame control. Boils water fast and cooked for 2 people no problem. The versatility in what fuels you can burn is a huge plus even though I've only burned coleman fuel so far. The leather in the pump was dry when I got mine so I had to put some of the included silicon lube on it so the pump would build pressure. Their are lighter options on the market but I would take the optimus nova over all of them.