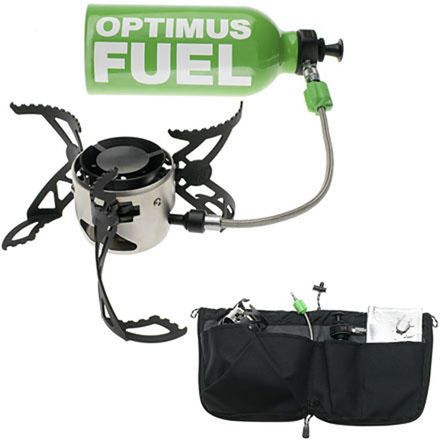 Community Images
Description
Expedition stoves just got a notch better with the introduction of the lightweight, dependable Optimus Nova Plus Stove.
The Optimus Nova Plus Stove includes all the amazing high-altitude and cold-weather performance of the regular Nova stove with an additional Powerline hose for easier use. This hose includes a quick disconnect from the pump for faster brew sessions, and puts the flame control further from the burner to keep your hands singe free. The Nova Plus Stove burns on white gas, Optimus arctic fuel, kerosene, diesel, and jet fuel because you never know what type of fuel your expedition may get stuck with. This compact gas stove takes up less space than a fuel bottle when folded and weighs only 15 ounces, including the pump.
Classic example of RTFM
Familiarity:

I've put it through the wringer
After researching stoves and reviews, I chose the Nova+ prior to an "expedition" into the Apostles. The same problem that others have commented on about needing an engineering degree to figure it out, or that it doesn't simmer, etc. had me stumped for a while but the problem is quite simple to solve. This is key - open the manual and go to your language section. Read the instructions. Now, look and read carefully the BOX the stove comes in. Then, understand this - people who write technical manuals are not always the people who understand how users use a device, and this manual has some shortcomings IMO. Basically the Nova+ is very well designed but it must be operated like this:
1. The little knurled knob on the pump with off<>on arrows - all this knob does is open or CLOSE the fuel - it is NOT used for simmering or flame control. The manual does not really spell this out very well. Think about the design of most every other stove out there - first you gotta get fuel from the can/pump to the stove, then you adjust the flame...
2. So, go pumped it, opened the gate, and now what ? The big green barrel-shaped thing just to the right of the knurled knob but 6" from the stove - yes, the thing with the directional arrows on it - turning this barrel will spin the entire fuel line and subsequently adjust the fuel going into the jet. This is the ONLY thing you turn to adjust the flame/prime/etc.
3. Some people over-simplify or over-think well engineered tools like this. The guy that said the line was plugged - probably had that barrel or line adjuster fully turned "off", thus, no matter how many times you pump or turn the knurled metal knob, it cannot force fuel beyond the actual line adjuster.
I hope this comes in handy for others considering this stove. Once I got past the "this thing is junk" phase and actually READ how the stove is intended to operate, it will simmer beautifully, no farting, sputtering, or burn the crap out of things. You simply adjust the green barrel ring thing which lets you prime it, fire it up to a low roar, or simmer to the point of making soups without zorching things to carbon goo at the bottom of your titanium pans.
Really, trust me, this thing is a well engineered tool but a monkey will not figure it out, no matter how smart the monkey things he is.
Folks at Optimus - manuals need some work.
Powerful, versatile, rugged
Gender:

Male

Familiarity:

I've put it through the wringer
I've had this for about 5 years, including a thru-hike of the entire PCT (~6 months), a month in Alaska, and a winter camping trip. This is a great stove, and if you want the power and versatility of a liquid fuel stove, I wholeheartedly recommend it. If you want something as simple as possible that you'll never have to mess with, and don't need it for very cold weather / high altitudes, get a canister stove.



It's very powerful (about as much as my MSR XGK EX, but not as loud), but I can adjust it more than most liquid fuel stoves- I wouldn't say it's great for simmering, but much better than a whisperlight. A great feature is that you can purge the fuel line of fuel- so you don't have to worry about it dripping fuel in your pack or inside your pot, and you can save some fuel. The stove is very stable and easy to use.



The stove is durable and easy to field-maintain. I like that the pump is metal, and has few parts, unlike the MSRs which have a ton of tiny plastic pieces. The only issue I've had is occasionally the pump cup leather doesn't make a good seal, so nothing happens when I pump it. Lubricating the leather helps, but if this happens you probably need to replace the leather. Just keep an extra leather cup and the included silicone lube in the stove kit, and you'll be fine. (both are tiny and weigh nothing)



A full medium fuel bottle of white gas lasted me about a week and half on the PCT, and I ate BIG meals- I was the only PCT hiker I knew that did not lose weight! I cooked mainly dinners, along with tea or soup often, sometimes a hot meal or coffee in the morning. I've never had to use other fuels, but I like knowing I don't have to switch nozzles to burn gasoline, kerosene, or jet fuel if I have to. I've never had to replace a fuel filter or had an issue with a clogged nozzle burning white gas.



The only thing I don't like is the stuff sack- it's shape makes it difficult and awkward to fit the stove and accessories. I use my MSR stuff sack instead.
Finicky
Familiarity:

I've put it through the wringer
This stove spends more time being cleaned and adjusted than it does actually cooking anything. I'm going to pick up a Whisperlight before I hit the trail for a month. Total waste of money!!
Worst stove ever !
Familiarity:

I've used it several times
Bought this beautifully designed stove (Nova Plus) in august 2012 and took it on several long and short backpacking trips. It never burned steady, but pulsating. Simmering wasn't as easy as claimed, stove went out or didn't simmer. Tried everything from cleaning, pumping, replacing parts, white gas (I usually burn unleaded) nothing helps. As a proud owner of the optimus 8R Hunter and 111 Hiker I am seriously disappointed with this crappy piece of hardware. On my last trip in the north of Sweden it completely failed to function after 7 days. Despite of replacing nearly every part before I left and during the trip, I had to eat cold muesly, nuts, chocolate and tasteless emergency keks for three days.

I returned the stove to my retailer, he has trouble to get thes optimus people to respond. Waiting for two weeks now.
do these stoves break fast? like in the...
do these stoves break fast? like in the review?
My Optimus is going fine after 5 years, everything can break but these are pretty easy to fix and spare parts are available. They are well made and many people use these stoves with little problem. It helps if you have a little basic mechanical knowledge. By basic, I really mean basic. It also helps if you per filter your fuel if you are using dicy stuff like questionable diesel. You also have to clean it more often if you are using this type of fuel. Works great with the high quality stuff sold in camping stores.
Optimus stoves are okay, but a better one of this type is the Primus Omnifuel. Far superior construction, and it can also burn canister fuel, which comes in handy sometimes. Hope this helps.
I've had mine for about 5 years, including a thru-hike of the entire PCT, and it worked fine. Maintenance is much easier than the MSR, because it doesn't have all those tiny plastic parts, the pump is much simpler. The only problem I recall having is the pump cup leather not making a good seal occasionally, so keep the included silicone lube and a spare pump cup leather in the stove kit.
This stove is not reliable. It will break after 3 - 4 uses.

My wife is on an 8-week research trip in the Mojave desert with this stove. The pump fell apart after 3 uses leaving her unable to cook food.

I drove 1100 miles to bring a replacement stove to her, and the next AM we started to cook some eggs and the new stove failed. The hose that delivers the fuel was somehow plunged. I was using new fuel and brand new fuel cans.

DO NOT buy this stove. It will fail. Look at MSR stoves.
I am looking for information on the durablity...
I am looking for information on the durablity of the stove as an expedition stove. This would involve heavy usage. I understand that routine cleaning comes with this style of usage. Reviews have jumped from 2007 to 2012 era. Will this stove be able to handle the usage? Optimus says it will, I called and had a chat. I do not want any advice on other stoves such as a dragonflies, xgk's or primus omnifuels, I have owned all 3. I am looking for a more reliable stove without breakable parts and the ability to simmer as well as melt snow. Reviews have jumped from 2007 to 2012 era. I am looking for someone that might own this stove and have some knowledge for the 2010 era stoves.
My Optimus Nova has not ben super reliable. I got it last summer and it has been on two week long trips and four extended weekend trips. I'm having trouble getting the pump leather to seal well, even with the official grease that came with it and also olive oil. :) It seems that I only get pressure at the bottom of the stroke. Also, I plugged the ceramic fuel filter and had to replace it. I thought I only used clean white gas, but I certainly could have been the fault of the problem. Unfortunately, I need to spend $15 to get a set of spares that only includes one more filter. They should have something that is cleanable.
I should add that the manual is great. I would have been toast without it.
Does anyone else leave their pump in the...
Does anyone else leave their pump in the bottle full time? I've been doing this for about 2 months now and haven't seen and ill effects, nor do I see anywhere in the manual where it says not too. Just seems every video I have ever watched of someone using this stove they pull their pump off the bottle when not in use, that seems like a good way to spill fuel, or introduce contaminates into my fuel bottle.
I had a msr set up that I never took the pump off of it. You should be fine leaving the pump on there.
I started leaving my pump in the bottle while doing the JMT. No problems.
Used it in 10 degree weather at 11,100' by Chinns Lake in Colorado on 2-19-12. Worked true to the instructions. No annoying fuel leaks or mess. Turning the tube to up the flames is a little unsteady, you need to straighten the tube to make it easier.
The body on the new model that Optimus sells is black from what I have seen. You could use the "Chat Now" to verify.
the old black one was defective. the chrome replaced it. now there is a new black one that is not defective. The way you can tell if you have a new black one or an old one is the QA number on the side of the unit.

As a result of the receipt of a number of reports of fuel leakage in the field and after quality assurance analysis, Katadyn Products Inc. has decided to voluntarily recall some Optimus Nova and Optimus Nova+ Multifuel Expedition Stoves. If you bought your stove between January 2009 and September 2010 and it has a black burner housing and shows a QA-number from QA000011-QA007313, please fill in the form below to file your request for an exchange. The QA-number of the stove is located on the side of the black burner housing. All Nova and Nova+ stoves with silver burner housing have no QA-number and are not affected.

The newest model is black and does not have a defective QA number
Is nova plus compatible with trangia like...
Is nova plus compatible with trangia like nova?
Can I use it with trangia adapter or not?
Best Answer
Yes, it is compatible with the trangia adapter.
I've seen the original Optimus Nova Stove in action, and I will say that the new flame adjustment system on the Plus model is MUCH better. Definitely worth paying the little bit of extra cash. I generally use straight up white gas and can boil 1L of water in about 3min. Coldest I've been is about 10deg Fahrenheit and still was able to boil in the same amount of time. I would recommend buying the cook set as the pot features a coil system on the bottom that is designed to trap more heat than a regular pot - makes boiling a lot faster. I decided to go with Optimus cause I felt like it was much more durable than other brands on the market - I know multiple people that own Optimus and have had their stoves for countless years and they hold up to a beating.

As far as amount of fuel to amount of cooking, my experience is that the 1L bottle can cook for 2-3 people for 5days. Depends on how wise you are about use, what you are cooking, how much coffee you make, etc., but definitely has multi-person multi-day capacity. And I personally don't find the added weight of a little extra gas on the onsite of a hike to be all that cumbersome. Cleans easily, looks great. Can't write enough praise for it. GREAT STOVE!
I bought mine before going to Iraq in 2003. I ran it off military grade diesel drained from my engine check valve. It ran and burned like a champ. With white gas it burns SUPER hot and cleaning is much easier than with diesel. I talked to another soldier and he said he had used many other flamable liquids in his and it worked great.
Excellent build quality,except where it counts
I used this stove about 30 times and it worked perfectly. I was impressed with the ease of use and durability so decided it would be the one for a 6 month SE Asia cycle tour...

Unfortunately in the Laos countryside,right when I needed it most,a leak appeared somewhere in the fuel line that meant air would come out instead of fuel. Gah! I ate rough for a little while and dismantled the whole fuel line to try and find the problem. I figure it must be leaking somewhere where the little plastic hose connects to the bottle top in the inside of the bottle,or else I am stumped! What I can say is that air comes out (and fuel occasionally) of the bottle instead of fuel!

I emailed the "customer service" about this over a week ago but am yet to receive any actual customer service or acknowledgment of my existence.

From other reviews it seems the stove is a bit of a gamble - sometimes you get a lemon.
I can't find an O-ring to replace the one...
I can't find an O-ring to replace the one in the fuel feed valve/quick coupling.

Can you replace the O-ring in the fuel feed valve with a standard O-ring from a hardware or do you have to pay $30 for the extensive repair kit for the sake of one O-ring?
Best Answer
Just so you know, Optimus does make a regular maintenance kit that sells for about $15. That said, if you can match the o-ring exactly, and don't think you'll be needing any of the other, more specific, parts anytime soon, the local hardware store should have what you need for less than a buck.
I have used it 2 weeks in CO at altitudes varying from 8K to 13K. At 8K it worked satisfactory. Above 10K I never managed to run it smoothly. I used camping fuel purchased from Walmart camping dpt. Even after long lasting warmup (the cup under the burner was almost full of fuel prior to warmup burn) it never ran smooth but rather kinda farting. I was able to cook on it but I know it was not right. The primary problem however is the design of flexible fuel line with quick disconnect. First - it can be very hard to keep parts of the connector clean. Imagine yourself sitting in freezing cold somewhere on a mud-rock island on a glacier and the damn thing drops on a "floor" while you are disconnecting or connecting it. Sand gets into connection and immediately rips apart the tiny o-ring. By the way that damn o-ring is a cheap EPDM rubber that gets already half dissolved by camp fuel even before abrasion caused by accidentally introduced sand. They put 4 of those o-rings in initial kit but trust me you need something like 20, and a patience of a surgeon to replace it in blasting freezing wind. The dust caps that supposed to protect line connector from debris are pathetic - they fall off by themselves.

The stove bag size is cramped and compartments are not easy to fit with stove parts.

A separate Foo I would like address to Optimus fuel bottle screw caps. They now equipped with polymer gasket seals that shrink being out of contact with liquid which results in them falling out from the cap and the cap is leaking. If you fish the gasket out from the bottle: good luck setting it back in cap - it will expand being saturated w/fuel and it won't fit. I'm not sure if it is only Optimus caps though acting that way because O bottle look pretty similar to other brands. Overall I'm disappointed - my 30 yrs old soviet made Shmel stove (which I always hated BTW) works much better than this stove. I would like to return it actually if they take it back ...
How many hours of useful cooking do you...
How many hours of useful cooking do you get from the fuel bottles? There are three sizes:
.4 / .6 / 1 liter bottles.
Best Answer
Lots of variables involved with the answer to that, such as flame setting, fuel type, altitude, temperature...but from the specs, 450ml (0.45 liters) will give you about 2.5 hours of burn time on high. Again, variables not considered, boil time for 1 liter of water is approx. 3.5 minutes using white gas. Calculate that out over 2-3 times per day x the amount of water you plan on boiling per meal x the number of days you'll be out, give yourself a bit extra for priming, preheating and a bit of slack time, there's how much fuel you'll need. Base your choice of what size bottle you'll need on what you come up with. But I can tell you that the smallest bottle I can get away with is where I like to go personally, although I have several sizes to choose from in the gear closet that all come in handy from time to time.